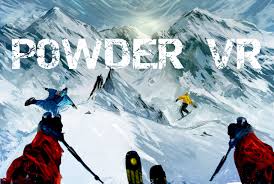 Game Info:
Terje Haakonsen's Powder VR
Developed by: RainSoft
Published by: RainSoft
Release date: December 16, 2020
Available on: HTC Vive, Oculus, Valve Index, Windows Mixed Reality
Genre: Sports, Simulation, Racing
Number of players: Single-player
ESRB Rating: Not rated
Price: $19.99
Thank you RainSoft for sending us an Early Access preview code!
Terje Haakonsen is a professional Norwegian snowboarder. As far as I can tell, he doesn't appear in this game but it's endorsed by him regardless. Even without the name-dropping, Powder VR is shaping up to be a decent winter sport simulation/racing game.
When you first launch the game, you'll be prompted to select your means of transportation. Snowboarding is harder to learn, but easier to master and skiing is the exact opposite. Between the two, I preferred skiing since I found it easier to control. In the Exploration game mode, you can wear a wing suit or boost pack. So far, this game is still in development as there are many level/locations that are labeled as "coming soon".
The currently available game modes include World Tour, Quick Race, and Explore. The available levels are broken down by difficulty and you have to earn medals in the World Tour mode to unlock access to the more challenging areas. Medals also unlock better gear so you'll definitely want to earn as many as possible.
Highlights:
Strong Points: Fun and fast-paced VR winter sports racing game
Weak Points: Some graphical glitches like floating trees; glitchy controls
Moral Warnings: Non-lethal crashes that will cause the screen to blink red
Each location is broken down into several sections. The checkpoint levels require you to quickly find and go through the various checkpoints. These checkpoint levels are great for familiarizing yourself with the terrain. You can apply your newfound knowledge in the race and time attack modes. Freestyling modes reward you for completing trick moves while racing to the finish line. Though finding the fastest path is highly recommended, many levels have the letters: p,o,w,d,e,r to find and collect on your way through.
The exploration modes are designed to be more relaxing without any time constraints. Since they just continuously loop I found them rather boring. There are unlockables available by playing through them so they're still worth checking out if you're a completionist.
As you're snowboarding or skiing, your miles per hour will be shown on the bottom on the screen. Once you reach the finish line, you'll be shown the lap time along with those of the AI racers. Your previous best time is also displayed for your reference. The AI racer difficulty level can be adjusted in the game menu. You can also disable the AI chatter if you find it annoying.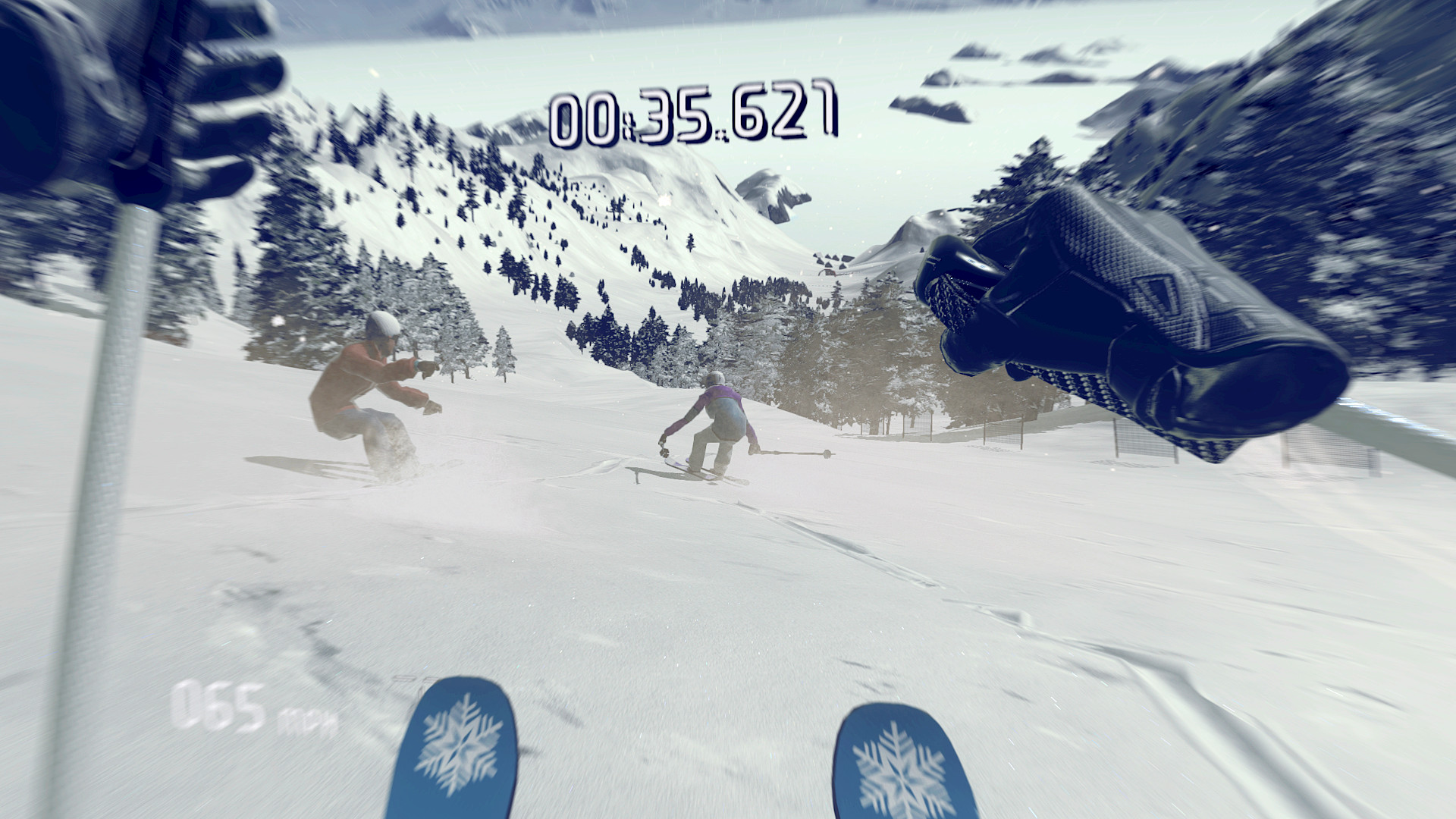 Score Breakdown:
Higher is better
(10/10 is perfect)
Game Score - 72%
Gameplay: 16/20
Graphics: 6/10
Sound: 6/10
Stability: 4/5
Controls: 4/5

Morality Score - 98%
Violence: 9/10
Language: 10/10
Sexual Content: 10/10
Occult/Supernatural: 10/10
Cultural/Moral/Ethical: 10/10
Collisions with inanimate objects are bound to happen and when they do, your screen will turn bright red and you'll hear a high pitched ringing noise to indicate that you probably would have gotten a concussion (or worse) in real life. Really bad spills will require you to restart the level. Other than that, this game is family-friendly and can be enjoyed by aspiring snowboarders and skiers of all ages.
Visually this game looks alright. I like how the levels have different backdrops and terrains to glide through. You can explore at different times of the day so that's a nice feature. So far I'm not blown away by the visuals and there are some glitches like floating trees in the distance. More fine tuning is bound to happen before the game is released so we'll have to wait and see what happens there.
There's no background music, but the sound effects are pretty good. The sound of snow crunching and your head ringing from colliding with something are pretty spot on.
Before you start any event you'll be given a chance to calibrate and set your floor level. Most of the time it was fine, but I did launch the game with my character being way too tall and had to adjust that so the virtual ski poles would touch the ground. I've had to re-center or re-calibrate my game mid-level occasionally.
If you enjoy winter sports and don't want to deal with the cold weather or renting gear, check out Terje Haakonsen's Powder VR. It's reasonably priced at $19.99 and is aiming to have sixty playable areas when its finished.