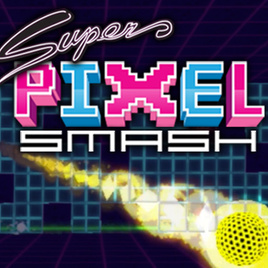 Game Info:
Super Pixel Smash
Developed By: Rank17
Publisher: Rank17
Release Date: January 25, 2017
Available On: Windows (SteamVR compatible headset required)
Genre: Action/Sports
Number of Players: 1
ESRB Rating: N/A
MSRP: $7.99
Thank you Rank17 for sending us this game to review!
Rank17 seems to focus on making simple, fun to play VR games, that are more about polish than extensive content. Considering the likely small size of their team and limited budgets, it's a compromise that makes sense. So after enjoying their previous game, BladeShield, I looked forward to this effort.
Super Pixel Smash is perhaps one of the simplest VR games I have played yet. It's basically racquetball inside of a fairly large rectangular room, where your goal is to hit as many of the blue squares as possible with a ball that floats in front of you. You hit the ball with your primary hand, and you can suck it towards you with your off hand. As you continually hit these squares, you build up combos and your score. Your goal is nothing more than to get the highest score on the leaderboard.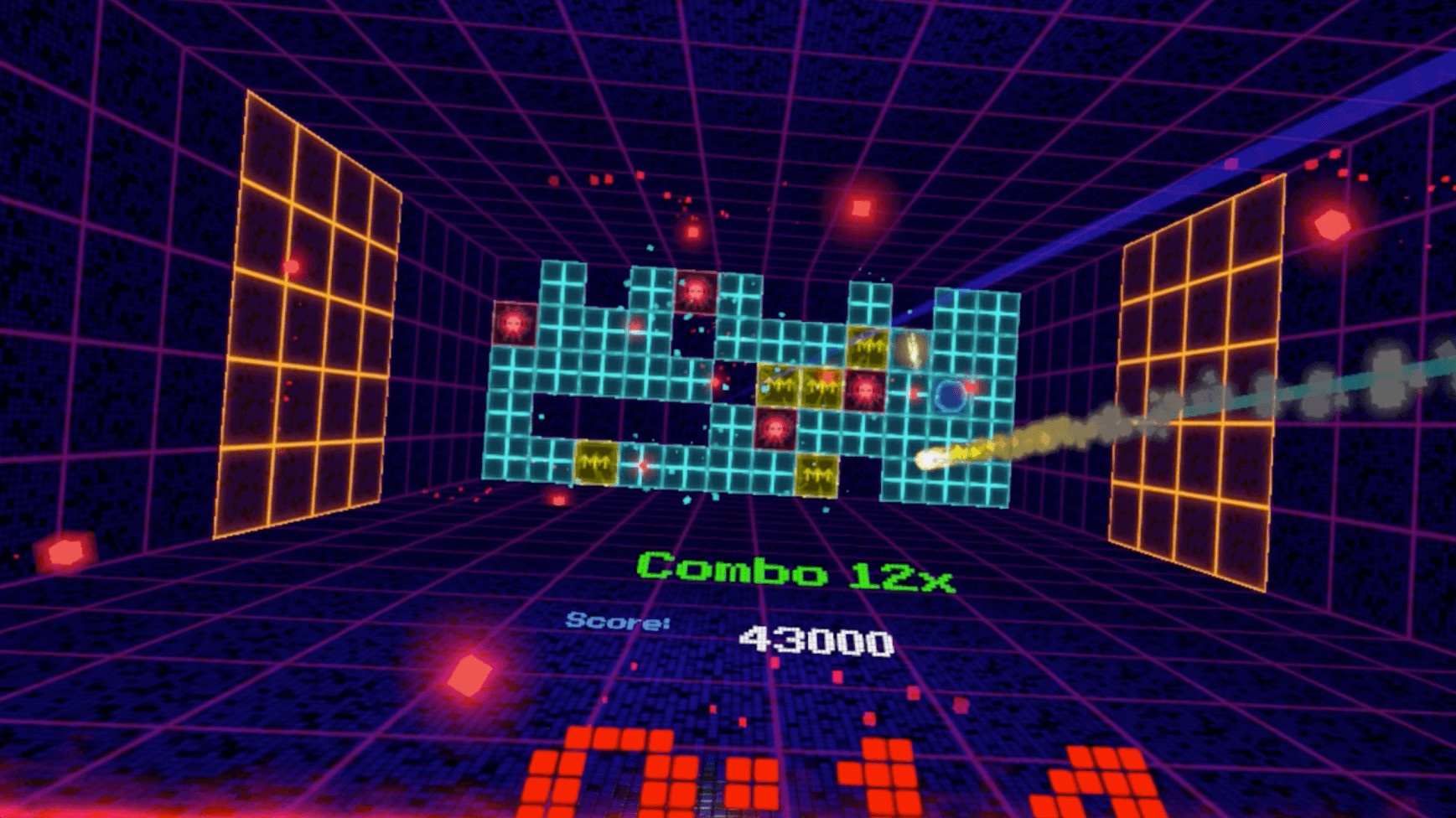 Highlights:
Strong Points: Simple, fun gameplay; fun music and sound effects
Weak Points: Little gameplay variety; not much for your off hand to do
Moral Warnings: None!
When you start the match, you have two minutes to go. As you get super smashes, which is when you hit a line in between two blocks and thus wipe out both, or hit the corner in between four, you then set back the clock a moment. The game also encourages high speed, as the higher your combo, the better score you get. You can further increase your score and combo by tagging 3x score blocks, supercharged ball blocks, line clear blocks, and the great and righteous multiball. There's nothing like a few extra balls in play to really get that score moving.
If you have a particularly good combo, you can bring about the titular Super Pixel Smash, which lines not just the rectangular wall in front of you, but also the other walls, floor, and ceiling. They also taunt you with some nice multiball powerups right in the center of the main wall, if you can manage to hit them. This is definitely easier said than done, but if you are lucky, you can rake in those points big.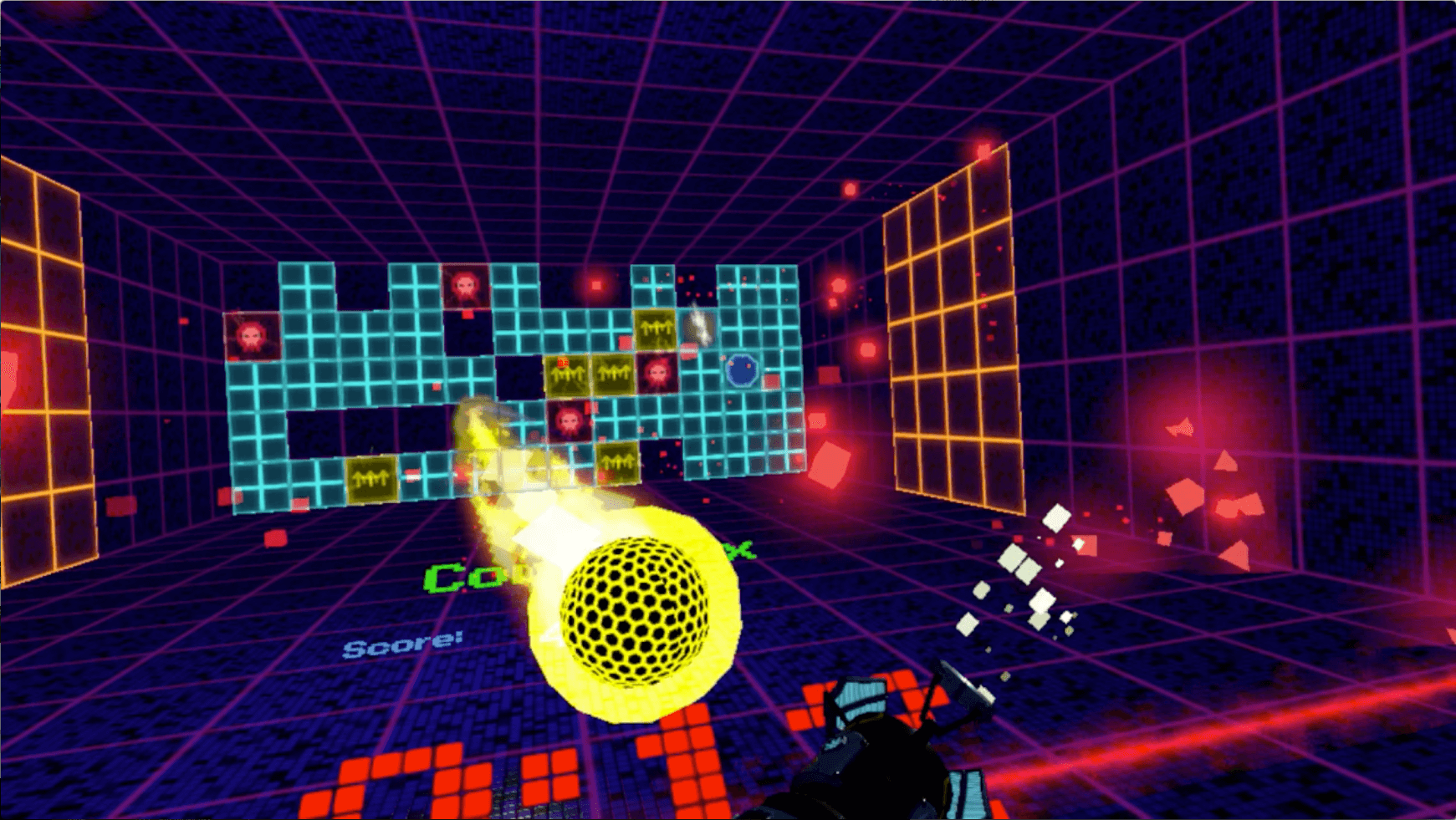 Score Breakdown:
Higher is better
(10/10 is perfect)
Game Score - 82%
Gameplay - 14/20
Graphics - 9/10
Sound - 10/10
Stability - 4/5
Controls - 4/5

Morality Score - 100%
Violence - 10/10
Language - 10/10
Sexual Content - 10/10
Occult/Supernatural - 10/10
Cultural/Moral/Ethical - 10/10
The feeling of whacking that ball as hard as you can to really get it moving is fun, as is watching a bunch of balls flying at you as you try to return them all. Hitting any exact square is much easier said than done; I'm not sure why it's so difficult, but it is. Despite that, the game doesn't feel unfair or anything like that; I just lack skill I suppose. It's a shame that your off hand doesn't have a lot to do when things are going well; my right arm and shoulder feel much more worn out than my left after a rigorous play session.
Super Pixel Smash is a very simple and fun entry into the more and more crowded VR marketplace. It's a solid, fun game that scratches an itch, I feel. If I had anything to complain about, it would be that there is almost no variety; there is seeking the high score, and that's about it. No other levels, no powerups that show up later, nothing. It is what it is out of the gate. It has fun retro-themed music, and appropriate sound effects, and simple, retro-styled graphics. And it's squeaky clean from an appropriateness standpoint, also. If it were me, I would add it to me wishlist and wait for a good sale; it's not terrible at the asking price, but definitely worth a sale price.