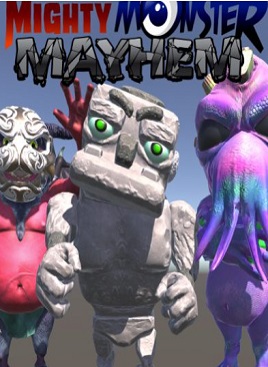 Game Info:
Mighty Monster Mayhem
Developed By: Rank17
Published By: Rank17
Release Date: April 20, 2017
Available On: Windows (HTC Vive or Oculus Rift VR headset required)
ESRB Rating: N/A
Genre: Action/Simulation/Sandbox
Mode: Single Player, with online co-op
MSRP: $14.99
Thank you Rank17 for sending us this game to review!
In our age of early virtual reality (VR) experiences, Rank17 has covered most of the bases. They have their sports game (VR Baseball, not reviewed). They have their wave shooter/melee game (BladeShield), and they have their arcade style game (Super Pixel Smash). They even have a zombie shooter (Armed Against the Undead). And with Mighty Monster Mayhem, they also have their Rampage in VR experience. Thankfully, it covers what is important in that genre pretty well.
For those not familiar, Rampage was a classic (1985) arcade game where George, Izzy, and Ralph, a giant gorilla, lizard, and wolf, respectively, set about to destroy a town by gobbling up humans and wrecking nearby skyscrapers. There is some kind of story behind it (and even a major motion picture that was released this year starting Dwayne Johnson), but it was always secondary to the action of bashing buildings, eating people for snacks, and knocking helicopters out of the sky.
There are actually several Rampage clones in VR these days, including one another reviewer played on Oculus Rift, called VRobot. I can't speak to that game, but my son said he slightly prefers this game over that one.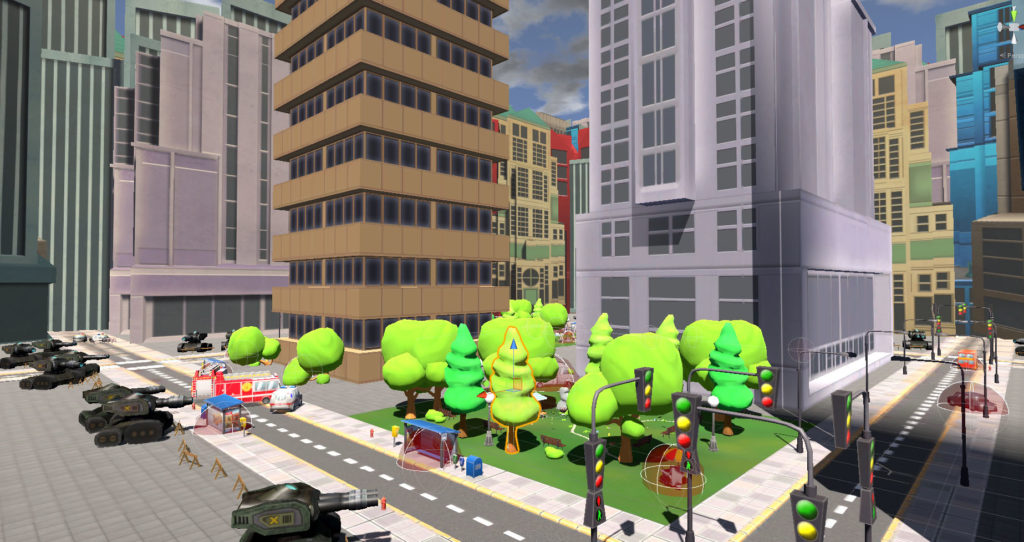 Highlights:
Strong Points: You get to wreck buildings as a giant creature; fun sandbox to break stuff in; innovative locomotion method; voice acting is pretty good
Weak Points: Controls can be wonky at times; military enemies can be challenging to stop if you want to stay alive
Moral Warnings: The story is a revenge plot; you eat people, and red splurts out of them; people and property destruction is required in order for you to progress
The backstory on this one is that you take the role of an ostracized scientist who intends to take revenge on those who insulted him and his work. Fully ready for the mad scientist role, you step into his place and you can hear him talk as you smash the town to bits. Some of the voice work is done pretty well, and I had fun hearing it. It does start to repeat after a while though, and he rarely keeps to himself, so some players may find him annoying. I did not.
Each level has a primary objective of destroying a certain number of buildings, along with some handy secondary ones. These include eating scientists or soldiers, destroying mailboxes, recovering DNA, and more. Doing so can sometimes unlock other characters rather than just the default purple giant cephalopod. There are golems, oni, insects, and reptiles available to round out the roster. And there are several different levels with objectives to complete in each one as well.
The main thing about a VR game of this nature isn't the graphics or sound, though those are important, but the mechanics of smashing things. And this is quite good, though not without the occasional bug or misdetection. The mechanics of punching, ripping apart walls, or picking up and throwing things is decent, though not great. What I really enjoyed was the unique approach to movement it took.
Most VR games 'play it safe,' and have teleport movement only. This means that you point where you want to go, and you are instantly transported there. This works great for many types of games, but not as much for action ones. What they did here is kind of genius. To walk, you click in the grips on the Vive controller, and move your arms in a doggy-paddle like motion. Since you are moving your body, you rarely get sick, and it's a natural way to move around. I like it. To climb up buildings, you reach up, pull the trigger, and pull down. It's pretty natural, and well done. You can also leap off of the buildings, which feels crazy since the buildings are so tall.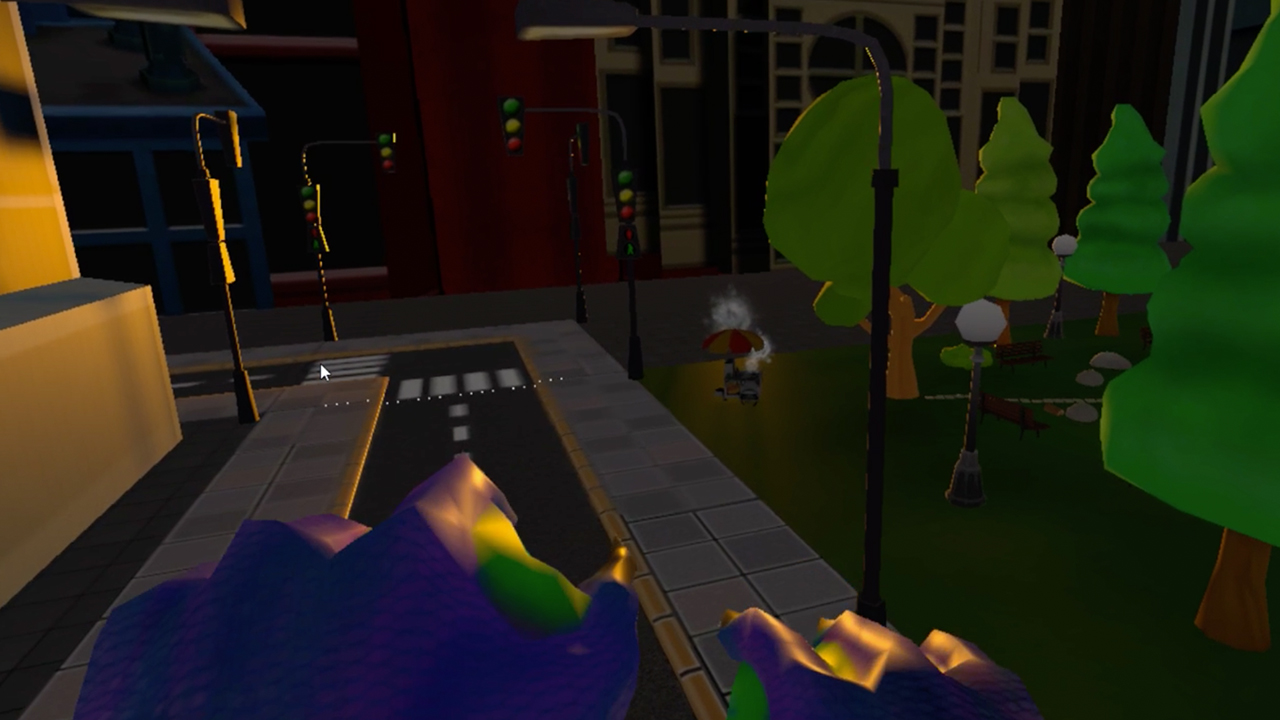 Score Breakdown:
Higher is better
(10/10 is perfect)
Game Score - 74%
Gameplay - 14/20
Graphics - 7/10
Sound - 9/10
Stability - 4/5
Controls - 3/5

Morality Score - 76%
Violence - 4/10
Language - 10/10
Sexual Content - 10/10
Occult/Supernatural - 9/10
Cultural/Moral/Ethical - 5/10
Of course, with all of that movement, sometimes I found myself slightly motion sick, but it wasn't bad enough for me to want to stop playing. I drank a glass of water afterwards, and I was fine. The graphics are believable, but nothing special. When picking up people off of the street, they look like the most simple of models, with little more than some face lines drawn on. It makes sense they would be simple given the desire for frame rate over expense when keeping a good experience relies on that more than most other considerations.
The music and sound effects/voices are actually quite good. I found myself actively enjoying the music, and the voice acting does a great job of making you feel a little crazy given the subject at hand. Hearing him talk about how smelly other scientists are and how he still wanted to eat them was worth a nice laugh.
Morally, the expected is here. Lots of violence, and you eat people for fun and they splat red, so there's that. You are actively ignoring (or destroying) the local military and police, as well. The goal is to get revenge against others, which is hardly wholesome. It is notoriously difficult to take good notes while playing a VR game, but I did not catch any curse words to the best of my memory.
Mighty Monster Mayhem is exactly what it says on the tin – you get to romp around town as a giant monster, and rip apart the town. And you get to do it as a mad scientist, who says many crazy things off-the-cuff. What else is there to say? If that sounds fun to you, then give it a shot – you may just like it.