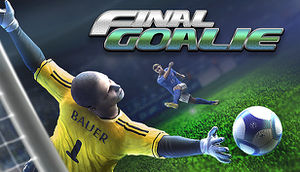 Game Info:
Final Goalie: Football simulator
Developed By: Ivanovich Games
Publisher: Ivanovich Games
Release Date: November 18, 2016
Available On: Windows (HTC Vive or Oculus & Touch required)
Genre: Sports simulation
Number of Players: 1 (or 2 with a mobile phone)
ESRB Rating: N/A
MSRP: $19.99
Thank you Ivanovich Games for sending us this game to review!
If you are like me, and were always picked last for pretty much any sport in gym class, you may have never had an opportunity to play as the all-important goalie. Or, perhaps you are also like me and have no friends who like to play soccer (sorry, rest of the world!  We have another sport we call football), so that opportunity is also not looking good.  Fortunately, through the modern wonders of Virtual Reality (VR), even you and I have a chance to see what it's like to be at the center of attention - as a goalie.
You see, Final Goalie: Football simulator has you defending against what appear to be professional soccer players from around the world, who are kicking balls at you that move in nearly unrealistic ways.  It's your job to deflect as many of them as possible, using only your hands/gloves, which represent your Vive or Touch controllers.  You generally pursue a high score, either locally among friends or online, as your score is compared against the rest of the world.  You can also catch the ball for a small score boost.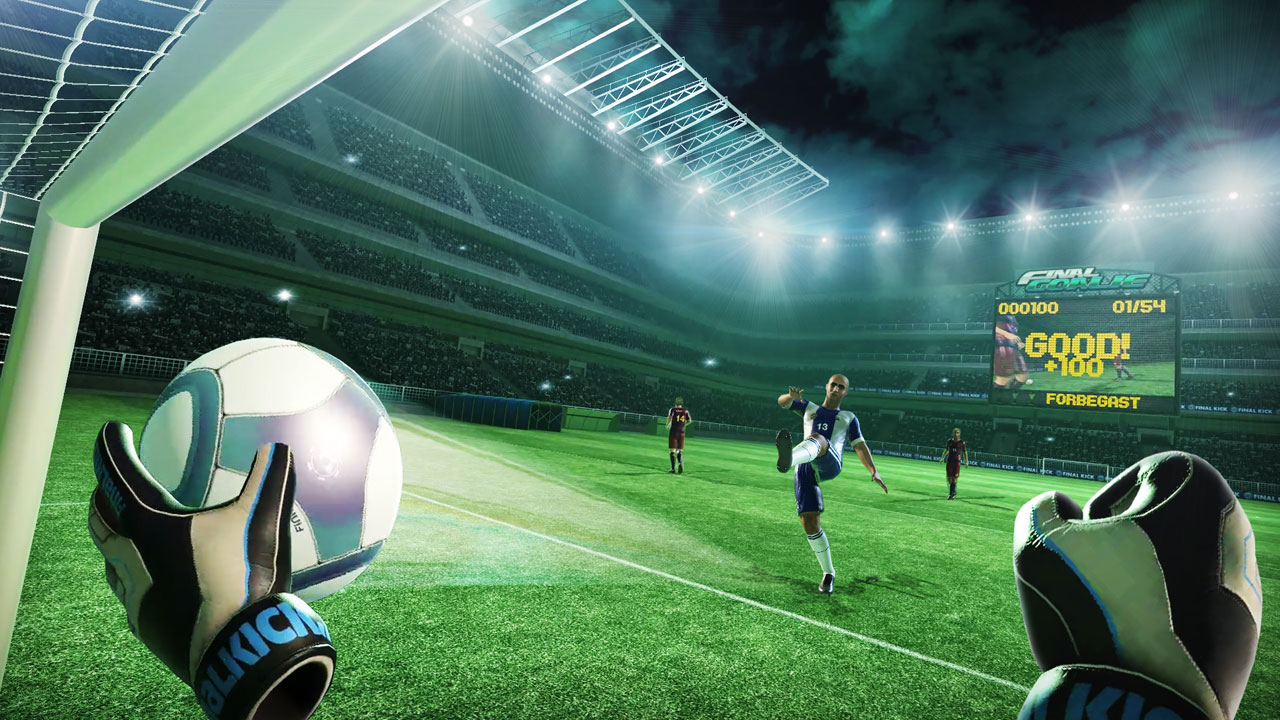 Highlights:
Strong Points: Nice graphics; great use of motion controllers; simple but very fun
Weak Points: You must block with your hands; no headbutts or virtual body to help out; your walls or ceiling might suffer
Moral Warnings: None! (Though catching a bomb is bad)
There are four game modes total, and three main single player ones.  First there is a simulation game.  You must play this first.  Here, you do what is on the tin – play goalie against soccer players.  There are generally several players on screen where the ball can start from, and they kick it at you.  The balls can fly straight at you, towards the goal in a crazy arc, or what I find the most difficult, low and to the side at high speed.  I very rarely block those.
The stadium you are in looks and sounds really nice.  The grassy terrain looks great and believable, even if it doesn't render each blade of grass.  The stands sound great, with an announcer detailing each kick, and the crowd reaction is nice.  The production values are great, with the exception of the loading screens, where it just goes blank.  Thankfully, SteamVR recently added informative messages when games do this, so it no longer looks like the game crashed for a moment.
The other major game mode is arcade mode.  In this mode, there are cannons rather than sports professionals, and they shoot all kinds of things at you.  There is the common soccer ball, as well as tennis balls, beach balls, bombs, and various other things.  There are also power-ups that pop up, and if you throw a ball you caught at them, they activate, and all kinds of things can happen.  Everything from changing your size, the speeds of objects, or even defensive walls can show up.  Of course, catching the bomb is bad – you instantly lose.  Normally, you lose when three balls enter the goal.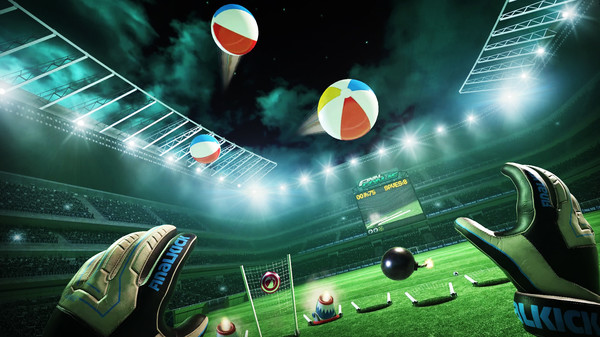 Score Breakdown:
Higher is better
(10/10 is perfect)
Game Score - 88%
Gameplay - 16/20
Graphics - 10/10
Sound - 10/10
Stability - 4/5
Controls - 4/5

Morality Score - 100%
Violence - 10/10
Language - 10/10
Sexual Content - 10/10
Occult/Supernatural - 10/10
Cultural/Moral/Ethical - 10/10
Story mode is a simple variation that adds challenges to both simulation and arcade.  There is a room (with teleport to move) that has various challenges lined up on each side.  There are rooms for simulation, and another set of rooms for arcade.  There are a whole lot of challenges; I'm not sure how many.  But I suspect it would keep any would-be goalie quite busy.  There is also a multiplayer mode, where a friend with a mobile app can lay out the kicks coming your way, while you attempt to defend them.  I was not able to test this.
I found Final Goalie: Football simulator very simple but quite enjoyable.  It seems to require a fairly large play space, though you can thankfully adjust how big you are, as well as add motion compensation so you don't have to reach as far as it looks (somewhat like giving you larger arms).  If you can't clear space past the range of the goalposts, be warned that jumping, diving, and eventual banging and injury will quickly commence.  It's very easy to forget about that thing on the ceiling or unexpected wall or furniture when you are trying to keep that score up.  Playing this game prompted me to move my Vive to the living room until a silicone rubber cover for it arrived, with the intention of avoiding even more dings on my ceiling...
And yes, it's a blast, and was a big hit when I showed it to friends.  Highly recommended!