Game Info:
Ship Simulator Extremes
Developed by: Vstep
Published by: Paradox Interactive
Release Date: August 27th, 2010
Version reviewed: 1.22
Available on: PC
Genre: Simulator
ESRB Rating: E
Retail Price: $39.95
System requirements
• Operating system: Windows XP (Min. service pack 2), Windows Vista or Windows 7. 32 and 64 bits OS supported.
• Processor: 3 Ghz P4 Intel or AMD equivalent processor
• Memory: 2GB (Windows XP) or 3GB (Vista or Windows 7)
• Hard disk space: 3.5 GB
• Video: Geforce 8800GT or ATI Radeon 4850 with 256MB ram (At least Shader model 3.0)
• Sound: DirectX 9.0c compatible.
• Drive: 4x PC DVD-ROM
• DirectX®: version 9.0c
• Broadband Internet connection required for Multiplayer
Thank you GamersGate for giving us this game to review.
Ship Simulator Extremes is a follow up to Ship Simulator 2006 and 2008. I haven\'t played the previous two games so I can\'t compare them. This game offers three campaign modes: Green Peace, Tourist Tales and the Core missions. A recently released patch added a tutorial mission.  The Green Peace and the Tourist Tale missions are easier than the Core ones, so start with those. (When you select a mission you'll see the difficulty rating in the description.) Free roam and multiplayer modes are available too. Unfortunately, I didn\'t find anyone to sail with online.
I first started with the Green Peace missions; I wanted to see what they're all about. The ship used in those missions is called the Rainbow Warrior. The engine does 300rpm and it's extremely slow….but it's much faster than the cruise ship you get to captain in the tourist tales campaign. If you like action packed or fast paced games, this game is not for you.  In fact, it\'s not even that hard core of a simulation game. The controls are pretty straight forward and the main challenge is docking and undocking the ship.
Highlights:
Strengths: It has boats!
Weaknesses: Unless you're controlling a speedboat, the boats move very slowly. The graphics lack detailed textures.
Moral Warnings: No issues here.  In fact, it may uplift your faith as you pray for a mission to be over.
You're responsible for mooring (tying rope) and docking your ship at specific docks; not just any dock will do. The spots you have to get in and out of are pretty tight and these ships don't have the turning radius of a car. Your ship can get damaged by being hit, docking/undocking, or being in too shallow of water. If your ship is severely damaged it will lean and gradually sink and if there's minor damage it will slow the ship down…which is horrible since it's slow enough to start with. It's best to save early and often, and to use multiple saves!
The missions typically take anywhere from a half hour to an hour to complete. The world is pretty open ended and if you're going the wrong way, there's nothing to stop you; no prompts to turn around. I wasted an hour of my life going in the wrong direction.  There's a guidance system on the upper right hand side…use it! The objectives are labeled with a green star but if the destination is out of range, you're out of luck.  There's no world map or a way to zoom out far enough to see everything.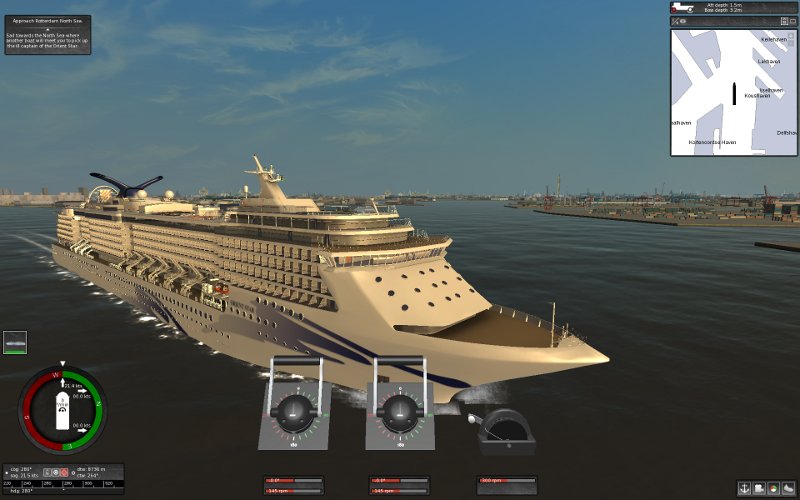 Score Breakdown:
Higher is better
(10/10 is perfect)
Game Score: 56%
Game Play: 8/20

Graphics: 6/10

Sound: 6/10

Stability: 4/5

Controls/Interface: 4/5
Moral Score: 100%
Violence: 10/10

Language: 10/10

Sexual References: 10/10

Occult Supernatural: 10/10

Cultural/Moral/Ethical: 10/10
The Greenpeace missions consisted of gathering intel and catching ships in the act of dumping oil or nuclear waste in the sea. Another mission has you stopping an illegal transport of Indonesian trees. After the first mission I got to see a nice documentary video that tells a little bit about Green Peace, which was cool. The rest of the missions I played rewarded me with a post card; I was a bit disappointed to say the least.
Triggers are used to advance to the next part of a mission. Sometimes these triggers fast forward you to the action which is nice. Unfortunately, the triggers don't always work. There are other glitches like seeing though ships if you view them from an unexpected angle. The first time I used a water canon I saw streams of black triangles; updating my video drivers resolved that issue.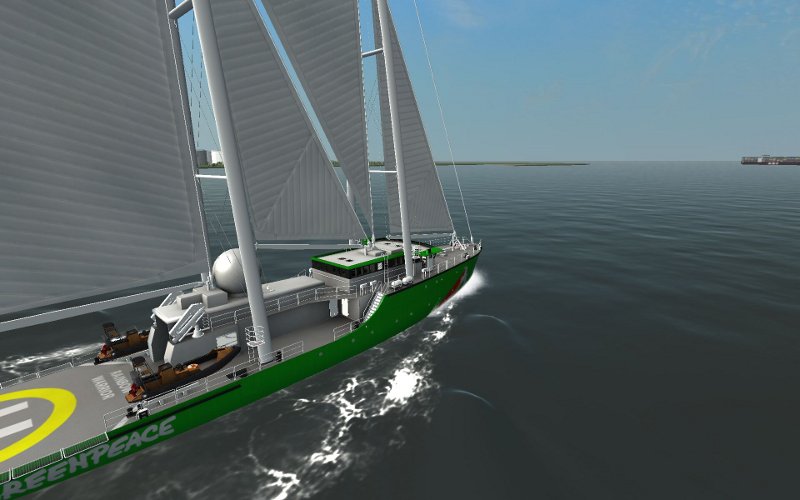 Graphically this game is unimpressive. The water effects are decent and the ship models look realistic. On the other hand, the land and buildings along the shore look plain and dull. Occasionally you'll pass another ship in the water but you don't see much movement or signs of life. The ship interior looks okay, there's lots of equipment and buttons that you can't interact with.  The steering and movement is all handled by the arrow keys. You have to keep holding the up arrow button down in order to move.  I wish there was a cruise control feature. Some missions require that you take a picture using the camera view. Any pictures you take will be saved on your system.
The sound in this game consists of the ship\'s engine, the horn, or birds flying by. Patch 1.22 added radio chatter, I\'m not sure what language it\'s in or if it\'s intentionally unclear. Since the missions are long and boring, some background music would have made a nice touch.
From an appropriateness perspective, Ship Simulator Extremes is perfectly clean and safe for the whole family to play. The main question is who the target audience for this game is. True naval enthusiasts will find this game not complex enough and casual gamers will find it too boring and dull. Fortunately, there's a demo available to try before parting with $40.