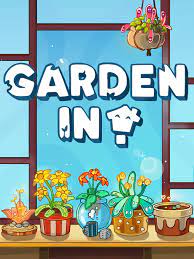 Game Info:
Garden In!
Developed by: Dramatic Iceberg
Published by: Bonus Stage Publishing
Release date: January 26, 2023
Available on: Linux, Windows
Genre: Simulation
Number of Players: Single-player
ESRB Rating: Not rated
MSRP: $9.99
Thank you Bonus Stage Publishing for sending us a review code!

Some people have better luck with plants than others. As the owner of two cats, I've learned that plants can rarely co-exist with them. I have reasonable luck with outdoor plants, especially ones in my greenhouse.

in Garden In!, you have a plant room hovering in the sky and no cats to worry about. Unfortunately, bugs are still a nuisance to deal with. However, you'll have an unlimited amount of bug spray to keep them at bay.

At first, you'll have a handful of seeds and a few pots/vases/plates at your disposal. In the pots, you can place soil, the vases support water, and the plates are for rocks. It won't be long before you unlock containers allowing you to grow multiple seeds at once, and by mixing plant breeds in these, you'll unlock new seed types. To keep track of everything, there is a journal that will record the unlocked plant information for future reference.
Highlights:
Strong Points: Cute concept; plants can't die, they just stop growing if not watered
Weak Points: Some may find this title to be too slow paced; you need a keyboard and mouse to play
Moral Warnings: Bugs will be killed
Many plants will require an hour or more of dedicated game time before they will become fully grown. Until then you can zoom in on them and caress them. You can tend to and water the plants, redecorate your surroundings, or fast forward the clock a little bit. There's quite a cool down period before you can fast forward the clock, so patience will be required.

The plants will continue to grow and thrive while the game isn't running. However, after a night's rest, or returning from work, your plants will need to be watered and sprayed for bug infestations. Thankfully, the plants will not die if they're not watered. They merely stop growing.

By taking care of your plants, managing bug and water needs, raising them to maturity, and unlocking seeds, you'll earn points and unlock Steam achievements. With these points, you'll gain access to more rooms, vases, plant types, decorations, backdrops, and customization options.

The visuals are charming and colorful. The plants all look unique and are quite pretty. I like watching them gradually grow from seeds to fully mature plants.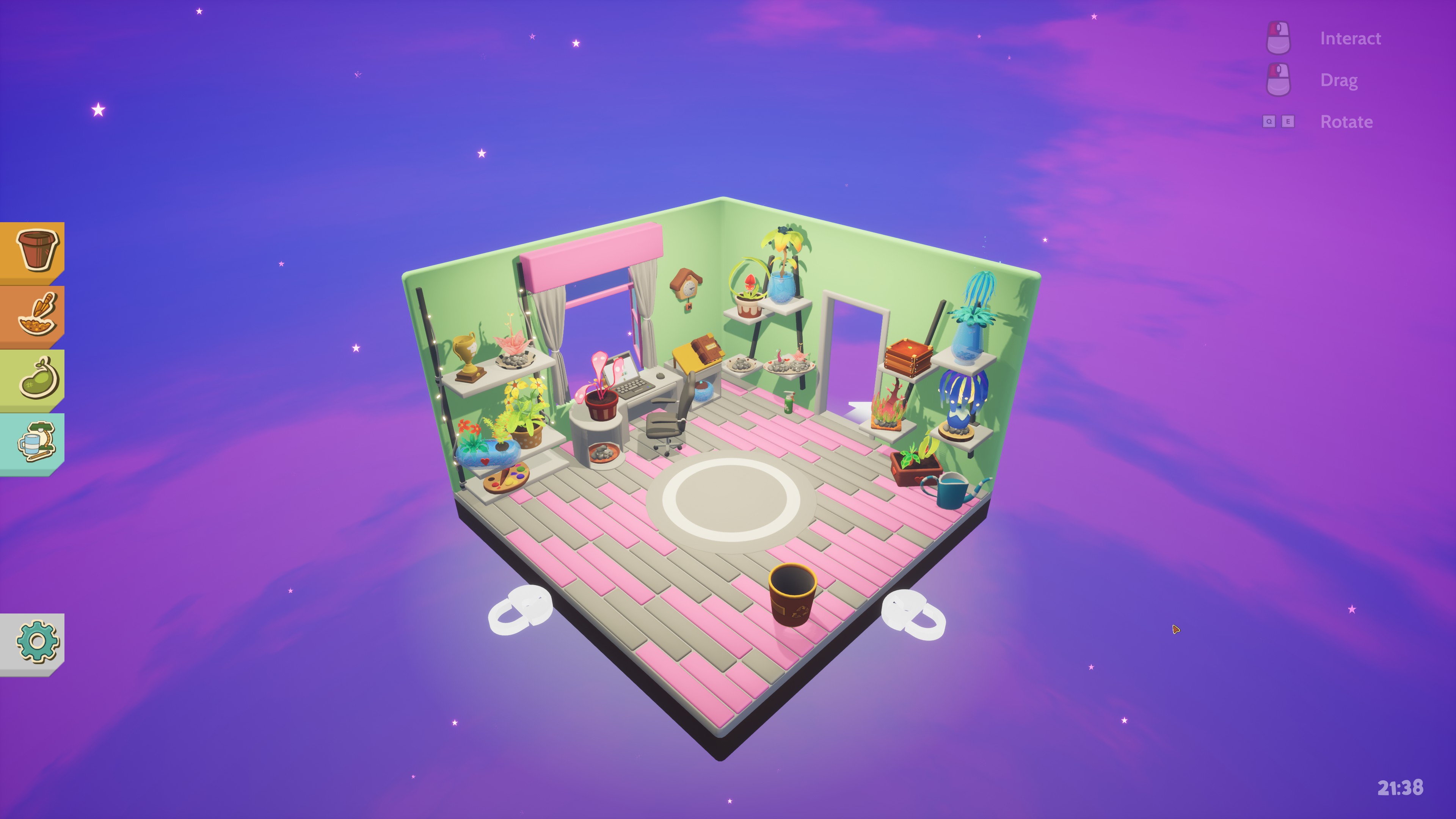 Score Breakdown:
Higher is better
(10/10 is perfect)
Game Score - 76%
Gameplay: 15/20
Graphics: 7/10
Sound: 7/10
Stability: 5/5
Controls: 4/5

Morality Score - 98%
Violence - 9/10
Language - 10/10
Sexual Content - 10/10
Occult/Supernatural - 10/10
Cultural/Moral/Ethical - 10/10
The background music is serene and pleasant to listen to. When petting your plants, they'll make cute happy sounds. It would be neat if plants really did sound like that in real life.
Morally, there is little to worry about in this title. The only things getting killed are the bugs bothering your plants.

I was surprised to find that this game has very little gamepad support. I played using the keyboard and mouse. Steam Deck users will have to use the touchscreen and a virtual keyboard.

If you enjoy gardening or don't have much luck with growing plants in real life, Garden In! may be worth looking into. The asking price is a reasonable $9.99. If you're lacking in the patience department, this game is not for you.