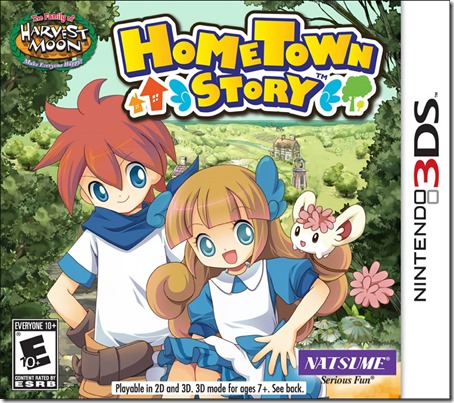 Game Info:
Hometown Story
Developed by: ToyBox Games
Published by: Natsume
Release Date: October 22, 2013
Available on: 3DS
Genre: RPG
Number of Players: Single-player
ESRB Rating: E10
Price: $39.99
Thank you Natsume for sending us this game to review!
Hometown Story takes place in the Harvest Moon universe and is also created by Yasuhiro Wada.  Instead of being farming based or exploring dungeons like other Harvest Moon or Rune Factory entries, your goal is to establish yourself and get to know the people of a growing town.   This game begins with you moving in the neighborhood to take over your grandmother's store since her passing.
Running the store is surprisingly simple, but you put in some really long hours.  Your day begins at six in the morning and the clock doesn't start ticking until you open your front door.  It's best to do all your table and grocery arranging before opening your store, however this game does reward you for making your customers wait.  If you ring up three customers you'll get 1.5X the money, for five customers in a row you'll get double the income and over ten customers you'll get three times the normal amount.  The generic villagers have more patience and will for two hours of in game time but the interactive characters will storm out of your store.  There are no permanent hard feelings so feel free to annoy people as much as you wish.
At two o' clock every day, a vendor will come in and sell you some wares.  While most of the products are generic, there are certain items that he sells that will trigger quests with the townspeople.  Sadly, there is no quest journal or documentation, so make sure to keep a mental or physical note of what you have to do.  Some quests trigger when you put the item on the store shelves while others require you to hand deliver it.  The random quests are both a blessing and a curse.  I like how they add unexpected variety, but on the other hand, I don't know how to trigger the next quest to progress the story faster.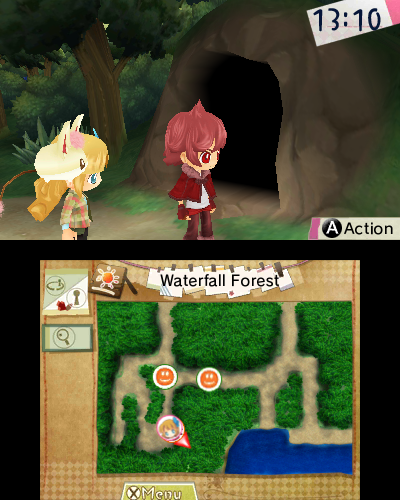 Highlights:
Strong Points: Easy to play; silly characters and story sequences
Weak Points: No quest journal; you cannot close your store to explore; broken camera angles
Moral Warnings: Cartoon violence and you get to see the backside of a monster
The main story in this game is to gather and complete a feather split up into seven fragments.  As you help the townspeople achieve their dreams, you will earn a feather fragment.  I like how you take part and help this town grow and get to meet and befriend the newcomers.  If you play your cards right, you can go on dates and find a spouse.  That is of course if you manage to pull yourself away from your store to go outside and mingle.
I wish there was a way to close your store for lunch breaks or to call it a day before midnight. When the day is over you are given a summary of your store's earnings and you can sleep to start a new day or sleep and save your game.  A quick save feature would have been great!  Another common complaint about this game is the horrible camera angles which make it hard to see or enter certain houses in town.  
The music is a mixed bag since it is incredibly catchy but repetitive.  This is probably the first time I have had a game song get stuck in the heads of each person in my house!  I was pleasantly surprised to see that it was composed by the renowned Nobuo Uematsu who composed many of the popular Final Fantasy songs.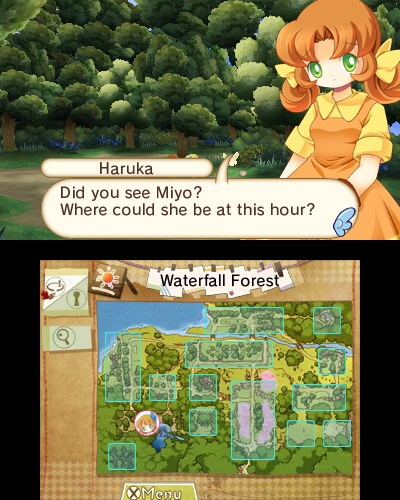 Score Breakdown:
Higher is better
(10/10 is perfect)
Game Score - 68%
Gameplay - 13/20
Graphics - 7/10
Sound - 7/10
Stability - 5/5
Controls - 2/5

Morality Score - 79%
Violence - 8/10
Language - 10/10
Sexual Content - 6/10
Occult/Supernatural - 7/10
Cultural/Moral/Ethical - 8.5/10
Graphically this game is very cute and has an anime art style that makes all of the characters look young despite their age.  While it does utilize the 3DS 3D effects, I preferred to play this game in 2D to avoid the headache of getting the angle perfect.  My kids were attracted to the colorful graphics and catchy music and often hum it around the house.
While this game is family friendly, there are some things worth mentioning.  One of the residents is a witch and another is a goddess.   There are some scuffles, but the violence is not shown because dust clouds appear and cover the action.  Lastly, there is a monster that appears and you get to see his backside.
Despite its flaws, Hometown Story is a cute game that can be enjoyed by people of all ages.  Given the flaws I wouldn't pay full price for this title and would recommend waiting until it hits the bargain bin.  I do however look forward to a sequel that can iron out the kinks in this one.