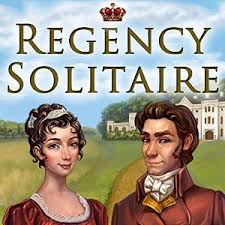 Game Info:
Regency Solitaire
Developed by: Grey Alien Games
Release Date: January 2, 2015
Available on: PC, Mac
Genre: Card game
Number of Players: Single-Player
ESRB Rating: Not rated
Price: $9.99
(Amazon Affiliate Link)
Thank you Grey Alien Games for sending us a review copy of this game!
Regency Solitaire is a story based solitaire game set in 1812.  Bella is looking forward to getting married, but not to her sneaky neighbor whom her father is trying to make arrangements with.  Her family is in a desperate situation since her brother has gambled away much of her family's fortune.  While Bella says she is looking for true love, I think she is trying to better her situation.  
Bella wants to throw an extravagant ball at her family's estate to catch the eye of the eligible and wealthy bachelor, Earl Henry Worthington.   I love Bella's double standard with her quote "If only  reputation was measured in wit and beauty, not property and social elevation."   Between Mr. Worthington and their shady neighbor, Mr. Bleakley, the former is the better option for sure.  So I can't blame her there.
In order to host the ball, Bella will need to acquire various furnishings and pieces of formal attire.  There are twenty levels with ten rounds apiece.  Each level has objectives that have to be met to unlock the next.  Some of these objectives include having a certain amount of perfect hands, combinations or multipliers.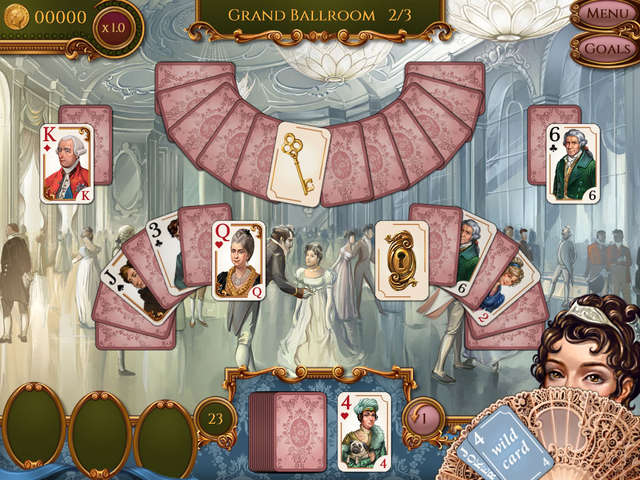 Highlights:
Strong Points: All the fun of solitaire with pretty music, visuals, and a charming story
Weak Points: Low resolution graphics
Moral Warnings: Some language (d*mn and hell)
If you can finish the round of solitaire with no cards left you'll have a perfect hand and will receive three stars.  If you have one card left over you'll get two stars and with two cards you'll be awarded one star.  If you're unhappy with a particular round, you can retry it. 
During each round you'll earn in-game gold and the amount you can win goes up with card combinations and multipliers.  With this gold you can buy furnishings and clothes that unlock new abilities and increase wildcard drop rates. Wildcards let you place any card on top of them and they are crucial for getting combinations of twenty or more cards.   
The solitaire rules in this game are different than the free Windows Klondike version I'm familiar with.    The number of playable cards you have varies in each level and you can only go through your deck once.  Once you have a brooch you can shuffle around the playable cards and the cards on the table.  If you use an ability, it has to recharge before you can use it a again.  While the brooch is handy, I found the cupid and phoenix abilities that remove table cards more helpful.   
To make things trickier, some of the cards have locks or bow ties on them.  If a card has a bow tie you have to use it twice before it leaves the table.  Cards with a lock have to be unlocked with a key hidden behind a playable card somewhere.  Another type of locked card only unlocks after a certain number of royal cards have been played.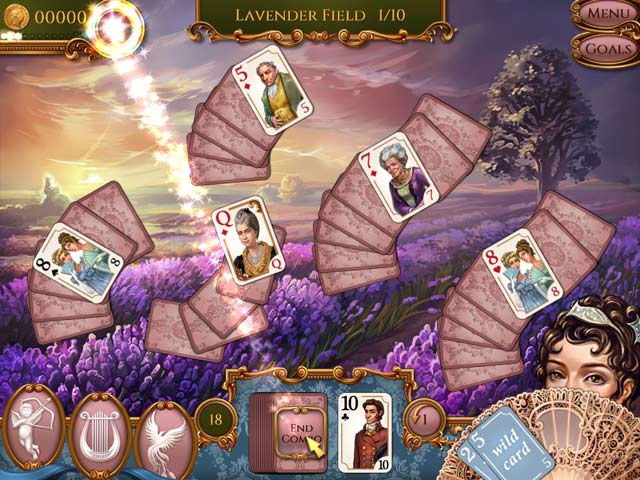 Score Breakdown:
Higher is better
(10/10 is perfect)
Game Score - 80%
Gameplay - 16/20
Graphics - 7/10
Sound - 7/10
Stability - 5/5
Controls - 5/5

Morality Score - 96%
Violence - 10/10
Language - 8/10
Sexual Content - 10/10
Occult/Supernatural - 10/10
Cultural/Moral/Ethical - 10/10
The levels get gradually harder with their requirements and if you want a greater challenge you can play the game in hard mode.  Before and after each chapter is a story sequence that unfortunately is not voice acted.  The intro is though.  Throughout the game you'll hear a few classical songs that suit the genre and time period nicely.
The artwork in this game is very pretty with the vibrant colors and painted style.  The option to set the backdrops as desktop wallpapers is a nice touch.  Unfortunately, the artwork is low resolution and looks stretched on my 2560x1440 resolution monitor.  
The pretty graphics  caught the attention of my kids who watched me play this game. My husband liked to give me pointers as well.  (Is it possible to play solitaire without someone giving you playing suggestions?)  While Regency Solitaire is suitable for adults, I'd exercise caution before letting a child play it since it has the words d*mn and hell in it.  
Despite those minor issues, I enjoyed playing Regency Solitaire.  I look forward to checking out more titles from the husband and wife team of Gray Alien Studios.  Regency Solitaire can be purchased on their website for $9.99 for a limited time.  It's also been greenlit on Steam so be sure to keep an eye out for it there.