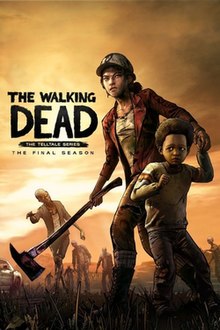 Game Info:
The Walking Dead: Season 4 - The Final Season
Developed by: Telltale Games
Published by: Skybound Games
Release date: August 2018-March 2019
Available on: PC, PS4, Switch, Xbox One
Genre: Adventure
Number of players: Single-player
ESRB Rating: Mature for intense violence, blood and gore, strong language
Price: $19.99
Thank you Skybound Games for sending us a review code!
It was a sad day for gaming when Telltale Games unexpectedly announced that they were closing down in September of 2018. Their popular choice driven adventure game series include Batman, The Wolf Among Us, Minecraft Story Mode, and The Walking Dead. At the time of the announcement, only half of the final season was completed. Thankfully, Skybound Games assisted in finishing up the series so gamers could get some closure on Clementine's story.
When the series began, Clementine was just a kid trying to survive in a zombie-infested world. The world was in a post-apocalyptic state with food, transportation, and fuel being hard to come by. Especially for a child. Lee was the main character who took Clementine under his wings and taught her valuable survival skills including how to shoot a gun and keeping her hair short so the undead (or living) could not easily grab it. Unfortunately, Lee got bit and Clementine had to make the hard decision of choosing to kill him before he turned or let him become a mindless animated corpse.
If you've played the previous games, you can import your save/choices and pick right up where you left off. If you played the previous games on another platform, you'll be asked various questions on what decisions you made in the previous seasons so everything lines up properly in the dialogue.
Highlights:
Strong Points: Excellent story and characters; great voice acting and visuals
Weak Points: Took a while to fully release due to Telltale's sudden closure
Moral Warnings: Extreme violence with dismembering and blood spraying everywhere; most of the killing is in self-defense but  there are some instances of murder, every curse word is used along with some blaspheming; the Bible is referenced but pages from it are used for making cigarettes; the story revolves around undead beings and the afterlife (or lack thereof); same-sex dating option available
Season 4 begins with Clementine caring for a young AJ that she's known since he was a baby. In the ruined world, these two are forced to grow up pretty fast and have to not hesitate when it comes to killing walkers. On their search for food and shelter, they ultimately wind up at a schoolyard that is run by its former students. There are no adults in this community and Clementine and AJ fit right in.
As welcome as they feel and finally happy to call somewhere home, everything is not as it seems. When a big secret is about to get exposed, there is some bloodshed and both Clementine and AJ are back where they started, except this time, without a car!
While on their own, they meet up with a "walker-whisperer" named James who is convinced that walkers are harmless as long as you smell like one of them. Instead of outright killing them, he prefers to distract them by throwing a stone elsewhere to make a noise that will lure them away. With all of the gore and bloodshed, I've always welcomed a non-violent option of getting the walkers off of our trail. With that said, I disagreed with him on the zombies having any sentience.
There's some discussion on the afterlife and some of the characters are convinced that the dead go to a better place and don't go into much detail other than that. Leviticus is referenced, but only because those are the pages used in making cigarettes for one of the characters. God's name is used in vain and there isn't much reverence for Him in this game.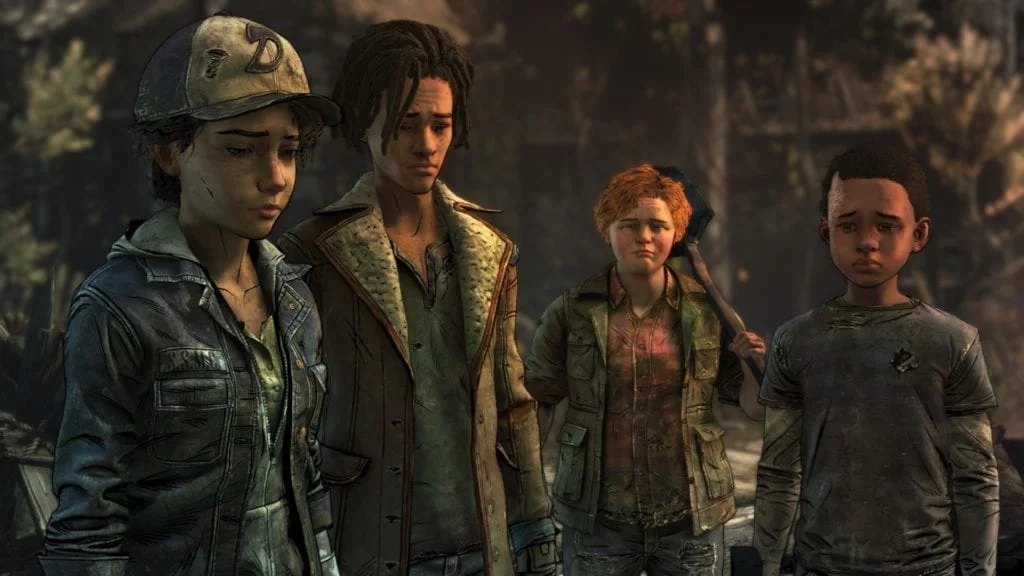 Score Breakdown:
Higher is better
(10/10 is perfect)
Game Score - 86%
Gameplay - 16/20
Graphics - 9/10
Sound - 8/10
Stability - 5/5
Controls - 5/5

Morality Score - 36%
Violence - 0/10
Language - 0/10
Sexual Content - 3/10
Occult/Supernatural - 7/10
Cultural/Moral/Ethical - 8/10
Every curse word imaginable is used and Clementine is asked in a card game which three characters she'd like to marry, *uck, or kill. In the list of names is a female. Depending on how you interact with one of the same-sex characters, you can start a romantic relationship with her.
I like how I was able to influence AJ's upbringing and help him atone and make good moral choices. Some of the decisions I made led to character deaths though. I don't recall seeing an undo button but I'm curious how things are resolved with different choices. Replay ability is an option for sure! I like how your decisions are compared with other players and most of the time, I was with the majority.
If you are squeamish around blood, then this series is not for you. You'll have to bash in zombie skulls, hack off their limbs, and even remove shrapnel from living people you care about. Some characters you develop bonds with may die or become a walker depending on the choices you make. The story, voice acting, and visuals are all top notch in this series. Quality-wise I couldn't tell where one studio left off and the other took over.
For those looking for closure on The Walking Dead Series, this season finale is worth picking up. Morally, it's just as violent and curse ridden as the previous games. Pro-LGTBQ gamers will rejoice at the inclusion of a same sex relationship despite the human race being on the verge of extinction.