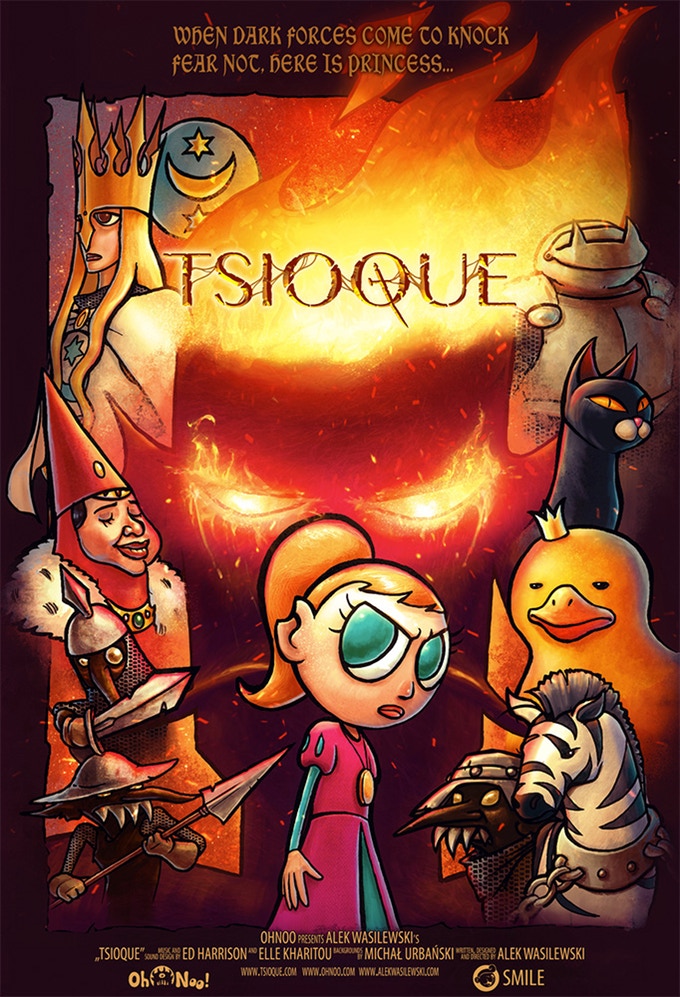 Game Info:
TSIOQUE
Developed By: OhNoo Studio, Smile
Published By: OhNoo Studio
Released: November 7, 2018
Available On: PC, macOS, plays very well on Proton
Genre: Point-and-Click Adventure
ESRB Rating: None
Number of Players: Singleplayer
Price: $13.99 on Steam
Thank you OhNoo Studio for sending us this game to review!
TSIOQUE is a point-and-click adventure game about 5-6 hours long, and it follows a young princess, Tsioque, who is the titular protagonist. Her mother, the Queen, has left to go out and fight a monster that is causing trouble outside of the castle, and poor Tsioque (who is revealed to be so young she is illiterate) is left alone. Her father is never mentioned. However, there is a wizard who was left behind in the castle as well, and he is entrusted with keeping the castle in order. But he's been formulating a plan of taking it over, and he implements it once the Queen is gone by locking up Tsioque in the dungeons, which is where the gameplay itself begins.
The gameplay is quite simple, and as I've found, it works very, very well with touchscreen (possibly better than without it). The controls are simple, and that means there's no need for a controls menu. Thus, there isn't one. The player merely uses their mouse to navigate the game's world, to interact with it, and to progress the story. The menu is found by clicking on the gear on the top right corner. The player's inventory (bag) is on the bottom right corner, and is always visible, unlike the menu button (gear), which renders itself invisible whenever the mouse cursor moves away from it. There are also different cursors to indicate what the player can do upon clicking an object, which are pretty self-explanatory. Every time the player clicks on something that is not supposed to be touched yet, Tsioque shakes her head to indicate that it shouldn't be touched yet.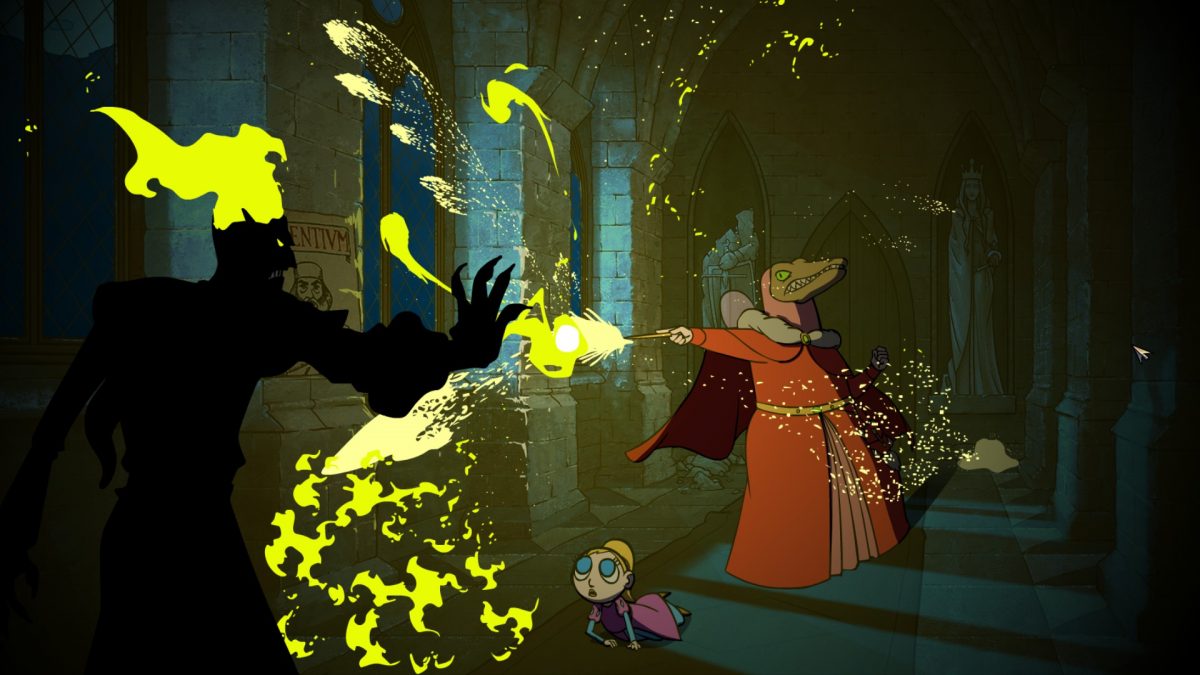 Highlights:
Strong Points: Very interesting and captivating story; engaging, interesting minigames; puzzles are challenging enough to be fun and easy enough to not be frustrating; great music and voice acting; very visually pleasing art style; forgiving workflow
Weak Points: It's not always obvious what you're supposed to do next, so you might get stuck trying to figure that out
Moral Warnings: The player has to brew a potion (the game calls it an elixir); at one point the player has the possibility of getting eaten (no blood shown); the Evil Wizard puts the castle in danger; a slight amount of necromancy that show up for a few seconds; bathroom jokes; protagonist is temporarily abandoned by mother, who never shows up in-game; father is never mentioned; crystal ball in menu and Wizard's office; generally, all magic stays within the fairytale realm
Occasionally throughout the game, there are a few story sequences where the gameplay itself stops and is temporarily replaced with a storybook-like scene. There is one at the beginning to give the player some background info, one in the middle, and one at the very end before the credits. The storybook sequences are written in a poetic format, and are read aloud with stellar voice acting. There is a bit of background music during these scenes as well. It has a dark theme and helps support the voice acting exceptionally well, dramatizing it perfectly.
The puzzles in TSIOQUE are the perfect level of challenging, and the story is fast-paced and exciting. Timing is quite important in these puzzles, and this heightens the excitement in them. However, if the player does manage to make a mistake and fail a puzzle somehow, they will merely restart the puzzle, wherever that may be, which serves for a very forgiving workflow. (There is no blood, but sometimes the deaths can be very brutal.) There are some more interactive ones as well, such as sewing, putting puzzles together, picking the right key to unlock a door, among others.
The graphics in TSIOQUE are stunning, as the art in it is hand-drawn animation. The audio is also incredibly good, as the voice acting throughout the game is spot-on, and any extra noises blend perfectly with any other background noises. The music is dark, but fitting for the game's theme, and everything complements each other.
There are some things in TSIOQUE that are morally questionable. For example, there is some gross humor in it, the most prominent example being where there is a guard who needs to go to the bathroom quite badly, and part of that puzzle is to give that guard an opportunity to go. Drunkenness is also somewhat visible in the game, as there are several guards seen drinking beer as the player makes their way through the story.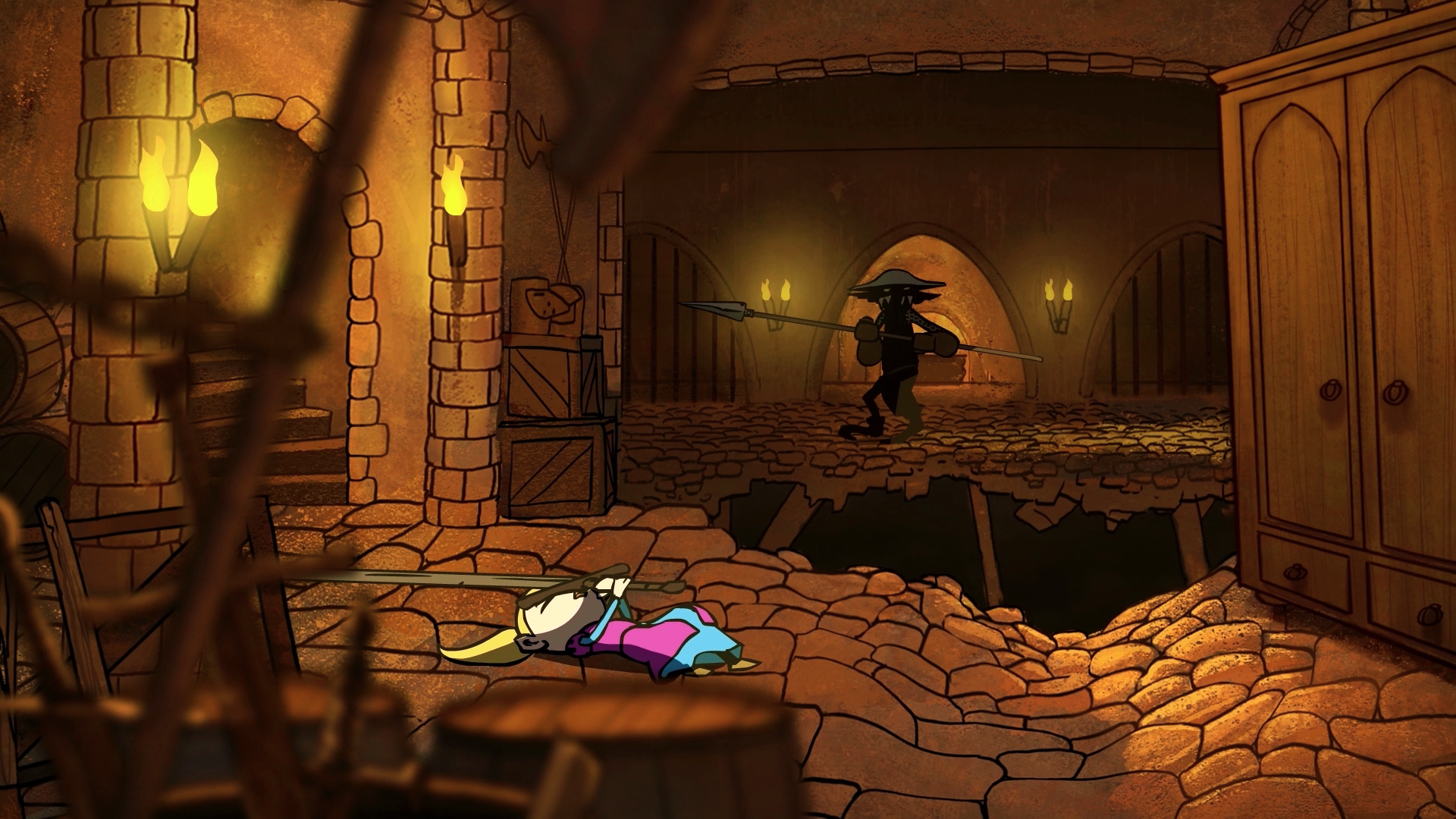 Score Breakdown:
Higher is better
(10/10 is perfect)
Game Score - 92%
Gameplay - 16/20
Graphics - 10/10
Sound - 10/10
Stability - 5/5
Controls - 5/5

Morality Score - 87%
Violence - 8/10
Language - 10/10
Sexual Content - 10/10
Occult/Supernatural - 7/10
Cultural/Moral/Ethical - 8.5/10
The most prominent thing, though, is the magic. At the beginning, the Evil Wizard is seen performing a bit of necromancy on some skeletons, but said necromancy doesn't appear anywhere else in the game. There is an invisibility blanket that repeatedly shows up throughout the gameplay. There is also a magic bag that the player has to pick up and fix, and they use it as their bag for the remainder of their time playing TSIOQUE. At one point, the player has to gather the ingredients for a potion (the game calls it an elixir) and brew it using a special machine. There is also a crystal ball on the title screen menu and in the Evil Wizard's office. However, the in-game magic usage is not based off of any religion that I know of, and generally stays within the boundaries of a fantasy setting.
If you are looking for a story-centric point-and-click adventure with a touch of darkness, then TSIOQUE is the game for you!
- Kittycathead