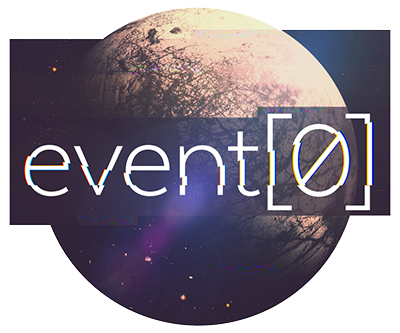 Game Info:
Event[0]
Developed by: Ocelot Society
Published by: Ocelot Society
Release date: September 14, 2016
Available on: macOS, Windows
Genre: Adventure
Number of players: Single-player
ESRB Rating: Not rated
Price: $19.99
(Humble Store Link)
Thank you Ocelot Society for sending us this game to review!
When you first launch Event[0], you'll be asked some questions to personalize the experience. You can choose to identify yourself as a he, she, or they. You'll then get to specify your background and make some other choices that will eventually get you into outer space. Once in space, things go horribly wrong and you'll find yourself stranded. Before giving up hope, your escape pod docks at an out of date space station and your quest to return home begins.
The space station appears to be abandoned, but there are many terminals with a great AI interface that goes by the name Kaizen. If you agree to help destroy a drive on the ship, it will let you explore the space station. You get to interact with multiple terminals in rooms, hallways, and elevators in the space station. While typing in commands works, full sentences are preferred. Kaizen also appreciates it if you are polite and cooperative. There are multiple endings so your decisions have an impact on which one you get.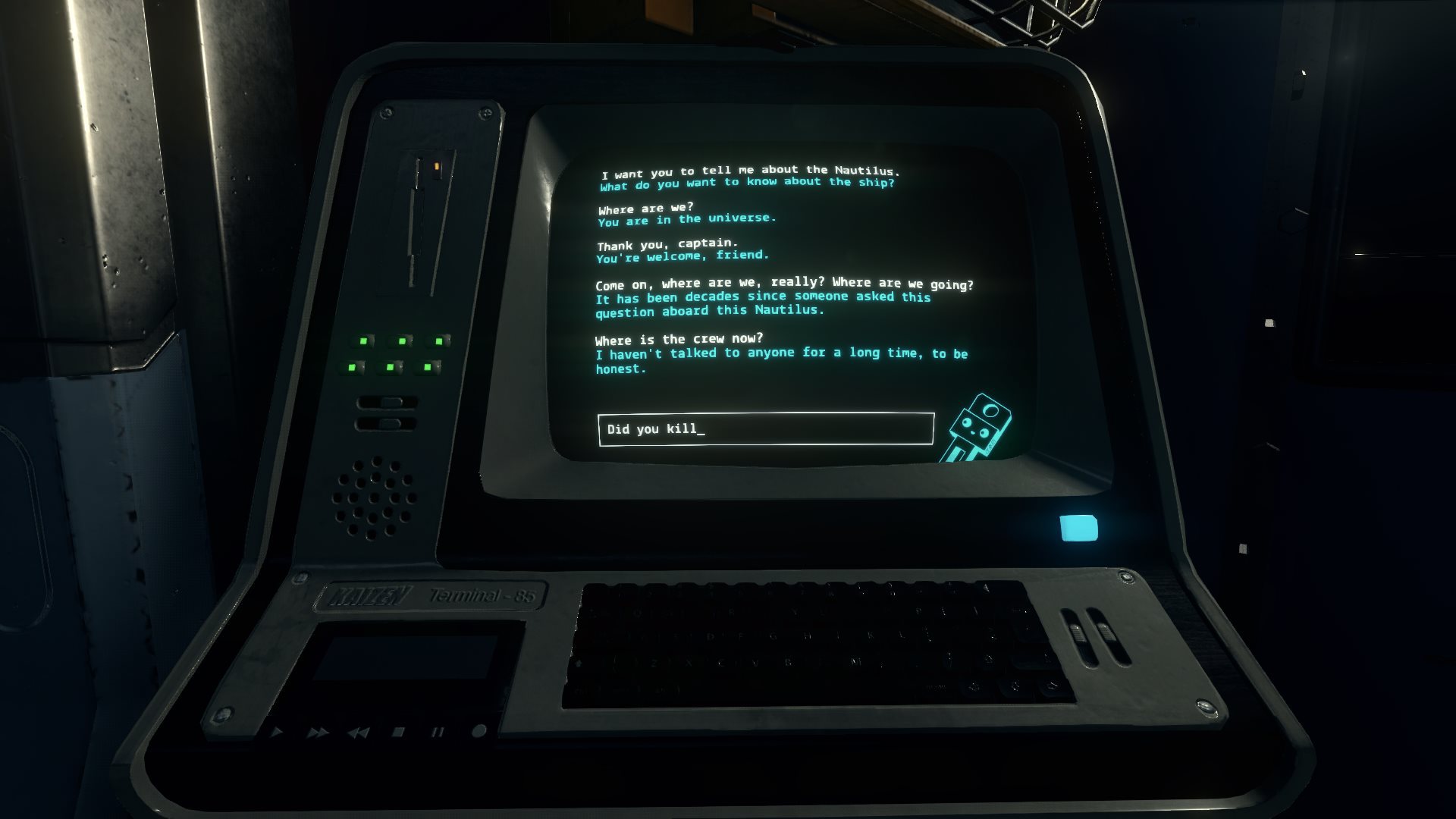 Highlights:
Strong Points: Great computer terminal AI; easy controls; interesting story
Weak Points: Expensive for short amount of gameplay; long loading screens
Moral Warnings: Strong language (hell, f*ck) is in the logs that you have to read to learn vital information needed to progress the story
My first playthrough was completed in less than two hours. If you plan on replaying it, this game may be worth the $19.99 asking price but if you are a "one ending is fine" gamer, then you may want to wait for a Steam sale. No matter your play style and budget, Event[0] is a surprisingly good game with some clever puzzles and an interesting story. If the puzzles stump you, there are helpful walkthroughs online though keep in mind that some of the access codes are randomized so what works for one game may not work in another.
Finding out the required passwords, memory addresses, and other information can be obtained by reading post-it notes or entry logs on the terminals. Some of the entries are laced with strong language that should not be repeated by kids or Christians ([url=https://www.biblegateway.com/passage/?search=Ephesians+5%3A4]Eph 5:4[/url]). It is possible to die in this game and there are references to a murder that took place on the space station.
The controls are very simple with the left mouse button to move forward and the right mouse button to go backwards. When you're exploring outside of the space station you'll use the left and right mouse buttons for thrust and holding your position. When traveling outside, be sure to monitor your oxygen level. Your character will become short of breath and gasp for air when it runs low.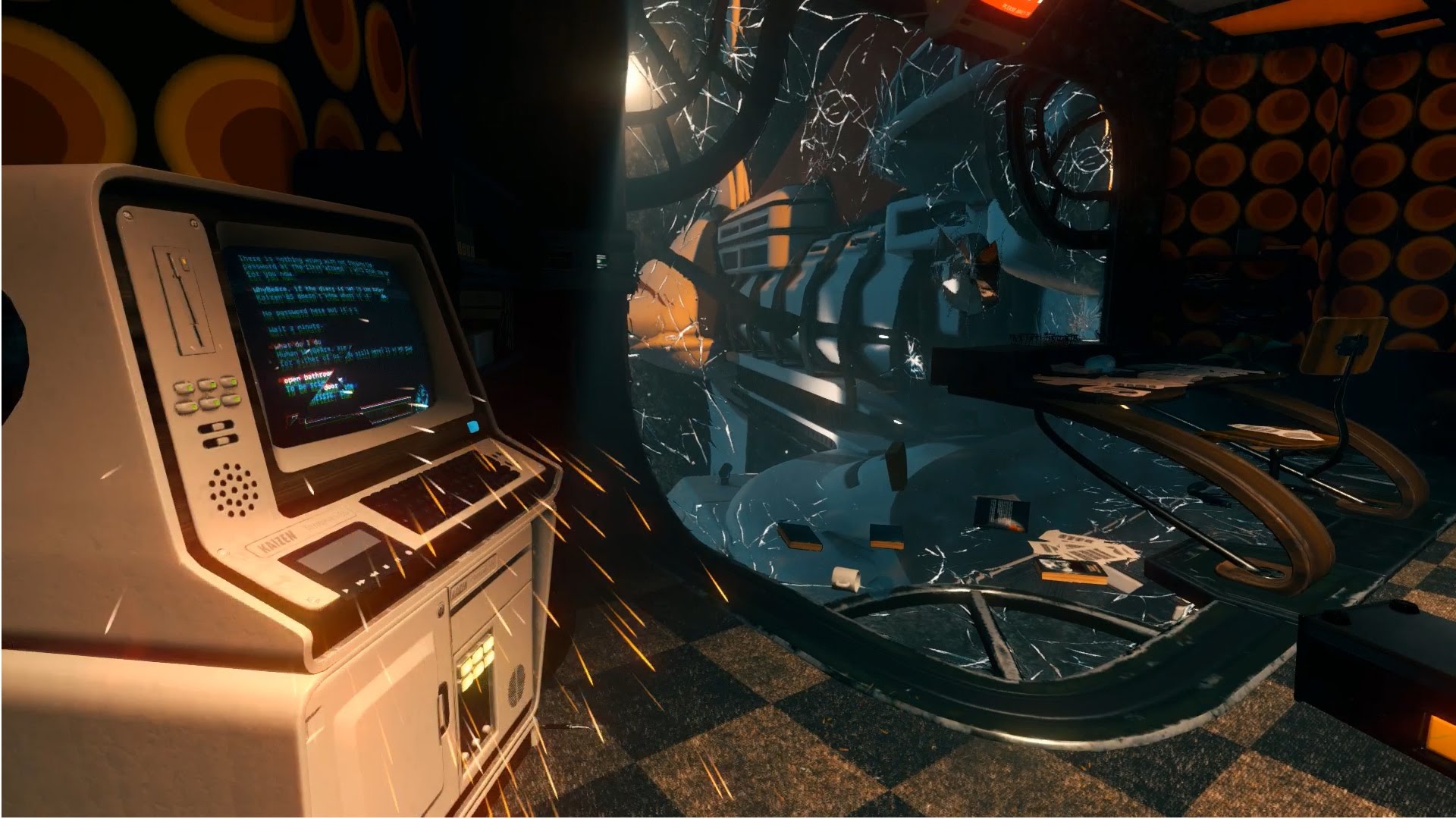 Score Breakdown:
Higher is better
(10/10 is perfect)
Game Score - 84%
Gameplay - 16/20
Graphics - 8/10
Sound - 8/10
Stability - 5/5
Controls - 5/5

Morality Score - 88%
Violence - 9/10
Language - 5/10
Sexual Content - 10/10
Occult/Supernatural - 10/10
Cultural/Moral/Ethical - 10/10
The puzzles in this game range from musical ones to logic based ones. To get to the final room, you have to locate a diary with a door access code on it. Finding the diary takes a lot of ingenuity and requires breaking into a room that has retina scanners that you don't have a match for. Earlier in the game you can bypass the retina scanner but that method won't work here.
Visually this game is pretty good as this space station looks believably outdated. The terminal interfaces are nicely antiquated as well. The sound effects and theme song are both well done and fitting to the game's atmosphere. What impresses me the most about Event[0] is the computer terminal AI and that interacting with it feels natural.
As neat and as fun as this title is, I don't think I'd pay the whole price for it since it's quite short. As long as you don't mind some strong language, Event[0] is definitely worth adding to your wishlist and picking up on a Steam sale though.