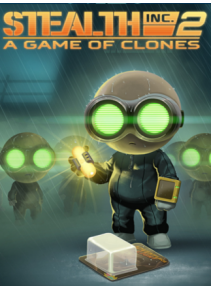 Game Info:
Stealth Inc 2: A Game of Clones
Developed by: Carbon
Published by: Curve Digital
Release Date: April 30, 2015
Available on: PC, PS4, Wii U, Xbox One
Genre: Puzzle/Platformer
Number of Players: Single-player
ESRB Rating: Teen for violence and blood
Price: $14.99
Thank you Curve Digital for sending us this game to review!
Stealth Inc 2: A Game of Clones is a sequel to the originally free Windows game, Stealth B*stard.  It was later enhanced and renamed to a much more palatable Stealth Inc: A Clone in the Dark and was made available on the PS3 and PS Vita.  Stealth Inc 2: A Game of Clones was originally released on the Wii U in October 2014 and came out on PC, PS4, and Xbox one in April of 2015.  While the asking price is $14.99, the game has been on numerous sales since its launch and was even freely available for a short period of time.  
For those who are new to the series it's best described as a mashup between Portal, Metal Gear Solid, and Super Meat Boy.  Like Portal, there are sixty sadistic experiments to complete and many more are made available through Steam's workshop and built in level editor.  In fact, one of the twelve Steam achievements can be earned by completing and rating a user created level.  The level editor is fairly simple to use and sharing completed levels among the gaming community is pretty easy to do.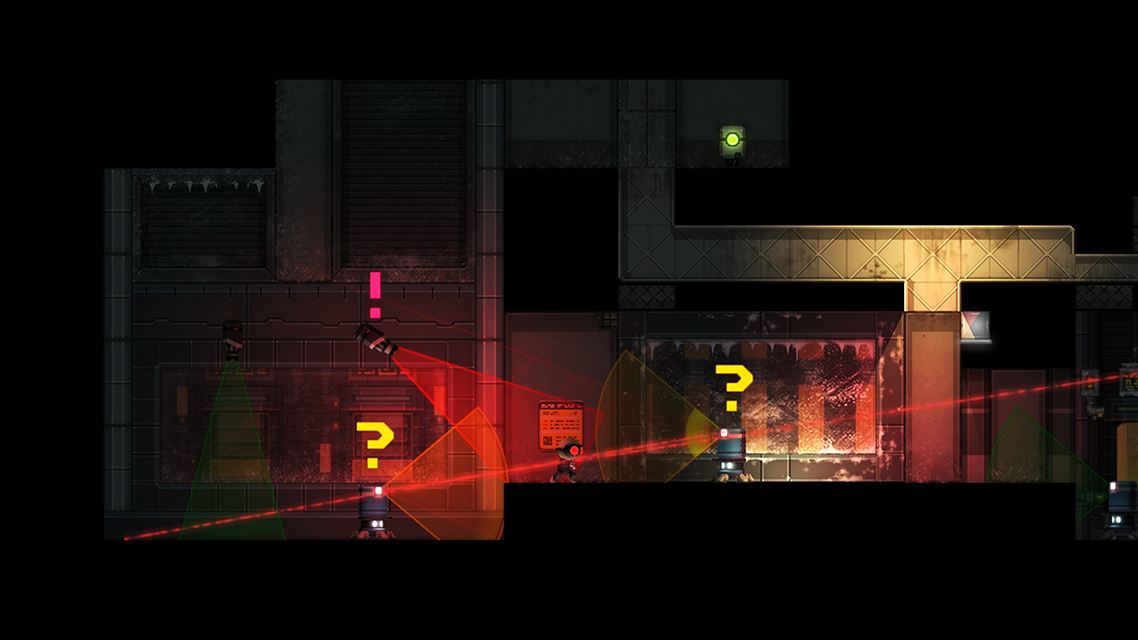 Highlights:
Strong Points: Fun and challenging stealthy platformer
Weak Points: Some may find it too challenging
Moral Warnings: Bloody deaths
Like Super Meat Boy. Stealth Inc 2 is a brutally hard platformer and tests both your brain and reflexes.  Unfortunately, my age is showing in both categories and some may be put off by the difficulty of this game.  Letter grades are given for each completed test and another Steam achievement is available for those that can achieve an S rank on every level.  Sadly, my average grade is a B due to deaths and taking longer than other people online.  My happiness for finishing a level is completely squelched when seeing the online leader-boards of those who have managed to do it in half of the time it took me.
Those who like stealthy games like Metal Gear Solid will enjoy sneaking around and avoiding detection from numerous robots, turrets, deadly laser beams, and bosses!  The main character's goggles will change color to indicate their visibility rating and they'll have to use the environment to their advantage to avoid being detected by various security cameras and sensors.  Some levels have clouds of steam that can be used to bypass sensors.  The goal in each level is to hack the terminal to unlock the exit door.  It should go without saying that this is easier said than done as the levels gradually ramp up in difficulty.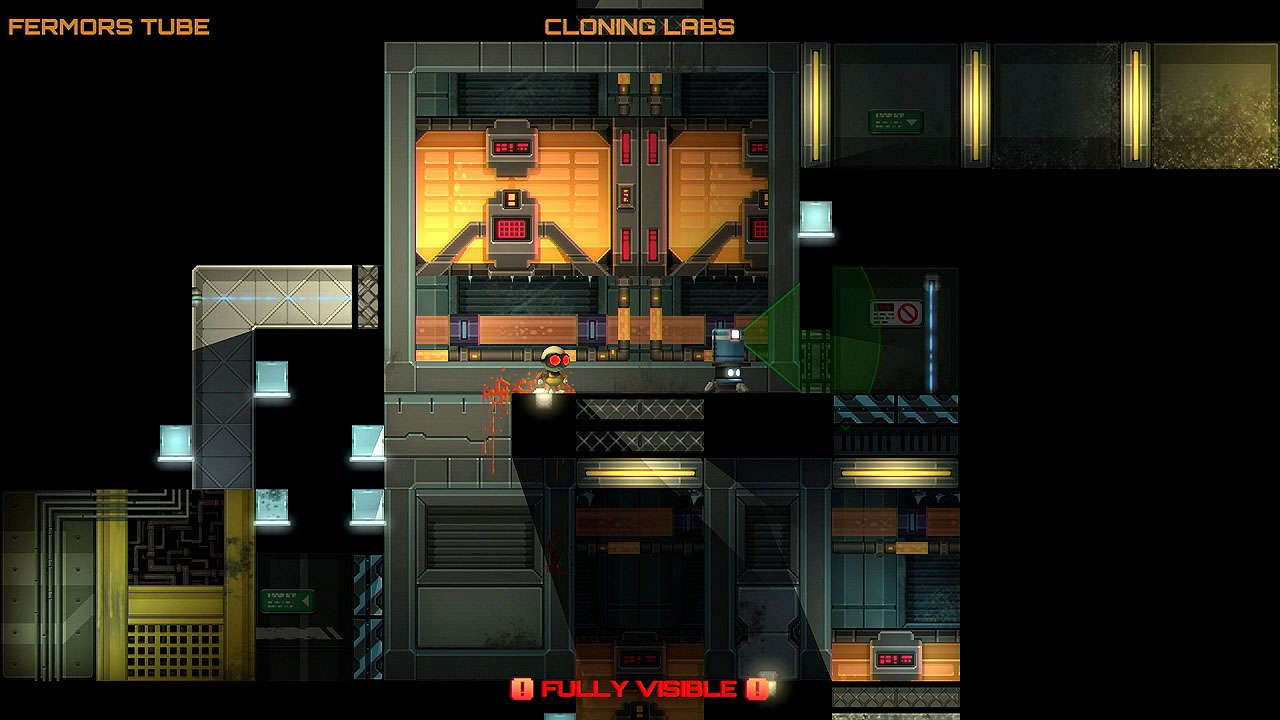 Score Breakdown:
Higher is better
(10/10 is perfect)
Game Score - 82%
Gameplay - 15/20
Graphics - 8/10
Sound - 8/10
Stability - 5/5
Controls - 5/5

Morality Score - 92%
Violence - 6/10
Language - 10/10
Sexual Content - 10/10
Occult/Supernatural - 10/10
Cultural/Moral/Ethical - 10/10
The over world is fully explore-able and has some secret test chambers and many unlockable outfits available for those who are willing to travel off the beaten path to find them.  In a game about clones it's good to stand out from the rest right?  You can find various outfits to change your clone to look like a Viking, chicken, rabbit, wizard, jester, king and many more.   
I like the 2D art style and this game had a macabre feeling to it as many of the levels are splattered with blood warning you of imminent danger.  Chances are that you will die a lot and there are plenty of clones to take your place when that happens.  
The sound effects and electronic style background music are fitting.  There is a soundtrack bundled version of the game for $2 more.  The sound track by itself sells for $2.99 on Steam or $6.99 on Bandcamp if you want higher quality audio files.
Overall, Stealth Inc 2 is a fun, but difficult game.  I recommend it for any gamer that likes puzzle or platformers games and isn't squeamish when it comes to blood.  I'd hold off until it's on sale again before picking it up though.