Game Info:
Clover:A Curious Tale
Developed By: Binary Tweed
Published By: Blitz Game Studios
Released: March 2010
Available on: PC
Single Player
Genre: Adventure, Platformer
ESRB Rating: E
Retail Price: $9.95

System requirements
Operating Systems: XP SP2 or above
Processor: 2.0Ghz
Memory (RAM): 1024MB
Hard Disk Space: 500MB
Graphics Card: DirectX 9c compatible, shader 2.0 support
Sound Card: DirectX 9.0c compatible
Thank you GamersGate for giving us this game to review!
Clover: A Curious Tale is a political platformer/adventure game hybrid. You take on the role of a teenager named Sam, who lost his mother in a tragic boat accident. Or was it an accident? There are definitely some hints of foul play tracing back to King Heydrich himself. You must tread carefully as one wrong move will land you in jail or gaol as they spell it in Britain. As long as you bring back a piece of the wrecked ship you\'ll be on the king\'s good side and can leave the prison.
Like many adventure games, you must talk to everyone and collect items as they may serve a purpose later on. At first you\'re limited to only carrying two items at a time, but you can complete a task to earn the ability to carry three items. Like many platformer games, you\'ll have to avoid some enemies and do some jumping puzzles. Fortunately, there is no health bar or death, just jail if you fall in the water and pollute the water supply.
Highlights:
Strengths: Unique combination of platform and adventure game play. Nice water color artwork. Lovely background music and great voice acting.
Weaknesses: Short game play, not many walkthroughs available
Moral Warnings: drinking and drunkenness
Some of the puzzles in the game are relatively easy to solve; for example there\'s a horse that can allow you to quick travel between towns. This horse is motivated by food so you\'ll have to collect a carrot and a fishing pole. When you have the items in your inventory, they will automatically combine for you. Other puzzles are a bit more challenging. An example of a tougher puzzle for me was the nearly blind arms dealer in the town of Trigfere. In order to sneak around his shop you have to hang a heavy curtain upstairs to block the sunlight.
Graphically this game is very unique. The characters have a south park look to them and the backdrops are all done in water color. There are some animations here and there such as bugs flying and sheep walking around. I found that this game ran better in windowed mode than full screen for me. When I ran it full screen, it would have a repetitive snag every few seconds which was very annoying.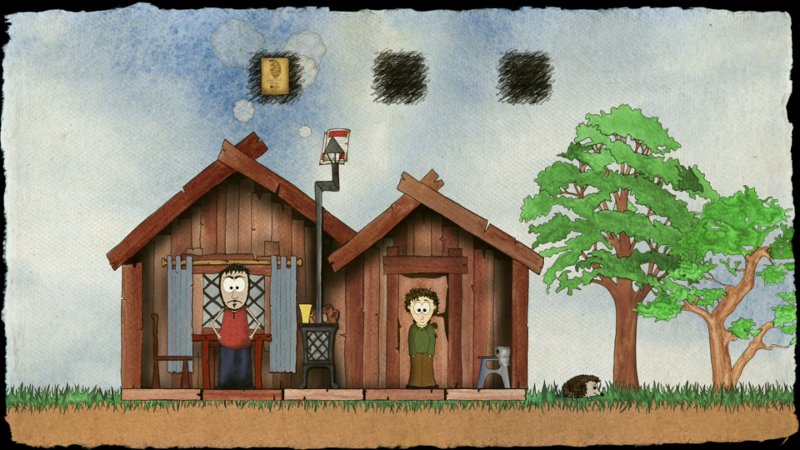 Score Breakdown:
Higher is better
(10/10 is perfect)
Game Score: 76%
Game Play: 14/20
Graphics: 8/10
Sound: 8/10
Stability:4/5
Controls/Interface: 4/5

Appropriateness Score: 95%
Violence: 10/10
Sexuality: 10/10
Language: 10/10
Occult/Supernatural: 10/10
Cultural/Moral/Ethical: 7.5/10
All of the characters have British accents and unique voice actors. The background piano music is very fitting and adds a nice touch. The ambient sounds and sound effects won\'t disappoint either.
From an appropriateness perspective, this game is pretty clean. There are a couple of characters that are drunk and one of the quests has you cure a hang over. Along your travels you\'ll discover some prejudice between different kingdoms.
Clover: A Curious Tale has multiple endings and I\'ve only seen one of them. There\'s not much out there when it comes to Walkthroughs. I was able to find a video walkthrough that helped me out a lot. The game play is relatively short as I was able to beat the game in three hours and twenty minutes. Apparently this game is a re-release from an Xbox version and is 50% longer than before! For under ten dollars though this game is seriously worth getting. I just hope more walkthroughs become available so I can see the other endings.