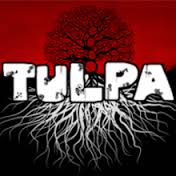 Game Info:
Tulpa
Developed by: Encryptique
Published by: Rising Star Games
Release Date: January 29, 2015
Available on: PC, Mac, Linux
Genre: Platformer/Puzzle
Number of Players: Single-player
ESRB Rating: Not rated
Price: $9.99
Thank you Rising Star Games for sending us a review copy of this game!
Tupla is a 2D platformer puzzle game about a girl named Ophelia and her (literal) soul mate, Oliver.  Most platformer games I'm familiar with have emotionally balanced heroes that happen to have super powers.  Ophelia is mentally unstable and will die/shatter into pieces if left in a disturbing scene for too long, or is separated from Oliver for more than a few seconds.  
There are lots of disturbing scenes and puzzles in this artistic game.   The graphics are simple yet elegant with only a few contrasting colors in each level.  The puzzles are challenging and often involve interacting with objects that are not easy to detect at times.  
Ophelia can jump with the space bar and move with the arrow keys.  Oliver can change the direction he's floating in by using the WASD keys.  Whenever you move one character, the other will follow to prevent Ophelia from having a fatal tantrum.  Oliver has the useful ability of interacting with items by using the mouse cursor while Ophelia can pull objects by standing by them and pressing the X key.  By simply bumping into items, she can push items too.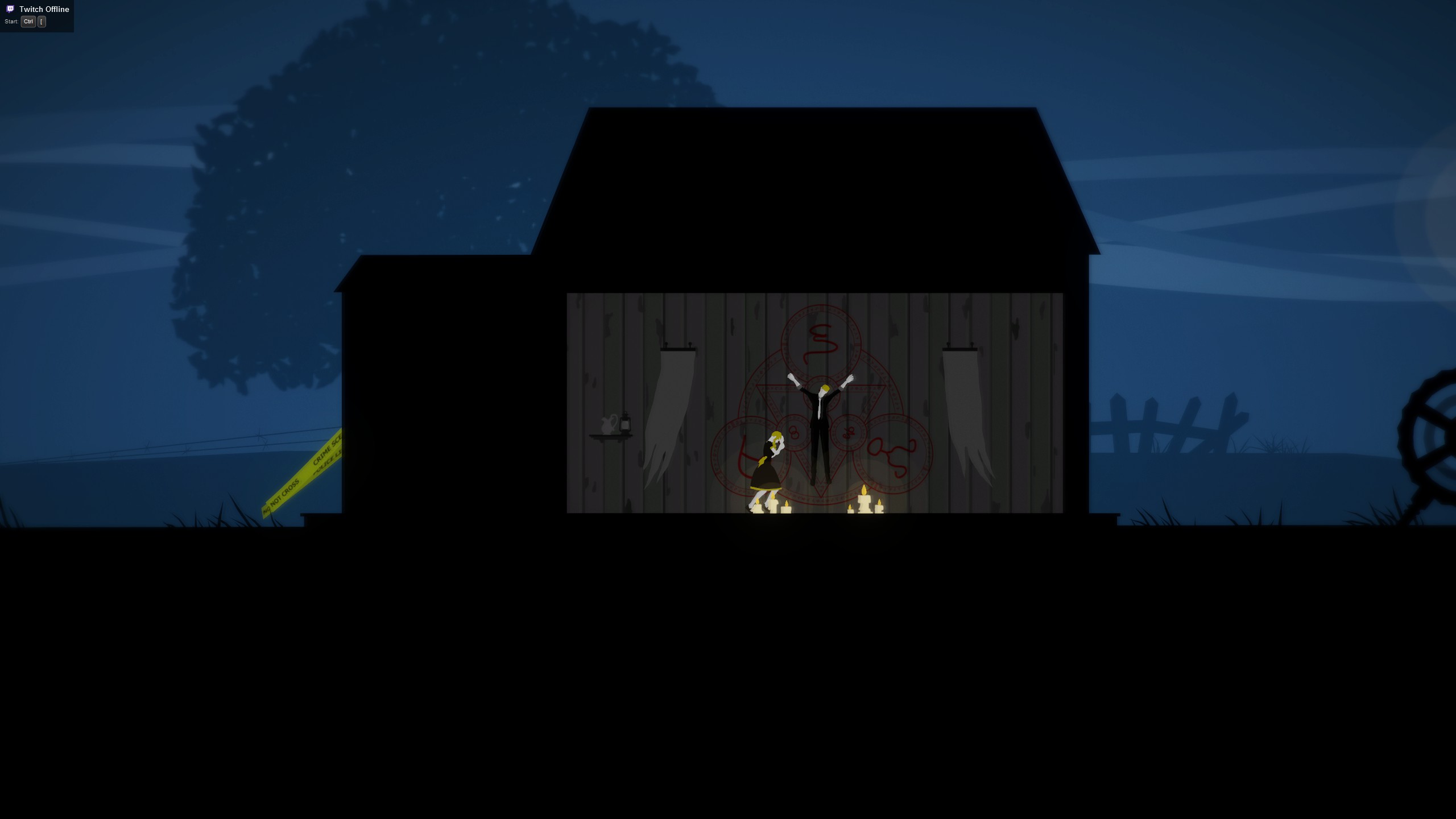 Highlights:
Strong Points: Challenging puzzles; chilling soundtrack
Weak Points: Extremely short game that can be beaten in a couple of hours
Moral Warnings: Bloody and gruesome imagery; many religious and spiritual references
 Each level offers plenty of opportunities for each character to die.  While the ground is normally safe for Ophelia, some blades of grass (depicted in white instead of black) are razor sharp and deadly for her if stepped on.  There are also lethal spinning wheels that can slice up Oliver's spirit and kill Ophelia too because of her life-threatening separation anxiety.    
Tulpa can be rather disturbing at times and probably should not be played when impressionable children are nearby.  For example, one of the challenges involved a ravine with long spikes in it.  In order to make this crossable for Olivia, Oliver has to impale huge eyeballs on the tips of the spears so Opheila can hop across on them.  Yuck.   There is another scene with a big head that you have to enter through the mouth.  Blocking your path is a huge tongue with lots of eyes.  To get past it, you have to cut it off with one of the many swords sticking out of the giant humanlike head.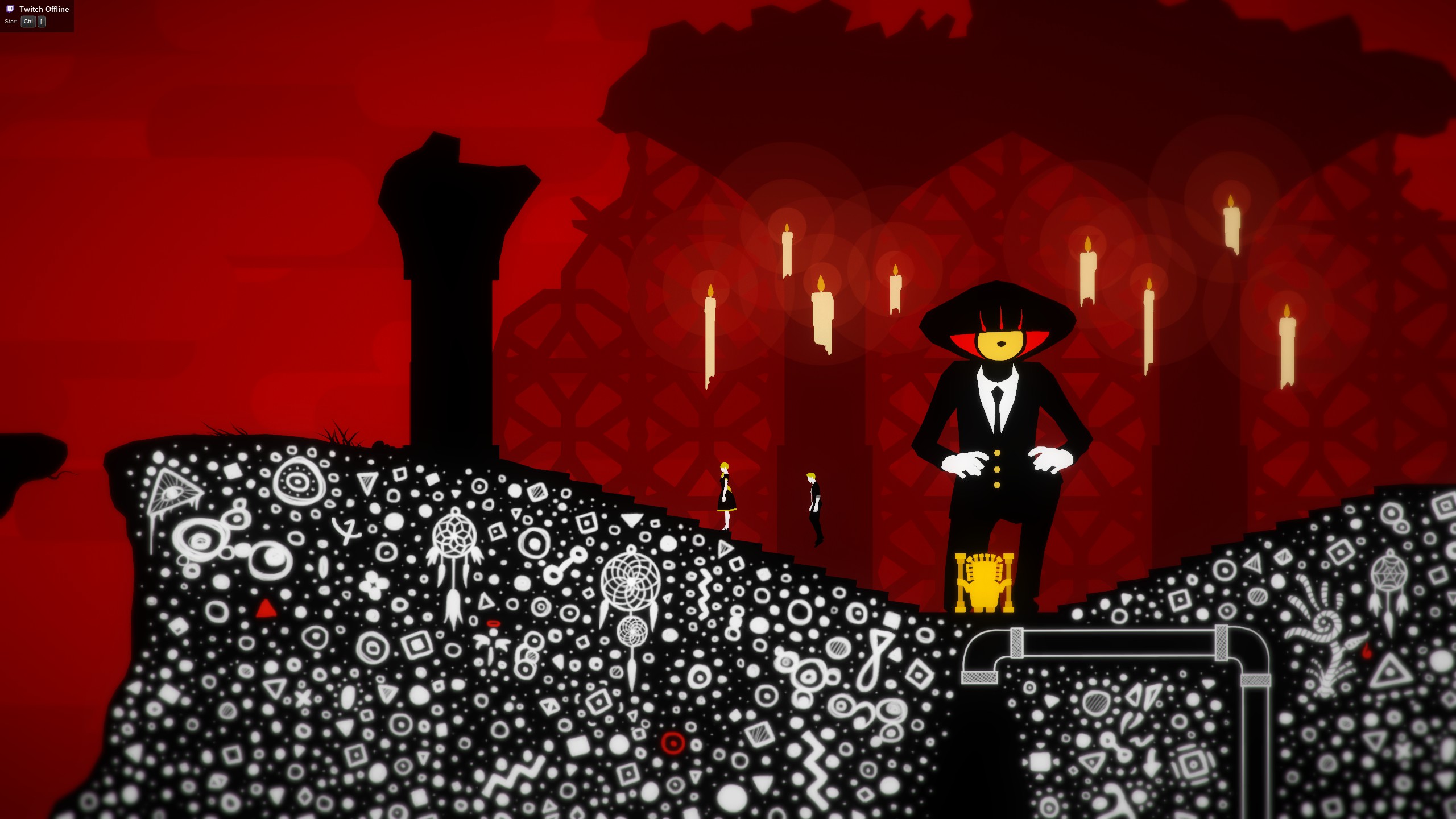 Score Breakdown:
Higher is better
(10/10 is perfect)
Game Score - 82%
Gameplay - 14/20
Graphics - 8/10
Sound - 9/10
Stability - 5/5
Controls - 5/5

Morality Score - 70%
Violence - 0/10
Language - 10/10
Sexual Content - 10/10
Occult/Supernatural - 5/10
Cultural/Moral/Ethical - 10/10
Given the title and spiritual form of Oliver, it shouldn't come as any surprise to encounter religious references in Tulpa.  Buddhists believe that Tulpas are conjured spirits that are created from someone's willpower or mind.  Besides the Buddhism references, there are Hindu gods, occult themes, and crucifixes to interact with throughout this adventure.  
Adventure gamers will feel at home with some of the trope puzzles like the Tower of Hanoi and music mimicking challenges.  Other than the annoying music puzzles, the background music is exceptionally done.  It definitely pulls off the desired creepiness levels and suspense when needed.  The sound effects are brilliant too.  While dying was annoying, I like how it looked and sounded like glass shattering when it happened.  The steadily increasing heartbeat when Olivia and Oliver were separated was spot on too.
While Tulpa is disturbing at times, I cannot deny the unique adventure that it offers.  Unfortunately, it's a very short journey as  I was able to beat this game in less than three hours. The normal price is $9.99, but I have seen it on sale for half off.  At five dollars you may want to consider it if the spiritual aspects of the game don't bother you.