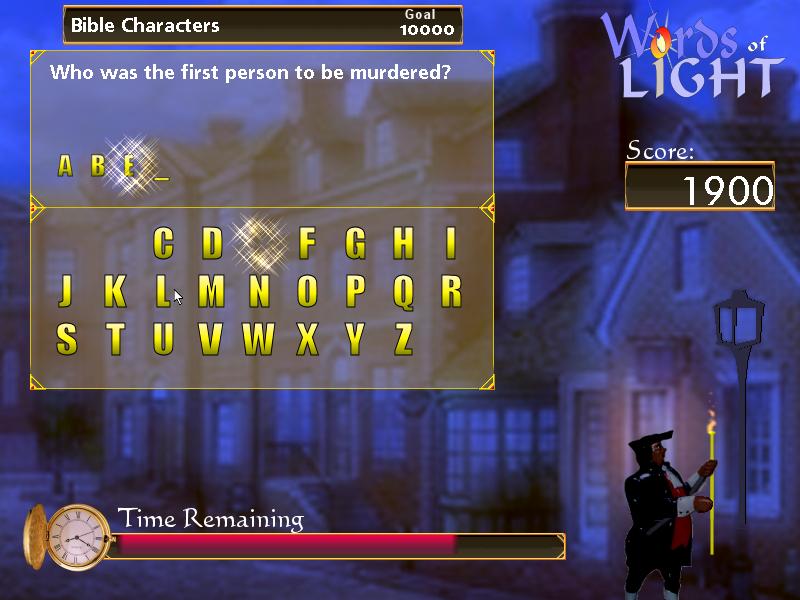 System Requirements
Windows 98/ME/2000/XP/Vista
Pentium 800Mhz or better
32MB RAM
Hardware-accel. Video card w/32MB

The world is a dark place and it's your job to bring light to these fifty houses/levels. To bring light to each house, you have to complete a level. For each one, you solve a word puzzle before the time runs out, and you pass it by earning 10,000 points. There are awards you can win for correct guesses, perfect levels, and for how many words you get per level.

What are the levels like?

Most of the levels are fill in the blank style. You can either click or type the letters you want to use. You don't get penalized per-se for using all of the letters, so you can get lucky or cheat by hitting all of them, but your accuracy goes down so completing the levels this way will blow your chances for the perfect guesses award. There are some word find puzzle levels where you have to highlight words hidden with other letters. The hardest levels in my opinion are the un-scramble ones where you have to figure out the word from the scrambled letters.

What awards are there?

The awards add re-playability for those who like to perfect their scores. Here are the awards you can win:
25, 50, 75, 100 correct in a row
10, 15, 20 words in a level
Perfect level
All levels completed in bronze, silver or gold
Graphics

This game has a Flash like feel to it. The graphics are 2D but have a nice look and feel to them. You don't need the latest 3D engine to enjoy a good puzzle game.
Sound
There are some nice sound effects when you click on the letters or while you are scoring some points. The looping background music is pleasant and doesn't get on your nerves.
Controls
You can use a keyboard or a mouse to select the letters you want to use. The game automatically takes into consideration duplicate letters.
Stability

The game runs pretty well for me and I haven't experienced any crashes. I ran into a bug on one of the word search levels and I contacted the developer and they had a fix the next day. I haven't had a problem since!
Appropriateness

This is a great family friendly game that I would recommend to anyone.

Final Thoughts
If you like word and trivia games, then you'll love Words of Light. The game is lots of fun, and with an asking price of $14.95, you get your money's worth. There's a demo available so you can try before you buy. Tireswing Games' support is top notch.
Final Ratings

Appropriateness 50/50
Game Play 17/20
Graphics 7/10
Sound 7/10
Stability 4/5
Controls 5/5
Final Score: 90%