Game Info:
Keys Of The Kingdom
ESRB Rating: E
Available On: PC
Genre: puzzle
Number of Players: 1
Price: $19.98, $3.75 used
(Amazon affiliate link)
System Requirements
Windows® 98, 2000, ME, XP, Vista
Pentium® II 400MHz processor or faster
64MB RAM Minimum
150MB free hard disk space
12x CD/DVD-ROM drive or faster
16-bit 4MB DirectX compliant Video Card
16-bit Windows compatible Sound Card
Adobe Flash Player 9 or higher to view solutions (available free on the Internet)
Mouse
Thanks Inspired Media for sending us a review copy!
Sir Lancelot and his faithful horse Solomon must travel to the king's castle to save their town from oppression. There are several gate guardians along the way and many puzzles to solve to meet the king face to face. When you come across a gate guardian there isn't a boss battle or anything spectacular, just a little more of the story is revealed. As you progress, the puzzles do become more difficult. The first few puzzle are pretty much no-brainers.
Keys of the Kingdom is a unique puzzle game offering one hundred challenging levels. The goal of each level is to unite the lock and the key blocks that are often divided by bombs, pulleys, and blocks of various colors. You can only slide blocks horizontally so making sure there\'s nothing between the lock and key blocks can be challenging at times. Whenever two blocks of the same color touch they will explode and disappear. There are a couple different types of bombs that can take out a whole row of blocks either vertically or horizontally.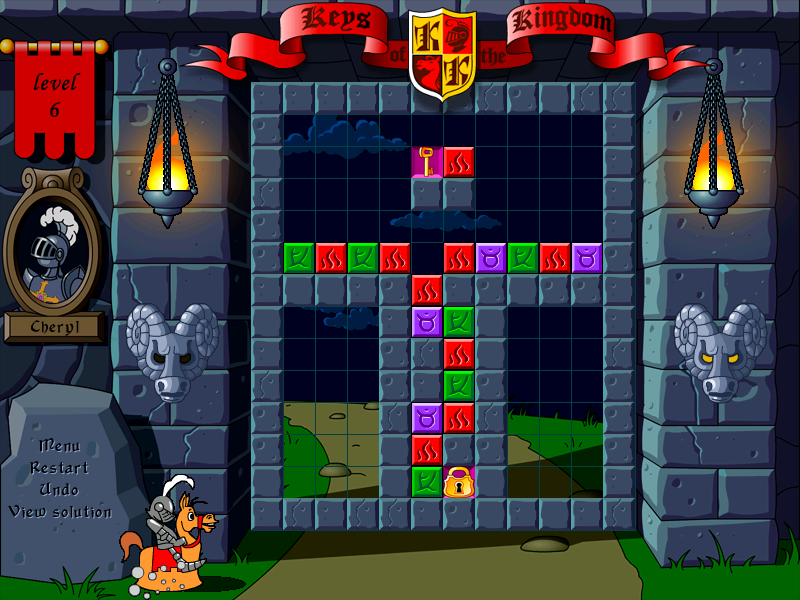 Highlights:
Strong Points: Fun and challenging puzzle game. 
Weak Points: Some users may not like that they are forced to stare at the Bible verses for a few seconds before proceeding to the next level. 
Moral Warnings: none
Normal 0 false false false EN-US X-NONE X-NONE MicrosoftInternetExplorer4 There are seven tutorials to teach you how to use the bombs and pulleys effectively. Chances are that you'll get stuck; when you do, you can view the solution as a flash movie file. You can play it normally or frame by frame. Even though it's viewed in a browser, you don't have to be online to view it.
It's pretty safe to assume that you'll mess up a few times. You can undo your last move, or restart the level if you've really blown it. When you exit the game it will resume where you left off.
Graphically this game is colorful and has the look and feel of a flash game. The animations are cute, especially Solomon the horse. The back drop doesn't change too much; I wish the scenery would change after each gate. Instead, only the gate changes slightly. This is a 2D game so it doesn't require a powerful system or a video card to run it. Unfortunately, I had the reverse problem. My high end ATI 5870 video card ran this game very poorly; hopefully a driver will fix this
well documented issue
for other players.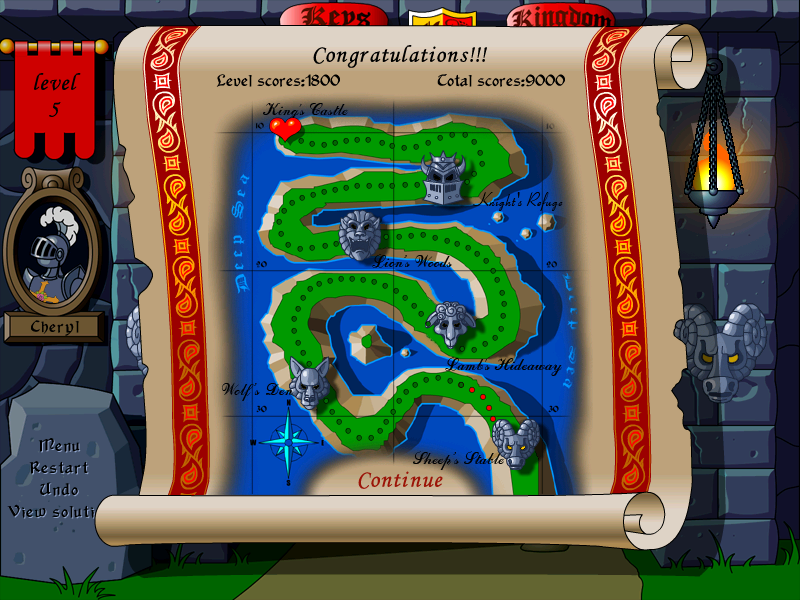 Score Breakdown:
Higher is better
(10/10 is perfect)
Game Score - 80%
Gameplay - 16/20
Graphics - 7/10
Sound - 7/10
Stability - 5/5
Controls - 5/5

Morality Score - 100%
Violence - 10/10
Language - 10/10
Sexual Content - 10/10
Occult/Supernatural - 10/10
Cultural/Moral/Ethical - 10/10
The acoustic guitar music is medieval themed and pleasant to listen to. There are thirteen different songs but they all sound pretty similar. The sound effects are fitting and do the job. My kids love the horse noise when you quit the game, it's really cute. The voice acting is really good. When you beat a level, a bible verse is read aloud.
If you like challenging puzzle games look no further than Keys Of The Kingdom. Some people may not like the Bible verses being read to them for a few seconds before they can advance to the next level. There's easily several hours of game play as long as you don't "cheat" and watch the video solution for each puzzle. There are definitely some doozies and many puzzles have multiple solutions. There is no online or multiplayer game play but even if you re-played the game, chances are that you won't remember all of the solutions and you will get stumped all over again. It's fun, it's Christian, and it's surprisingly cheap on Amazon.