Game Info:
Solomon Says: Anything Goes
Developed By: Cloud 9 Games
Release Date: December 5th, 2005
Genre: Trivia
Single, Multiplayer same computer
ESRB: not rated
Retail Price: $19.95

System Requirements
Windows Vista/XP/2000/98, OS X
733 MHz, G3, G4 or G5
120MB HDD Space
128MB RAM
16MB Video RAM
CD-ROM
Thank you Cloud9Games for giving us this game to review!
Have you ever wanted to test your Bible knowledge? Do you think you know all of the answers? Solomon Says: Anything Goes has over 500 questions in five various categories. There are three difficulty levels and you can set the difficulty or make it random. The harder the difficulty, the more points you can earn. Some of the questions can be answered from the Bible but not all the questions have a verse reference. For example, do you know how many times the word "the" is found in the Bible? How about the amount of times "LORD" appears in the Bible? You can have up to three players sharing a keyboard. There's even dance pad support if you prefer.

Here are the categories: (Anything Goes covers everything)


Anything Goes
Food and Wine
Signs and Wonders
Old Testament
New Testament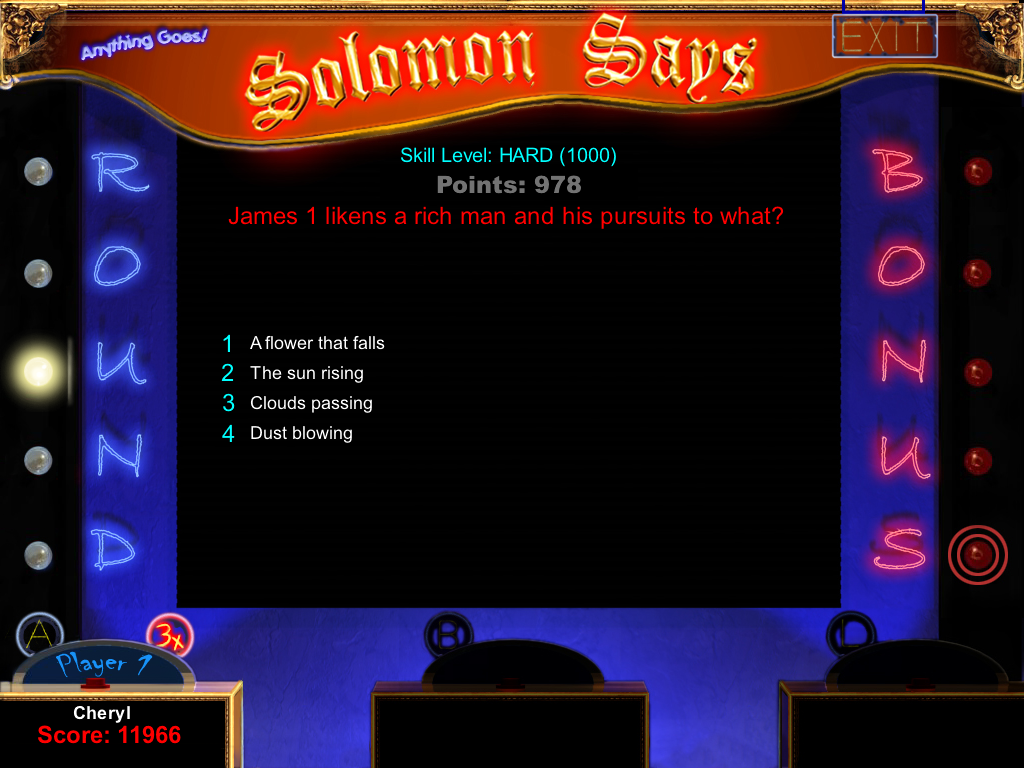 Highlights:
Strengths: Fun and exciting game play, great knowledge tester
Weaknesses: Sharing a keyboard is a bummer
Moral Warnings: None!
This game is pretty fun and with the wise cracking announcer it's similar to the "You Don't Know Jack" series. Single player mode has a different feel than when you're playing against someone else. The point system is completely different. In single player, after the question is asked, your total available points quickly decreases until you answer the question, so think fast! Another difference is that you are not penalized for wrong answers in single player mode. In multiplayer mode if you answer a question wrong you lose the amount the question was worth. There's a random question multiplier that appears for a few seconds. If you press your action key in time, you can double or triple the question\'s value. This is essential if you want your name to be recorded in the hall of fame!
There are eight un-lockable characters available to you as you play the game. These are avatars that you can choose to represent you in the game. They make comments as you answer questions and you can use unique taunts to distract other players in multiplayer mode. Most of the un-lockables require all of the players in a multiplayer game to have a certain number of points to enable it.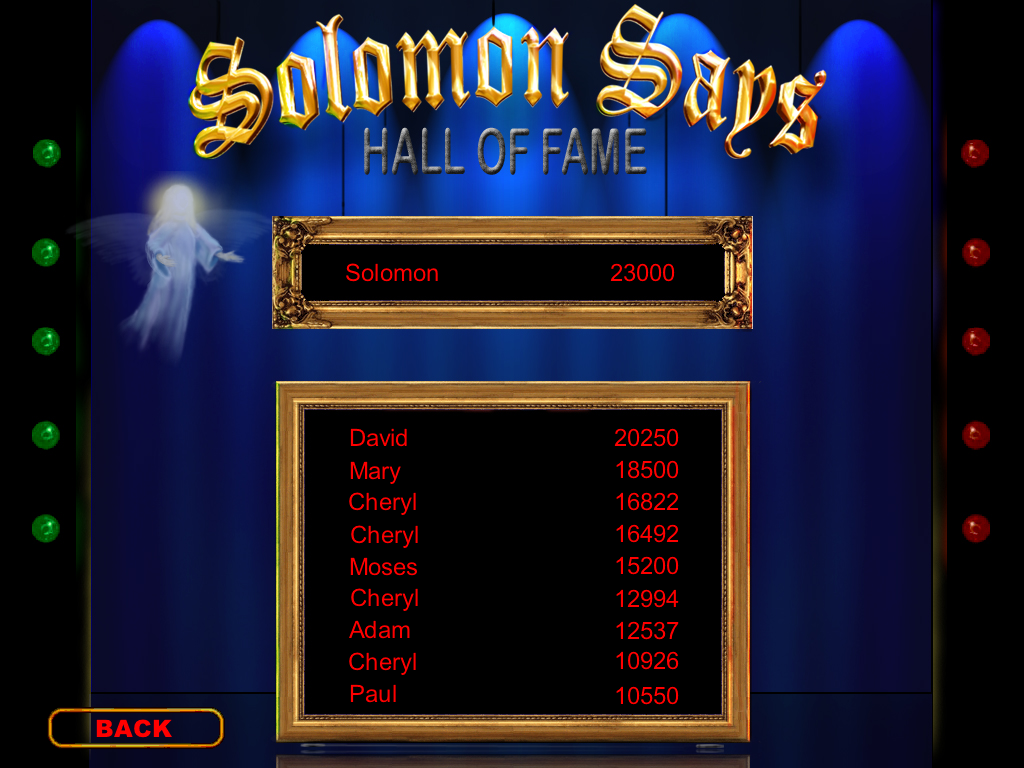 Score Breakdown:
Higher is better
(10/10 is perfect)
Game Score: 80%
Game Play 16/20
Graphics 7/10
Sound 7/10
Stability 5/5
Controls/Interface 5/5
Morality Score 100%
Violence - 10/10
Language - 10/10
Sexual Content - 10/10
Occult/Supernatural - 10/10
Cultural/Moral/Ethical - 10/10
When it comes to graphics, trivia games don't need the latest and greatest 3D engine and this game is no exception. The graphics in Solomon Says are colorful and flashy; they fit the bill nicely. This game will run on many older systems just fine.
The sound effects and background music make you feel like you're on a TV game show. The announcer's voice sounds a bit nasal at times but it seems to fit. The game character voices are cute.
I didn't experience any show stopping game crashes or glitches. I did see some repeat questions in the same round though.
Since this is a Christian bible based game, there are no appropriateness issues here. I highly recommend this game for all ages. Some of the questions may be a bit challenging for kids, though there is a Solomon Says that's geared for children called Solomon Says: Amazing Animals.
If you're looking for a fun way to test your Bible knowledge, look no further than Solomon Says: Anything Goes. It's made by Cloud 9 Games and can be yours for $19.95.