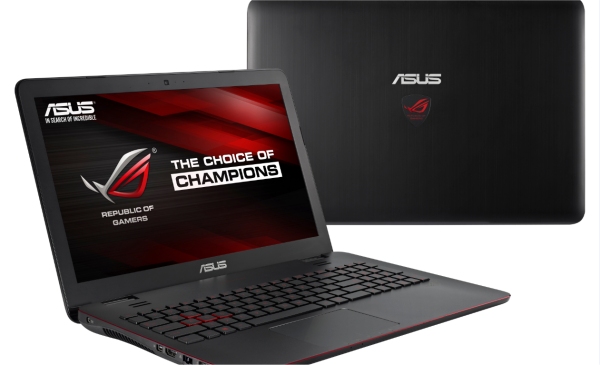 Hardware Info:
Asus GL551J-DH71
Manufactured by: Asus
Release Date: September 18, 2014
Price: $1099
Thank you Asus for loaning us this laptop to review!
I have been a proud Asus laptop owner for the past year.  My 17" Republic of Gamers (ROG) G75VW has served me well.  One downside to my current laptop is that it is 11 pounds and does not fit into most laptop bags.  Another drawback is that it only has the Nvidia GTX 660M graphics card so the battery life is pretty poor at an hour and a half, tops.  Both of these problems are nonexistent with the ROG GL551JM-DH71. In fact, I was able to use the GL551J all day on and off on a single charge.  The estimated battery life is five hours, but that fluctuates depending on what you are doing.  It can go longer if you're relying on the Intel graphics and not heavily using the audio.  Gaming on the battery is doable, but it's a good idea to keep the charger handy for LAN parties.
The 15" size is great for gaming; the only noticeable sacrifice is the smaller keyboard and keys.  I love the full size arrow keys on my laptop and I found the smaller ones harder to use.  I like how the WASD keys are accentuated with transparent edges so that they are more noticeable in the dark.  The red backlighting is nice, but I prefer the white lettering on my current laptop keyboard since it's easier to see.  While the illuminated ROG logo on the back of the matte LCD screen will attract gamers, it will deter professionals who like to have dual purpose systems.  
Highlights:
Strong Points: Powerful system at an affordable price; switchable graphics prolongs battery life; excellent warranty; room for caching SSD
Weak Points: Illuminated logo on the back of the screen may disqualify this laptop for business use; smooth aluminum finish shows every fingerprint; tiny arrow keys on the keyboard, no physical buttons on the touchpad

I felt a little silly at first when I could not figure out the simple task of turning the laptop on.   There is no obvious power button on the system itself.  The power key is located on the upper right hand side of the keyboard.  Everything else was easy to locate and utilize.  
This laptop is equipped with 3 USB 3.0 ports, a mini DisplayPort 1.2 and a HDMI 1.4 port.  An Ethernet jack and a single audio plug are available as well.  Standard features include a DVDRW drive (why no Blu-Ray?), 16GB 1600MHz DDR3L RAM and an Intel Core i7-4710HQ CPU.  The cpu's normal speed is 2.50GHZ with a turbo boost of 3.5GHz.  
There are three variants of the GL551JM laptop.  The version we reviewed has a 1TB 7200 hard drive and 802.11 a/g/n wireless while the more expensive GL551JM-EH71 sports a 256GB SSD and b/g/n wireless.  The least expensive Gl551JK-EH71 has a 750GB hard drive, b/g/n wireless and a GeForce 850M GDDR3 instead of the 860M GDDR5 in the others.  For the extra $50 it's absolutely worth having the more powerful GPU and disk space.  
There is a slot for a mini MSATA SSD for caching.  Currently the biggest size available is 64GB and sells for roughly $60.  In order to install the half sized drive, you have to take off the bottom of the laptop.  The DVDRW and hard drive had to be removed and the bottom cover had to be pried apart from the back using a small flathead screwdriver.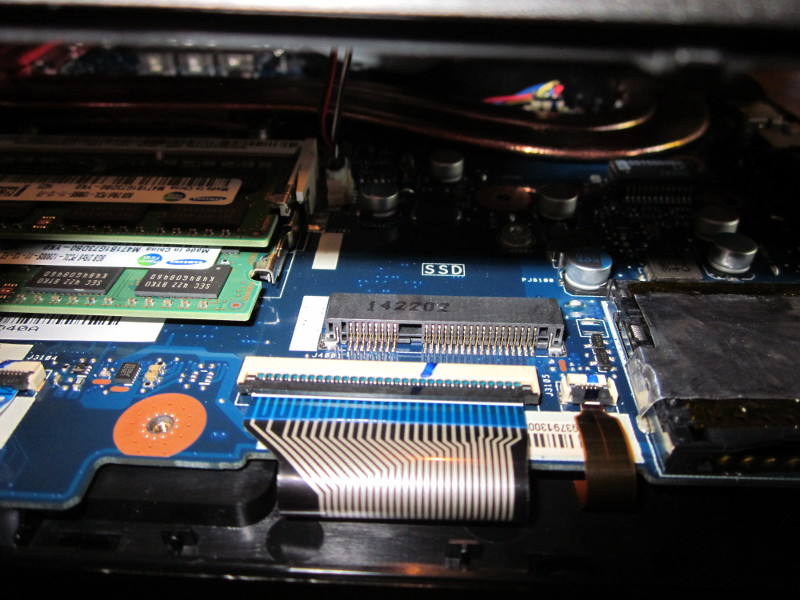 The all-in-one cooling solution is sufficient and keeps the system temperatures at a reasonable range during gaming sessions.  The hottest I have seen the GPU get was 75 degrees Celsius while playing Titanfall.  The GL551J-DH71 laptop offers a great gaming experience and performs well with many popular games.
Without further adieu, let's compare this system to my Asus laptop and custom built gaming desktop!  I'm throwing my desktop into the mix to show what you can get PC performance wise for the same amount of money spent on a laptop.
System Specs
Asus GL551J-DH71
Intel Core i7-4710HQ CPU 2.50GHz
16GB 1600MHz DDR3L
Intel Integrated 4600 (not tested)
2GB GDDR5 Nvidia GTX 860M 
HGST 7200RPM 1TB 32MB Cache
Windows 8.1 64 bit
Nvidia driver 333.17
Asus G75VW
Intel Core i7-3630QM CPU 2.40GHz
8GB DDR3 1600MHz
2GB GDDR5 Nvidia GTX 660M
HGST 7200RPM 1TB 32MB Cache
Windows 8.1 64 bit
Nvidia driver 344.11
Gaming Desktop
Intel Core i7-4770K CPU 3.50GHz
ASRock Z87 Extreme4
16GB DDR3 1600MHz
Power Color Radeon HD7970 3GB GDDR5
OCZ Vertex 460 240GB SSD
Windows 8.1
ATI Catalyst Driver 14.7
3DMark 2014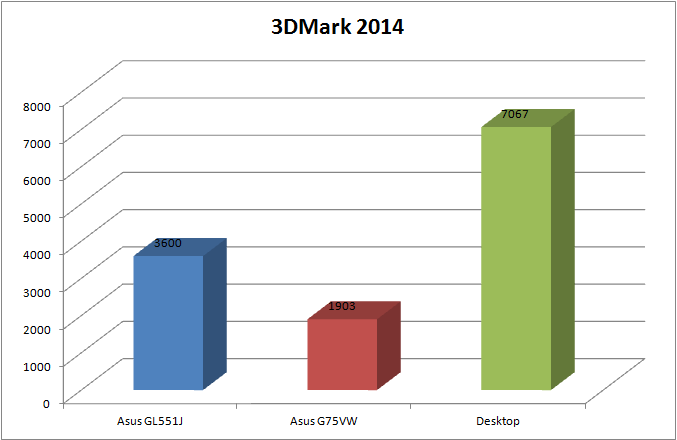 3DMark 2014 offers a demo on Steam and that is what we used to run this benchmark.  The full version sells for $24.95.  These scores are based on the first test demo called First Strike.  The desktop performs 78% faster than all systems tested while the Asus GL551J does better than 33%.  My Asus laptop shows it age by only surpassing 14% of its competition.
Bioshock Infinite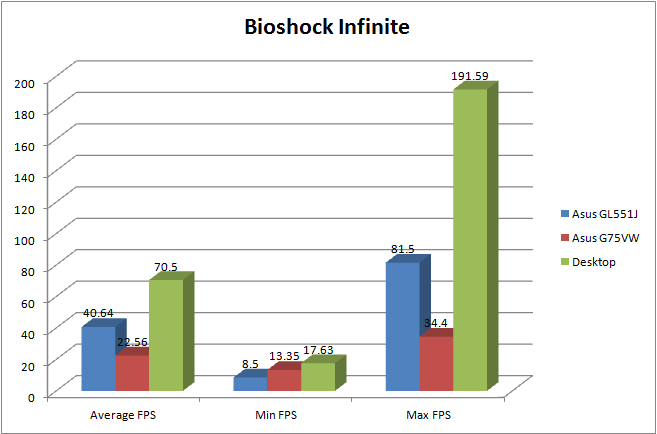 Bioshock Infinite offers a nice benchmarking tool and jaw dropping visuals.  We ran this benchmark at 1920x1080 for all systems.  This chart shows the average, minimum, and maximum FPS. The average FPS for the GL551J is 40, which is very playable.  I used my desktop to play and beat Bioshock Infinite and this chart should explain why.
Titan Fall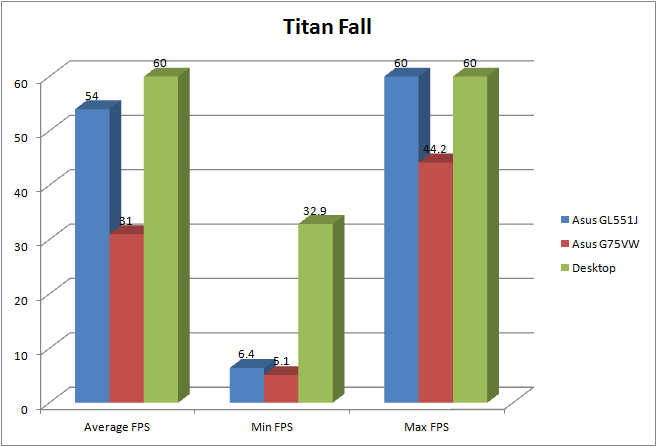 I purchased Titan Fall on an Origin 50% off sale.  Since this is an online game, I monitored the FPS and GPU temps using MSI Afterburner on the outdoor tutorial missions.   Again the resolution was set to 1920x1080 with 2X  Antialiasing, 16X Anisotropic filtering, and all the detail settings set to high.  Titanfall has a FPS cap of 60FPS and my desktop was the only system hindered by this, though the GL551J came close.  While my laptop is playable at 31FPS, the other systems almost double it.  As mentioned before, Titan Fall caused the GL551J to reach a GPU temperature of 75 degrees Celsius.  The massive cooling and exhaust vents in my G75VW must really work since the hottest it got was 65 degrees Celsius. Are the cooler temps worth the extra five pounds though?
Watch Dogs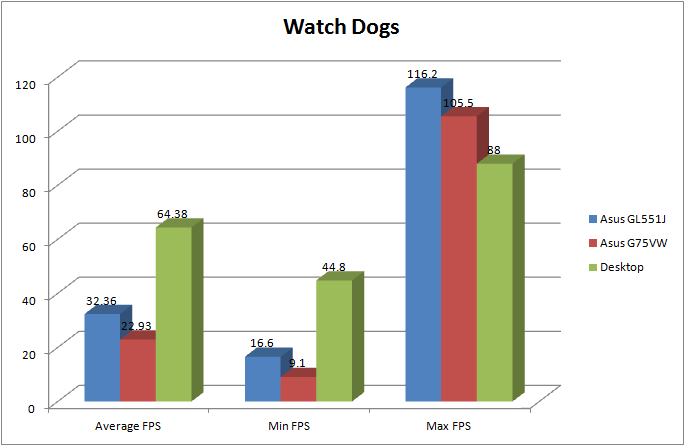 Watch Dogs is a recent game that takes place in Chicago.  We don't have a review of it yet, but maybe I'll write one as I play it more.  Our Watch Dogs data was collected using MSI Afterburner.  The settings are 1920x1080, high detail levels and Temporal SMAA.  Looking at the max frames per second, this game clearly favors Nvidia hardware.
Crysis 3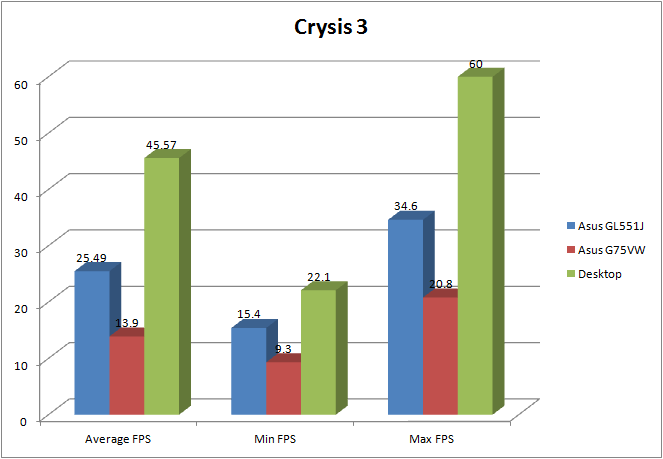 Crysis 3 is a over a year old but still brings systems to their knees.  After seeing my laptop average 13FPS, I can see why they call it the CryEngine.  The Asus GL551J is playable at 25FPS on average.  Nvidia GeForce Experience recommends settings the details to low for optimum performance.  The settings used for this benchmark are very high for everything except for the texture resolution which was set to high, 1920x1080 resolution, 16X Anisotropic filtering, and 1X SMAA low Antialiasing.  
Before running these benchmarks, I used to like my laptop.  It was just fine for playing games like The Walking Dead Seasons 1 and 2.  Thankfully, I have my desktop to fall back on for system stressing games like Crysis 3.  While I do enjoy my bigger screen and keyboard, I would gladly switch to an Asus GL551J-DH71 if I was in the market for a new laptop.  Speaking of which, is anyone interested in an Asus G75VW with a 1TB 7200RPM upgraded drive?