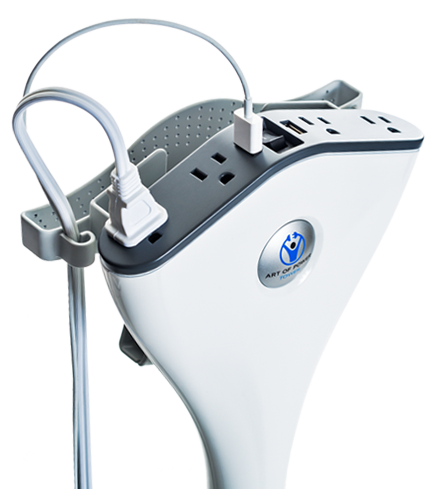 Hardware Info:
The Tower
Manufactured by: The Art of Power
Release Date: June 2014
Price: $99
Thank you Art of Power for sending us a review unit!
In our bedroom we have several devices that we like to keep nearby and charged.  The list includes two tablets, 3 phones (one for work), a 3DS and a Vita.  The most convenient outlet we have has an adapter to expand it but it offers no surge protection.  The second closest outlet is behind our headboard and scrapes my arm whenever I need to plug or unplug a device behind there.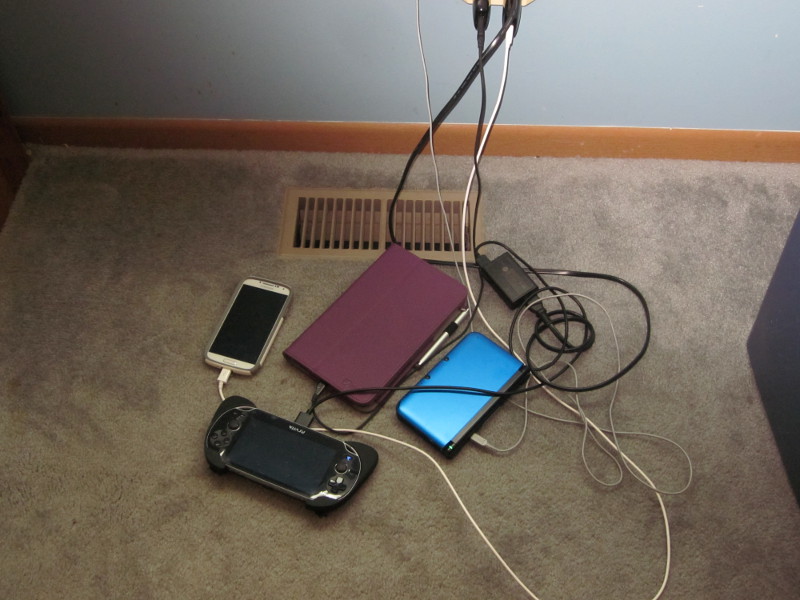 Highlights:
Strong Points: Convenient and easy on the eyes; surge protection
Weak Points: I wish the holder was a little wider; blue light is bright if used in the bedroom; pricey

The Tower, by The Art of Power simplifies and beautifies our messy outlet situation.  Its height is 28 inches tall which puts its four outlets and two USB plugs at arms height from the ground.  There is a switch in the middle to turn it on and two blue LEDs to let you know that the power is surge protected and grounded.  
For years we have been surge protecting high-end gaming computers but haven't put any thought into doing the same for our $600 phones.  The Tower provides EMI and RFI noise filtering and has a resettable 15A circuit breaker (1875 watts).  
On the top of The Tower, there are two cord wrappers to organize the cord flow.  There is a holder that I am assuming is sized for an iPad as our LG 8" tablets with covers won't fit in there without the possibility of cracking the plastic.  Our phones fit and our 3DS's were snug but doable.  I wish the holder was a little wider to accommodate thicker items.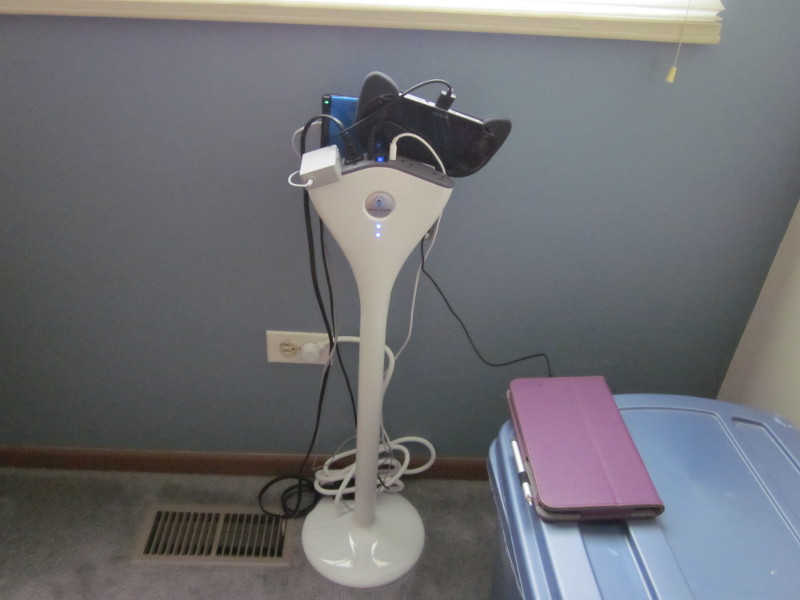 While there are many great places to use the Tower (my kids volunteered their rooms), we put the Tower in our bedroom.  While it alleviated our electrical dilemma, it created a new problem.  The blue LED lights are a tad too bright when the lights go out.  A couple of pieces of dark tape can solve this problem though.
The construction of The Tower is metal and solid with the exception of the optional plastic tablet holder.  The base is detachable if you unscrew a couple of screws on the bottom.  This feature is for easily tucking it away if need be, but I don't see any reason to do so in our case.      
The Tower is definitely high quality and convenient, and the $99 price tag reflects that.  For those who can afford it, the Tower offers device safety, functionality, and beauty.  Currently the only place to get The Tower is from The Art of Power's website.