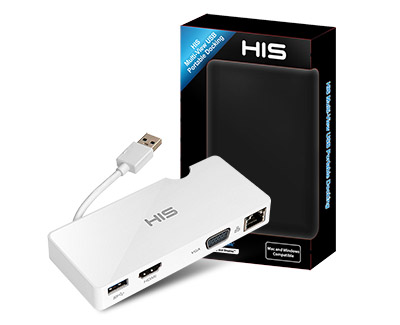 Hardware Info:
HIS Multi-View USB Portable Docking Station 
Developed by: HIS Digitial
Release Date: August 4, 2014
Price: $82.00
(Amazon affiliate link)
Thank you HIS for sending us this product to review!
Laptops are fairly limited when it comes to adding more ports or hardware.  Many newer laptops come standard with HDMI and gigabit Ethernet, but for those that don't, the HIS Multi-View USB Portable Docking Station offers HDMI video and audio along with gigabit Ethernet and a USB 3.0 port to compensate for the one being used.  The dock itself is very small and portable measuring 5 inches long and 2 inches wide.       
The docking station is compatible with Windows and Mac systems.  Unfortunately, the device only shows up as an ethernet device in Linux due to lack of driver support. Previous USB 2.0 models used to work flawlessly in Linux.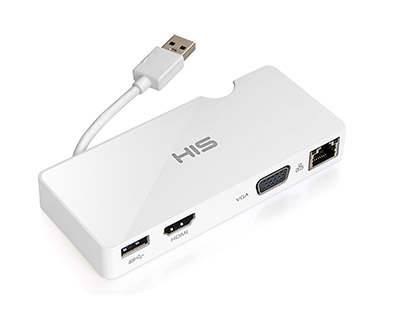 Highlights:
Strong Points: Small foot print makes this device easy to travel with; convenient way to add more features to a laptop or tablet 
Weak Points: You may have to disable the newly added audio device if it's set as default; Systems with slot loading optical drives will have to download drivers instead of using the included mini-disc

Setting up the docking station was fairly straightforward. The driver disc has to be installed prior to using the device and the computer may need to be rebooted once it's connected.  The dock shows up as a second monitor and allows the resolution to be up-scaled to 2048x1152.  This is a great way to add 1080P support if your laptop's native resolution does not go that high.  The max resolution will vary depending on your system's graphics card.  
HDMI can pass through both video and audio streams and this docking station supports both.  It set itself as the default audio device on my Windows laptop.  If you prefer keeping your existing audio device, you can disable the USB one in the audio playback control settings.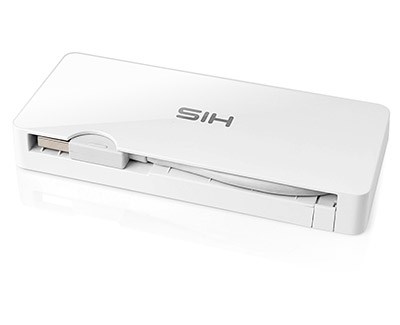 While many laptops use wireless network connections these days, hardwiring is always faster and more reliable.  The gigabit Ethernet is a nice feature, especially for laptops that only have 10/100 network support.   My previous laptop did not have gigabit and this device would have come in handy to fix that limitation.  
If you have an older/slim system lacking a HDMI port or gigabit Ethernet, look no further than the HIS Multi-View USB Portable Docking Station.  It can be beneficial for both office and personal use.  The price is a reasonable $82, which is cheaper than buying a new system.