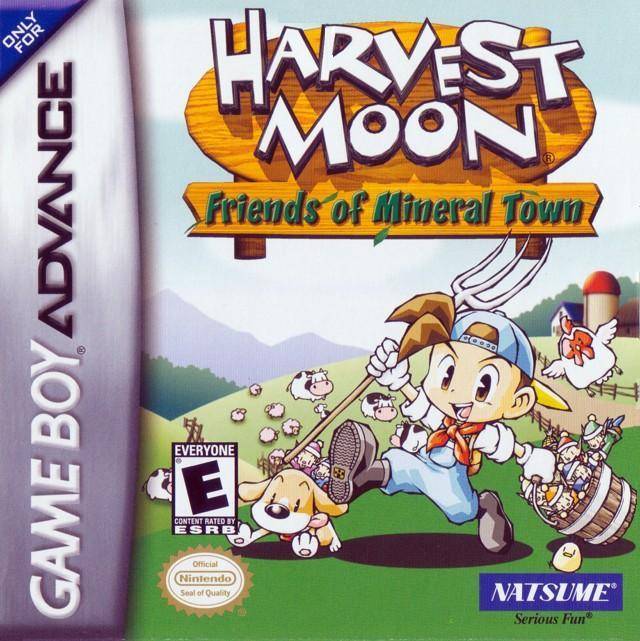 Harvest moon is a game in which you live your life on an authentic farm. This series of farming games has spanned many generations of consoles and portables, but now it has reached the GBA. As a farmer, you live in a small town with other farmers and merchants who you interact with daily, even possibly finding your future wife. This may be just another game in the Harvest Moon series, but it has a lot to prove with its diverse new content added to the traditional mix. The game begins with choosing your name, birthday, and name of your farm. After you've completed these tasks you are rudely greeted by the mayor, Thomas. He accuses you of trespassing on a recently deceased farmer's property. After you explain that the deceased farmer was your godfather, Thomas tells you that the old man left the farm to you, his grandson, in his will.
Managing a farm seems like a tough undertaking, but as a new farmer you have to start somewhere. In Harvest moon, your daily chores range from watering the crops to feeding your animals in addition to fishing, foraging and mining in the winter. All the while, you will be keeping an eye out for a potential wife, showering her with gifts once you find her. Twenty plus mini games are included such as horse racing and other festivals will keep you busy for a long time. Also, for those with a Gamecube, you can link to Harvest Moon: A Wonderful Life and in order to unlock a beach house as well as secret characters from the Gamecube version.
The graphics on Harvest Moon: Friends of Mineral Town are pretty plain for GBA games, but it manages to be sufficient. One area with a lot of detail, though, is between the different seasons. An example is in winter your footprints fade away in the snow. While the graphics aren't anything to write home about, the music in Harvest Moon really shines. Each season and location in the game has its own music and the authentic sounds of various barnyard animals will make you feel as if you are on a farm. The SFX really compliment the game nicely. Harvest Moon: Friends of Mineral Town is a great game to pick up and play.
Because the story focuses on the fun of running a farm and raising a small family it is appropriate for all ages. There are two exceptions, however, that might upset some. The first is that you are able to grab a drink from the bar in town during the evening. The second is that there is a Harvest Goddess that the player can interact with, including marrying her. Neither is a required part of the game and both are completely up to the discretion of the player. You can't help but like farming with Harvest Moon: Friends of Mineral Town, its sure not to disappoint anyone with its quirky gameplay.
Appropriateness Score: Violence 10/10 Language 10/10 Sexual Content/Nudity 10/10 Occult/Supernatural 9/10 Cultural/Moral/Ethical 8.5/10 Current Game Points _47.5_ _17_ Game Play (out of 20) _7_ Graphics (Out of 10) _9_ Sound (Out of 10) _4_ Stability (Out of 5) _5_ Controls/Interface (Out of 5) Bonus Points _X_ - This game promotes the importance of family values. (+3 pts) _X_ - The story in this game delivers a good moral lesson. (+3 pts)
Final Score 95.5% A