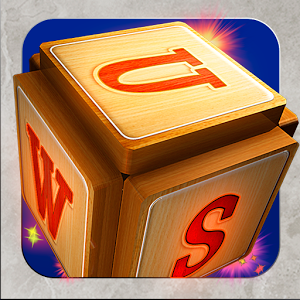 Game Info:
Ultimate Word Search 2
Developed by: EnsenaSoft
Release Date: January 29, 2013
Available on: Android (reviewed), iOS
Genre: Puzzle
Number of Players: Single-player
ESRB Rating: Not Rated
Price: $1.99
Thank you EnsenaSoft for sending us this game to review!
I've enjoyed word find puzzles since I was a kid.  It's one thing to locate vertical and horizontal words, but nothing is more rewarding than locating the diagonal or backwards ones.  To kick it up a notch, Ultimate Word Search 2 is a 3D word find that spans across a six-sided cube.  While there are no diagonal words, finding words spanning across the planes is plenty challenging.  To make it even more difficult, you are timed.  Each word you locate adds time to the clock. If you run out of time, you can still keep on playing, just don't expect to get three stars on that level.  
If you're not happy with your score, you can replay the puzzle and have a completely different experience since the words are randomly generated and placed on the cube.    For the most part this works out well, but I ran into a few cases where there were duplicate words on the cube and only one of them worked.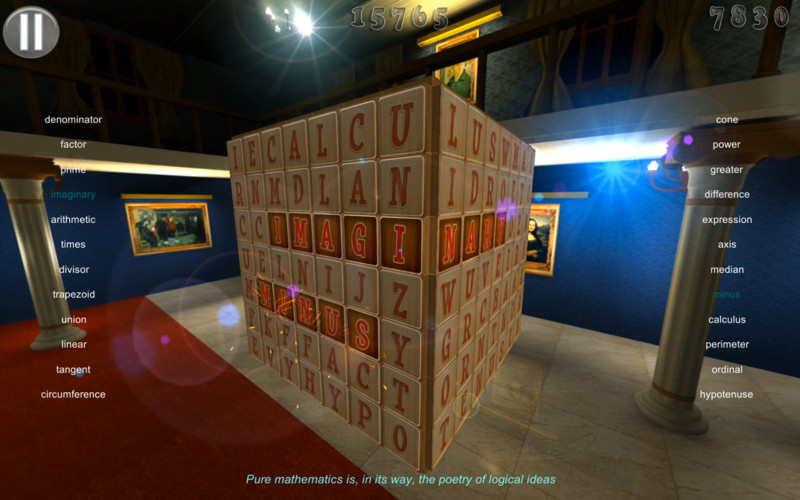 Highlights:
Strong Points: 84 replayable puzzles with random words generated for each one
Weak Points: Horrible controls
Moral Warnings: Some of those randomly generated words include vulva, prostitution, and virgin
My biggest complaint however is the controls or the lack there of.  You can swipe the cube in a direction and it will sometimes work, but most of the time it will go in the opposite direction or in a completely unintentional one.  It's a shame since the concept is great, it's just poorly executed. 
I like how each level has a theme and many of them I understood but there were a few that went way over my head.  There are some pretty complex gem and flower names out there!  On the other hand, I enjoyed the TV Show, crime scene, and baseball themed levels.  
One of the levels featured words from titles and lyrics from Madonna's songs.   Virgin was one of the words I had to find.  Other levels had me locate words like prostitution (theme was sin and vice related) and vulva from a human anatomy themed level.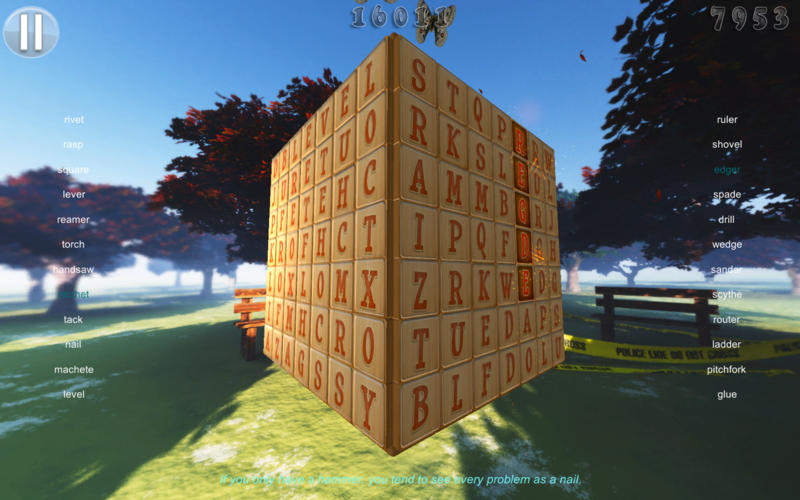 Score Breakdown:
Higher is better
(10/10 is perfect)
Game Score - 68%
Gameplay - 16/20
Graphics - 6/10
Sound - 6/10
Stability - 4/5
Controls - 2/5

Morality Score - 94%
Violence - 10/10
Language - 10/10
Sexual Content - 7/10
Occult/Supernatural - 10/10
Cultural/Moral/Ethical - 10/10
Despite the questionable vocabulary, this game may be too challenging for kids (and some adults!).  It is fun though.  My kids did seem interested and I'm curious as to how well they would do and if they can keep focused for the ten to twenty minutes it takes to complete each level.   
The graphics get the job done but the backgrounds can get in the way and make it hard to read the word list at times.  Rotating the view fixes that issue, but it's still there regardless.  The background music has an eerie and mysterious feel to it.   Sadly, there isn't much variety in this department.  I did like the evil laugh I heard when I ran out of time. 
Even with its flaws, Ultimate Word Search 2 is an incredible value at $2.  It offers more than eighty randomly generated levels with unique themes that are bound to improve your vocabulary.  Just make sure your kids are ready for some of the terms if you let them play on your tablet!