Game Info:
Pathogen
Developed by: BWGames
Published by: Gameblyr
Release Date: November 7, 2013
Available on: Android (reviewed), iOS
Genre: Puzzle
Number of players: Single-Player, Multiplayer
ESRB Rating: not Rated
Price: $2.99
(Amazon affiliate link)
Thank you Gameblyr for sending us this game to review!
Pathogen is a strategic puzzle game that is easy to learn but difficult to master.  The main objective is to claim ownership of the majority of the game board.  To do so you must place and expand your cells in unclaimed areas or on top of enemy cells.   There are three cell classes and each has their own advantages and disadvantages.
A Cells - Infinite supply and can be placed in any empty space.  When tapped a second time they will spread and become B cells. 
B Cells - Require four turns to become available.  Can convert enemy A cells or expand your adjacent A or B cells.   When tapped a second time they become C cells.
C Cells – Require eight turns to become available.  Can convert enemy B cells and can become impenetrable walls.  
Highlights:
Strong Points: Fun and challenging gameplay; local and online multiplayer; map editor
Weak Points: This game's screen resolution is hard set and does not run on my HP Tablet and cuts off on my phone
Moral Warnings: None!
In addition to cells you can also unleash a virus that will wipe out everyone's cells in its path.  The viruses have a ten turn charge time.  Cells that have been converted to walls are immune to the virus attack.  
The single-player campaign has a tutorial that will show you how to use each cell type.   After you master the tutorial you can hone your skills in the single-player campaign or challenge some friends locally or strangers online. The main campaign has seven stages with five levels in each one.  There are three difficulties (easy, medium, hard).  
Finding a random game to join online was easy to do, the problem is that I didn't know when the game was started (or abandoned!) or how long it would take for them to make their move.  The game keeps track of the matches I have joined and whose turn it is.   For competitive players, there are ranked matches available too.  Local multiplayer is by far the best way to enjoy Pathogen since it will be in real time and you can see your opponent's reactions (A must see when unleashing the virus attack!).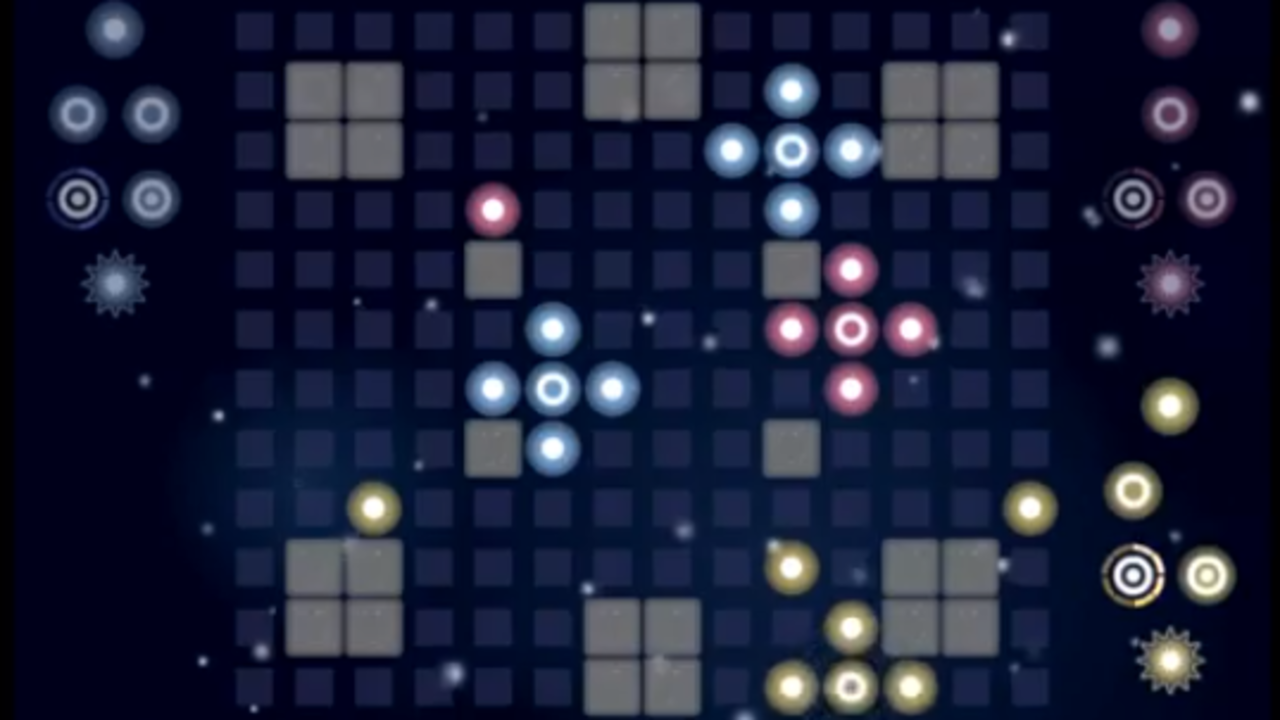 Score Breakdown:
Higher is better
(10/10 is perfect)
Game Score - 80%
Gameplay - 17/20
Graphics - 7/10
Sound - 8/10
Stability - 3/5
Controls - 5/5

Morality Score - 100%
Violence - 10/10
Language - 10/10
Sexual Content - 10/10
Occult/Supernatural - 10/10
Cultural/Moral/Ethical - 10/10
Multiplayer games would be best suited to a tablet device, but unfortunately I was not able to get it to run properly on my HP Tablet (1024x768) running Cyanogen Mod.  While Pathogen launched, the game was cut-off and unplayable.  On my Samsung Galaxy S4 (1080 x 1920), the game menus are cut-off, but it is playable.  Be sure to check your device compatibility before purchasing!     
The graphics are simple, but they get the job done.  For creative players, there is a map editor where you can design your own levels.  The background music is upbeat and I like the piano note sounds as the cells are placed and assimilated.
Pathogen is a thought provoking strategy puzzle game that can be enjoyed by the whole family.  I wish I was able to run it on my tablet, but it's too old.   The three dollar asking price is very reasonable and I have seen it for as little as ninety-nine cents.  It's worth every penny if you like games like Chess, Othello, or Go.