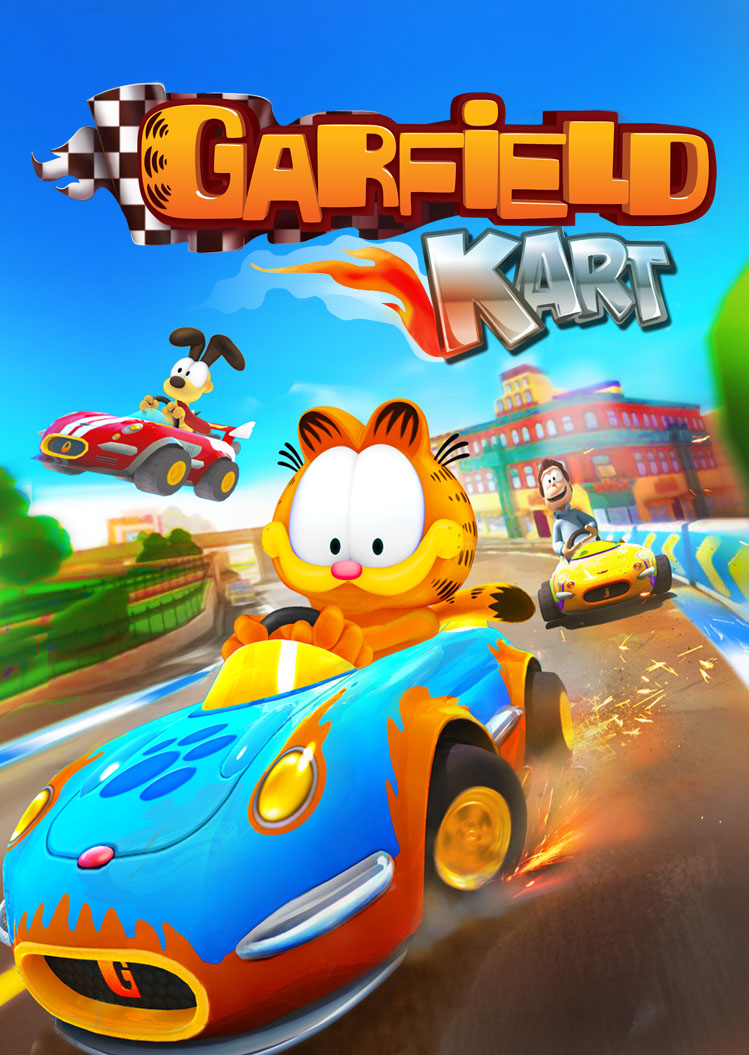 Game Info:
Garfield Kart
Developed by: Anumen|
Published by: Microids
Release Date: November 12, 2013
Available on: Android(reviewed), iOS, PC, Mac
Genre: Racing
Number of players: single-player, up to six players multiplayer
ESRB Rating: Not rated
Price: $1.12
Thank you Microids for sending us this game to review!
I loved the Garfield cartoons and comics as a kid; I guess it's still running as a CGI animated series, but I have not watched it.  This racing game has many of the memorable characters including Garfield, Jon, Odie, Nermal, Arlene, Liz, Harry and Squeak.  Their 3D character models look great and the colorful race tracks feature nice locales including Garfield's neighborhood, shopping mall, the lake, and desert dunes.
Like many karting games, you can play multiple difficulties such as the 50cc, 100cc and 150cc.  Before you take part in the Grand Prix you can go through the tutorial to learn the basics.  The Time Trial mode helps you familiarize yourself with the track and beat your own best times.   If you don't want to commit to champion racing, you can play a single race.
Before you start the race, you can customize your driver, car, and accessories.  Car spoilers can increase your car's speed or mobility.  Hats are also available and they can increase the effectiveness of your weapons.   While there are some freebies, most of the good stuff can be purchased with in-game points that can be earned or purchased.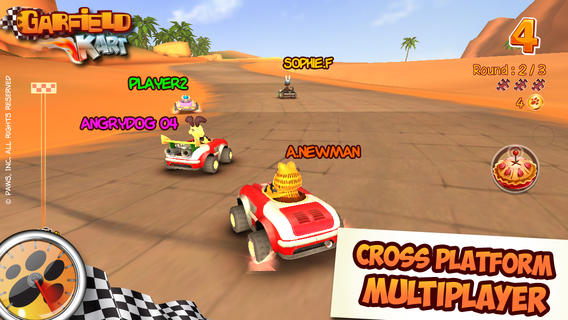 Highlights:
Strong Points: Fun and colorful racing game
Weak Points: Micro-transactions; generic sounds and music
Moral Warnings: Comic mischief
 The game starts you off with 400 points which can only buy you boosters to give you an edge during the race.  Harder difficulties sell for 500 points each and better cars can cost you 2500 points apiece.   It may not sound like a lot, but when you only get 8 coins for winning a race, you'll have to save up for a while or cave in and buy points.         
Parents should take precautions to disallow in-app purchases if they let their kids play this game on their phone or tablet.  My son enjoys playing this game and thankfully he knows better after learning this lesson the hard way on a different game.  (Fortunately it was only 99 cents.)
The weapons in this game are family friendly and consist of springs, pies, pillows, perfume and flying saucers.  The spring can help you avoid an upcoming obstacle or fling your opponent's car around.  Pies are self explanatory for anyone who has watched a cartoon in their life.  You can launch them forwards or backwards.  The bewitching perfume can enamor your enemies for a little while and the pillow will cause them to nap for a couple of seconds.  The exploding diamonds and flying saucers will delay their targets.  The weapons are acquired by running over candy pieces on the track.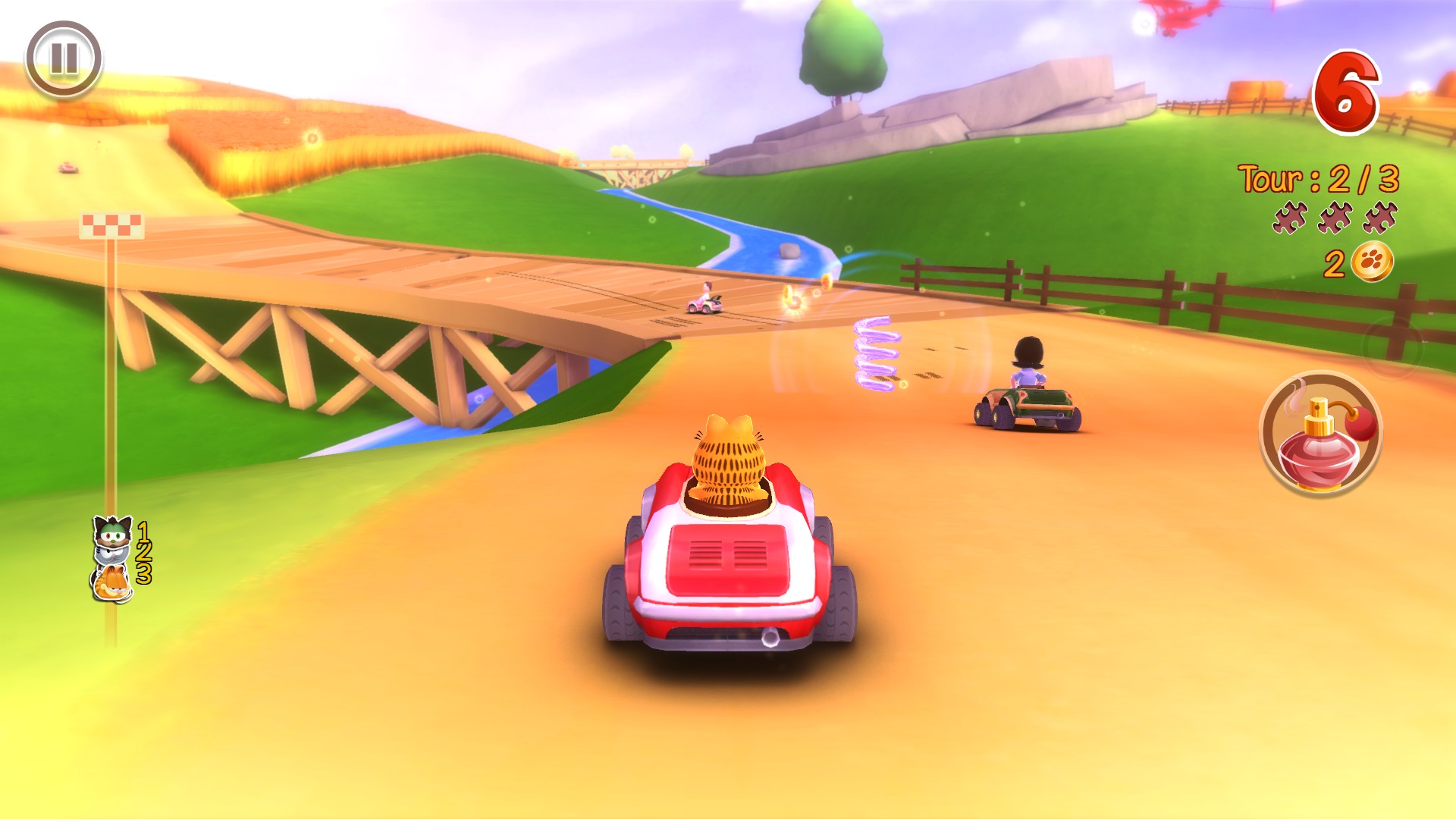 Score Breakdown:
Higher is better
(10/10 is perfect)
Game Score - 70%
Gameplay - 13/20
Graphics - 7/10
Sound - 6/10
Stability - 4/5
Controls - 5/5

Morality Score - 96%
Violence - 8/10
Language - 10/10
Sexual Content - 10/10
Occult/Supernatural - 10/10
Cultural/Moral/Ethical - 10/10
While your car drives automatically, you can steer with motion detection or touch screen arrows.  I first installed Garfield Kart on my HP Tablet running the CyanogenMod and while it did run, the tilt controls did not work.  Rather than enable the touch screen controls, I installed it on my Samsung Galaxy S4 and it ran flawlessly on that.   
One of this game's selling features is that you can compete against others online or locally no matter what version of the game is being used.  Sadly there was nobody to play against online.  Maybe there will be more players online when this game becomes available on Steam.
My final complaint about this game is the audio.  I like how each track has its own background music and the sound effects are decent.  The character voices are extremely generic and only consist of grunts and giggles that become annoying after a while.  
Even with its flaws, Garfield Kart is a cute racing game that is sure to draw in kids with its charming visuals.  The entry price of roughly a dollar is reasonable, but can easily cost you more if you or anyone else wants more in-game points.  Hopefully the multiplayer aspect picks up or else you're stuck with playing with nearby friends or by yourself.