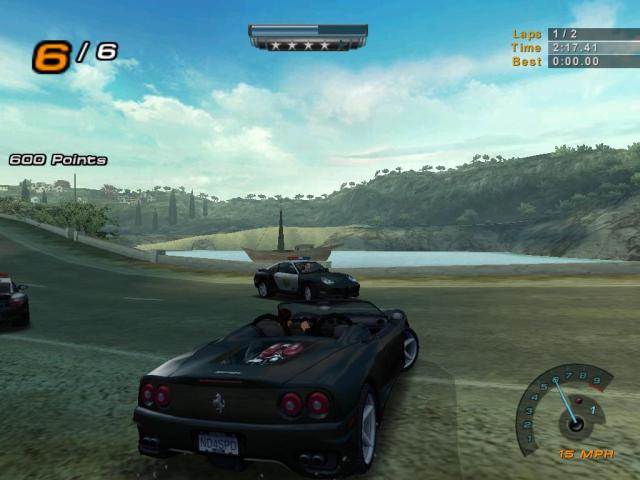 System Requirements
OS: Windows 98, ME, 2000 or XP CPU: 450MHz RAM: 128 MB RAM HDD: 150 MB free VIDEO: Direct X 8.1 D3D SOUND: DirectX 8.1 compatible
Just like the previous Hot Pursuit series, you are racing and dodging cops. Equipped only with a fast classic racing car and a radar/cop detector. Your goal is to finish the race without getting pulled over. Unlike the previous games, when you get pulled over you get hauled to jail. I never could understand that about the other games, you are doing over 100mph and you got let off with a warning. At least this game is a bit more realistic in that respect.
What do I drive?
The Demo offers one mode of play called Single Challenge. In this mode you get to race against six other cars. You must complete two laps without getting pulled over. The demo offers 2 cars for you to choose from. You can either drive a Porsche 911 Turbo or a Ferrari 360 Spider. As always you can choose from many pretty colors like red, black, yellow, silver and blue.
What am I up against?
The cops are driving 911 Turbos and will try their best to bust you. To do that they will call for backup, rolling roadblocks, and helicopters. The helicopters will drop smoke bombs that will flip your car over if you run over them. These choppers are a nice touch from the previous Hot Pursuit. I wonder if the full version will have spiked road block, those were interesting. All though the cops will give you a good chase I found them to be pretty dumb. For safety they will only follow you for a limited distance and try to catch up with you later. Quite frankly, they are dumb and easy to get off your back.
What\'s in the full game?
The full version will over many of the previous game modes from the previous games. For example you will have the career mode, and the opportunity to play as a cop. There will be twenty four exotic cars for you to test drive. There are a couple new features that I noticed. You can replay your races. Also when your car makes a jump the game will do a camera dramatic matrix effect. It\'s cute the first couple times but can get annoying after a while. Fortunately you can turn the jump camera off.
Appropriate?
From a Christian stand point, the only thing worth mentioning is that the point of this game is to speed and thus break the law. Many people including myself would love to drive fast in a sports car and get away with speeding. So in good clean fun this game is as close to that daydream I\'ll ever come!
Overall experienceEase of use
The game was easy to install and had a nice interface. The graphics were good. The world detail was nice, but the shiny cars looked gorgeous! The physics through were not realistic. I know I was rough with the Ferrari, even after I flipped it over a couple times, it looked as good as new. The Porsche model at least showed a crumpled hood. The techno music was nice and very fitting. It really got your adrenaline going during the race. There is joystick and force feedback support. The force feedback was a little flakey. I did notice the MS Sidewinder was a lot smoother than my Logitech Wingman. However both joysticks had the same problem of the force feedback stopping during the race. Hopefully that will be fully functional in the full game or patched. If you liked the previous Hot Pursuit, you love this game. If you\'re looking for many new features, you may want to look elsewhere. This game is sticking with the same formula which appears to be working.
Final Ratings
Graphics B+ Sounds/Music A Game play B+ Interface A Stability B Appropriateness B
Overall 85%