Game Info:
Charly The Vet
Developed by: 1st Day
Published by: Dimoso
Release Date: May 22, 2014
Available on: Android, iOS
Genre: Edutainment
Number of Players: Single-player
ESRB Rating: Not Rated
Price: Free
Thank you Dimoso for sending us this game to review!
Charly is a ten year old girl who loves most animals (she admits that she's afraid of spiders) and wants to grow up to be a vet, just like her father. There is a bike race in her town that she wants to participate in until she realizes that the race's path will interfere with toads migrating to the pond to mate.  Charly must save the toads before they get ran over by cyclists.   There are multiple decisions to make and she can enlist the help of her best friend Yanis to assist in saving the toads.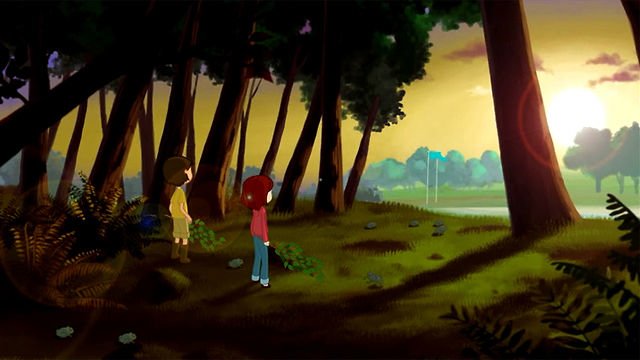 Highlights:
Strong Points: Multiple choices/endings to the story; free
Weak Points: I found Charly's voice rather annoying
Moral Warnings: Rebellion and/or disobediece is permitted
Throughout the game Charly will point out some interesting facts about the animals so children can learn as they play.  There are four mini-games that are accessible from the main menu so you don't have to go through the story just to get to the games.  While the story is good, this game is relatively short and can be completed in a half hour.  Since this game is free, we can't complain about the length.    There are multiple choices and endings so there is plenty of replay value.
The mini-games are cute and utilize the touch screen to help the toads catch bugs and make them hop faster to get safely across the road.  The other two games include a matching game where you have to put the amphibians together and the final game has you dragging the toads into a bucket to save them from a hungry heron.   After each game's time is up, the player is scored and ranked from one to three stars.  There are achievements for getting three stars on the mini-games and seeing all of the possible endings.

Score Breakdown:
Higher is better
(10/10 is perfect)
Game Score - 80%
Gameplay - 15/20
Graphics - 8/10
Sound - 7/10
Stability - 5/5
Controls - 5/5

Morality Score - 98%
Violence - 10/10
Language - 10/10
Sexual Content - 10/10
Occult/Supernatural - 10/10
Cultural/Moral/Ethical - 9/10
The graphics are colorful and the animation is well done.  There are many movie clips and they look great.  I imagine those mostly contribute to the game's 410MB space requirement.   I enjoyed the background music and most of the voice acting.  I wasn't fond of Charly's voice though.
While this game is family friendly, it does offer multiple choices to finish the story.  Some of these choices include deception and disregarding authority figures.
Overall Charly The Vet: Toad Rescue is a cute game that young children can enjoy for the story and mini-games.  This game will be freely available on Amazon, Google Play, and iTunes.  I didn't see any ads or freemium features so it's worth looking into if you have 410MB to spare on your device.  I look forward to upcoming games in the series.  For more information about Charly the Vet, check out their website.  There are videos, character bios, and coloring sheets for kids to enjoy