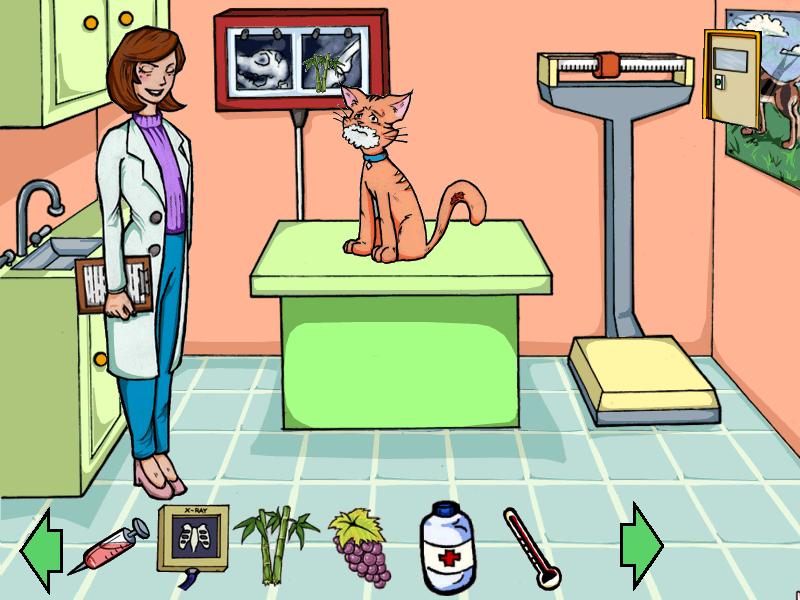 Does your child want to be a vet when they grow up? If so, have them check out this game. In this game you?ll explore the animal hospital levels and collect various medical items to treat a variety of animal patients. The first item to grab will be your trusty medical book, which you can use to identify items and diagnose your patients. There are three difficulty levels depending on your child\'s age (3-4, 5-7, and 8+).
What will I be curing?
You?ll see a wide variety of animals such as:
cat
cow
dog
elephant
giraffe
goat
horse
panda
tiger
wolf
How do I cure the patients?
The first step is to diagnose them by using the medical book on them. Then you have to make sure you have the items needed in your inventory. Many of the patients need multiple items. If you use them in the wrong order you?ll have to start over again and recollect the objects you used. When you cure them in the proper order a mini game will launch allowing you to get rid of the bad germs personally. The mini-games are usually retro remakes like pong, asteroids etc.
What lessons will be learned?
Each animal has a reason for getting hurt. Kids will learn that eating vegetables are good for them and that getting into fights causes injuries. They\'ll also learn how to treat fleas, cure foot and mouth disease and help ward off rabies and milk fever.
Graphics
The graphics in this game are very colorful and cartoon like. It?s easy to distinguish the objects that you need grab from the background graphics. There is a cute option that lets you personalize the game by importing your child?s face into the game. The process was pretty easy and looks decent.
Sound
The background noises and music are fitting. The voice acting was decent, nothing special. The sound effects of the mini-games remind me of the arcade classics.
Appropriateness
I find nothing wrong with this game. The graphics are cartoon like and there is no blood on the injured patients etc. I would highly recommend this game for kids.
Final Thoughts
Overall this is a fun and informative game. There are four levels to explore and once completed your child will become a junior vet! The full version is only $14.95. There is a gift edition available that comes with a vet kit with a stethoscope. There is a 30 day money back guarantee and a demo available as well. If you have kids, this game definitely worth checking out.
Final Ratings
Graphics B Sound B Game Play A Interface B+ Appropriateness A Stability A
Overall 89%