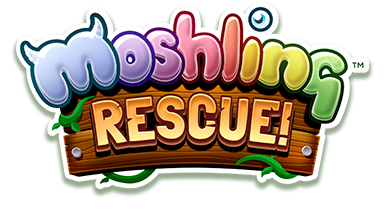 Game Info:
Moshling Rescue! 
Developed by: Mind Candy
Published by: Mind Candy
Release Date: October 1, 2014
Available on: Android, iOS, PC 
Genre: Puzzle
Number of Players: Single-player, can challenge friends
Price: Free with micro-transactions
Thank you Mind Candy for sending me a box of random stuff (stuffed animals, USB  flashlight drive, candy, foot lotion? And a case for a phone I do not own) to get my attention!
Besides getting money out of you after failing a level, the goal in Moshling Rescue! is to rescue cute creatures, known as moshlings, that are scattered across many levels throughout the different islands in the game.  The first ten or so levels show you the basic gameplay mechanics and introduce you to some of the (non-free) power ups available to you.  
Like many match-three puzzle games you have to slide around similar objects to match three or more of them to make them disappear.  There are various level styles and game modes to keep things interesting.  For example, some levels need you to make a certain amount of matches for one particular item.  If you fail to match those items within your turn limit, you will lose the level.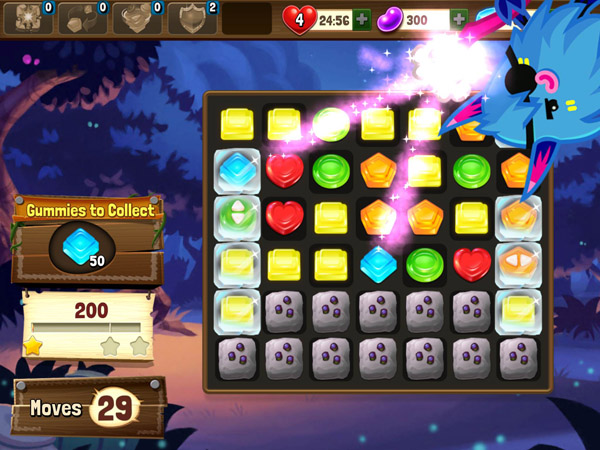 Highlights:
Strong Points: Fun match-three game play with lots of modes, power-ups, and boss battles
Weak Points: Limited turn system sets you up for failure and this game heavily pushes micro-transactions to buy more turns, power-ups, and lives
Moral Warnings: Cartoon violence, fairy-tale magic
Here's where things get expensive.  If you want to add a few more turns to your level you can spend 70 diamonds to do so.  For $1.00 you can buy 100 diamonds and $99.99 nets you 10,500 of them.  Alternatively you can complete various offers or download sponsored apps in exchange for diamonds.  If you just want to restart a level after failing it, a life is subtracted from you.  
After four lives you can either spend 750 jelly beans to replenish them, connect to Facebook (to nag friends I am assuming), or wait twenty or so minutes to accumulate them freely.  Jelly beans can be given to you by friends, earned by collecting moshlings, or traded for diamonds.  Two hundred diamonds ($2.00) will get you 1,000 jelly beans.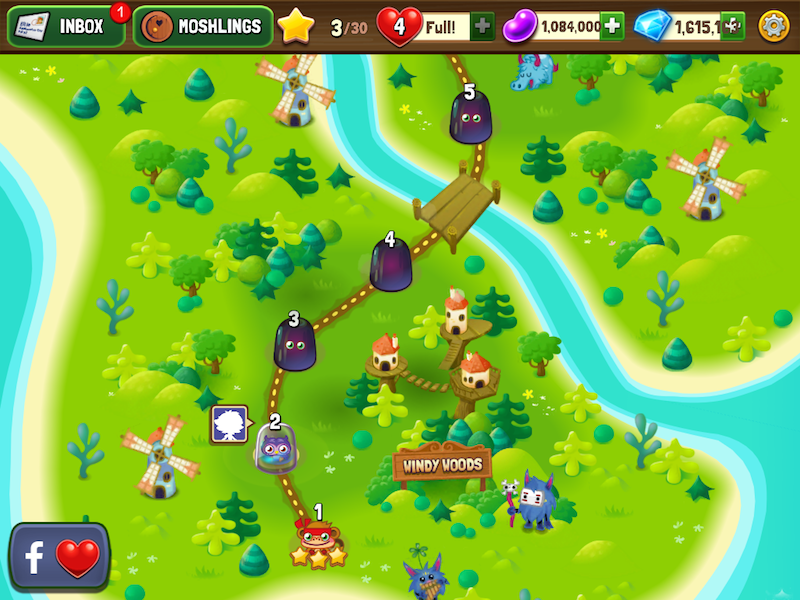 Score Breakdown:
Higher is better
(10/10 is perfect)
Game Score - 76%
Gameplay - 12/20
Graphics - 8/10
Sound - 8/10
Stability - 5/5
Controls - 5/5

Morality Score - 87%
Violence - 8/10
Language - 10/10
Sexual Content - 10/10
Occult/Supernatural - 7/10
Cultural/Moral/Ethical - 8.5/10
If it wasn't for the money grabbing, I would recommend this game on the fun factor, cute graphics, and sound effects.  The brightly colored cartoon creatures are bound to attract children.  When I was playing this game my whole family was interested in it and was giving me pointers on where to make my next move.  (This happens with solitaire too.)    I must implore parents that have in-app purchases enabled on their device to play this game with caution.  There are many horror stories about kids buying in-game items without their parent's consent.  Don't be the next statistic!  
Other than some cartoon violence and fairy-tale magic, Moshling Recue! is pretty family friendly.   However, some of the sponsored games you can install in exchange for diamonds promote gambling.  
While freemium games are nothing new, Moshling Rescue! doesn't add much to the match three style genre and goes a bit overboard in promoting micro-transactions.   As much as it stinks losing a level, it further rubs salt into the wound by trying to sell me something that could have prevented it.  There are lots of better alternatives out there that you can purchase once and enjoy it without being constantly nagged for more money.