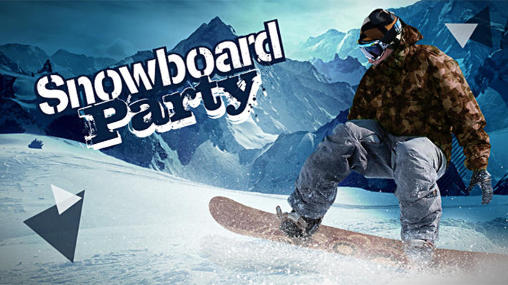 Game Info:
Snowboard Party
Developed by: Ratrod Studio Inc.
Published by: Ratrod Studio Inc.|
Release Date:December 15, 2014
Available on: Android, iOS, Windows phones
Genre: Sports
Number of Players: Up to two players online
ESRB Rating:
Price: $1.99 with micro-transactions
(Amazon Affiliate Link)
Thank you Ratrod Studio for sending us this game to review!
There are many fun skating/snowboarding games available on many platforms.  This is the first time I've played a snowboarding game on a tablet and it runs pretty well.  Even with the 3D graphics, this game ran smoothly for me.  Unfortunately multiplayer isn't as polished with numerous negative reviews talking about connection drops.  
Even if multiplayer is flakey, the single player experience is well worth the $2 price tag.  There are fifteen locations to unlock including the Rockies, Alps, and Japan.    In order to open up a new track you have to complete all of the objectives in the previous one.  One of the objectives is to collect the letters P,A,R,T,Y in a single run.  
While challenging, it's not impossible to achieve. The controls are pretty accurate with an onscreen joystick or the accelerometer.   Besides collecting letters and snowflakes for points, you want to successfully do stunts to gain experience.  There are over fifty tricks and hundreds of combinations to master.  As you earn experience you can use it to boost your snow boarder's stats, unlock better characters, outfits, and snow boards.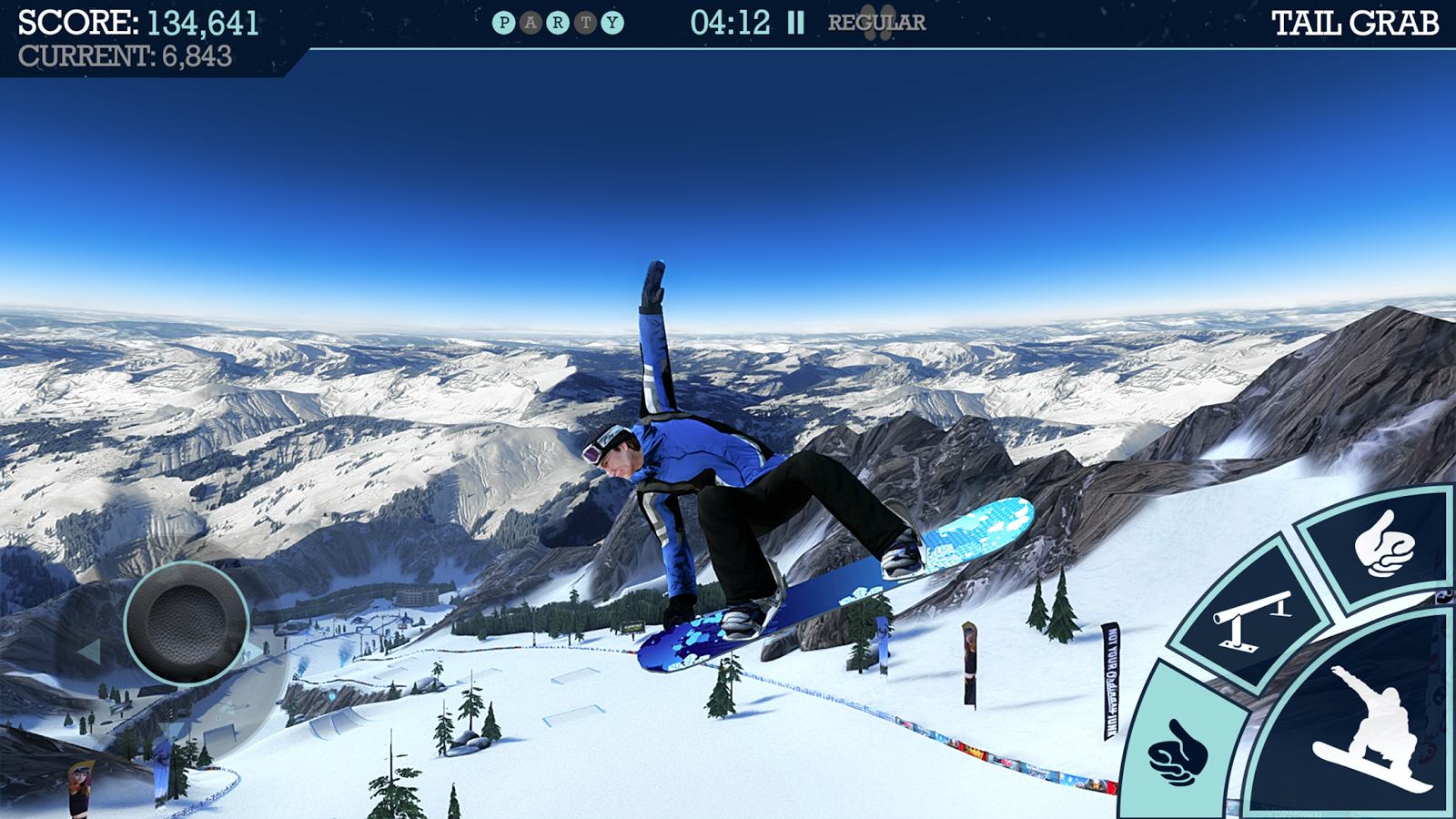 Highlights:
Strong Points: Fun and challenging snowboarding game
Weak Points: Micro-transactions for more experience points, unlocking characters and equipment
Moral Warnings: Some of the song lyrics have mild language (hell)
There are four attributes that each snowboard has:
Speed - Go faster, jump further, and gain more air.   Increases trick time and points earned from it.

Balance - Helps you complete tricks properly, especially during slides.

Spin - Enables character to spin faster.

Air - Helps you jump higher and get more air time.
While it will take lots of time and practice to accumulate the experience necessary to unlock everything, there are micro-transactions available to unlock characters, boards and levels with no effort.    For $49.99 you can get 500,000 experience points which can unlock every characters and many levels.  There are also experience boosts available as well if you want a little help while working towards it.  Make sure your device is protected from in-app purchases if you let other people play this game on your device!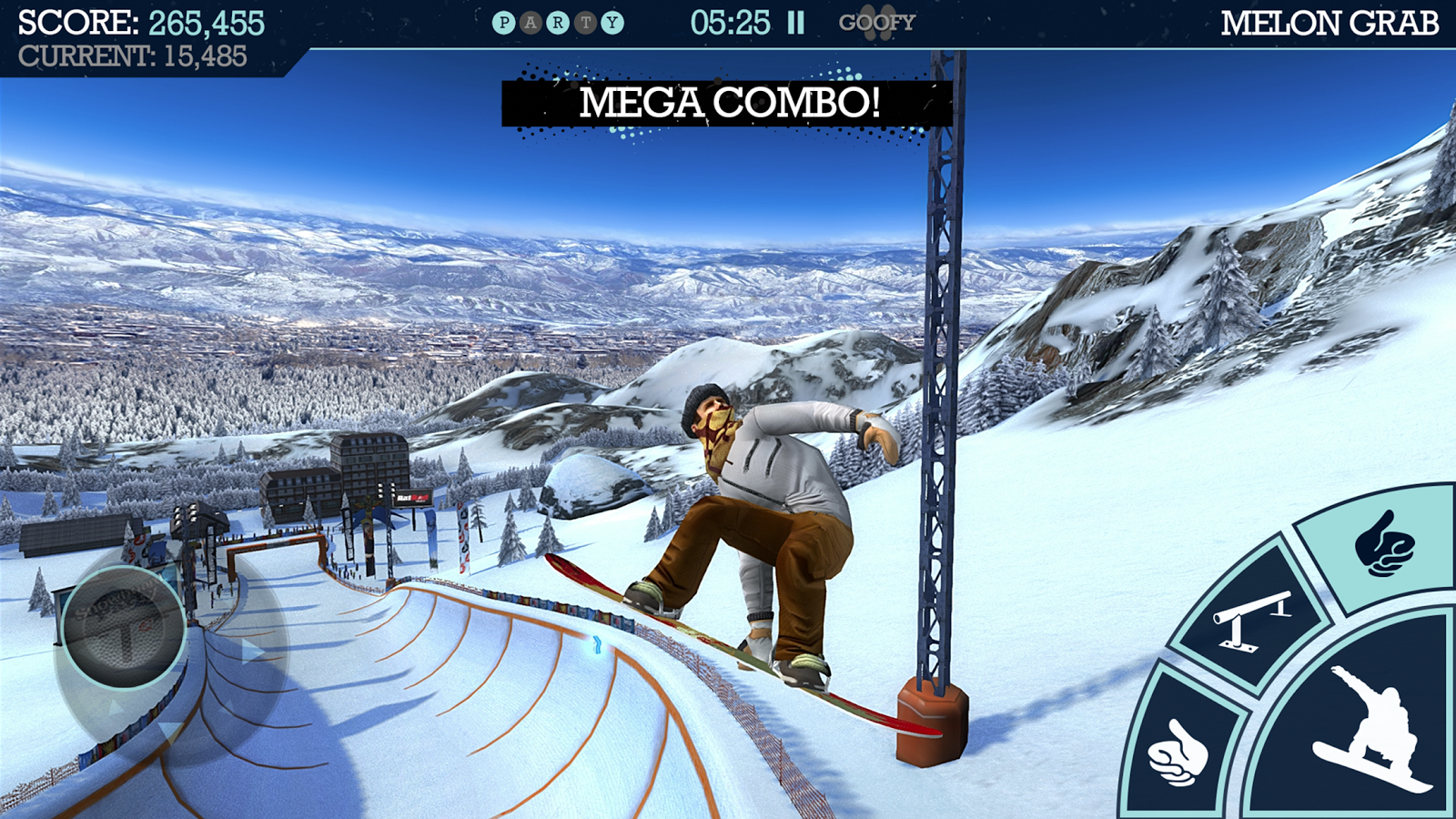 Score Breakdown:
Higher is better
(10/10 is perfect)
Game Score - 78%
Gameplay - 15/20
Graphics - 8/10
Sound - 7/10
Stability - 4/5
Controls - 5/5

Morality Score - 96%
Violence - 10/10
Language - 8/10
Sexual Content - 10/10
Occult/Supernatural - 10/10
Cultural/Moral/Ethical - 10/10
Once you have a snowboarder you're comfortable with it's time to show the world how good you are!  There are various level types including Freestyle, Half Pipe, Big Air, and multiplayer.   In Freestyle your goal is to do as many tricks as possible to get a good score and make it on to the leader boards.  You can also share your score on Twitter.  At the end of a run you're shown a replay of your performance and a breakdown of your stats.  You'll see your best combo points, number of tricks performed (successful and bailed), longest slide, grab and air time.  Along with the combo score, the time to complete the track is taken into consideration on the total score.  In multiplayer you are able to challenge a friend to a duel and the person with the best overall score wins.  
If a player messes up a move, points will be subtracted from their score.  Fortunately there is no blood shown if it's a nasty spill.  The only concern is that some of the heavy rock songs have language in them.  I heard the word hell in one of the songs.  I didn't see an option in the Android version, but according to the developer, you can listen to your own music in the game instead.  
Snowboard Party is pretty family friendly and fun to play.  The $1.99 price tag is very reasonable. It's a shame they had to incorporate micro-transactions heavily into the game.  I only recommend parents let their kids play this game if they have in-app purchases disabled on their tablets and phones.  Anyone who likes skating and snowboarding games will enjoy this title regardless.