Game Info:
Galaxy ZEGA
Release Date: October 5, 2016
Available on: Android, iOS
Number of players: Up to 4 players
Genre: Racing
Price: $149.99 for the starter set
Thank you Galaxy Zega for sending us a starter kit and two X-bases to review!
Many kids enjoy video games and remote control cars.  Galaxy ZEGA combines both of those into an awesome package that doesn't require any AA or AAA batteries to operate.  On Galaxy Zega's store page you can buy the tanks in sets of two for $99 with two bundles available.  The battlefield is another $99, but the best bang for the buck is the starter kit which comes with the battlefield and two tanks (Leo and Gondar) for $149.99.  
The tanks can be enjoyed without the battlefield and they're pretty stable with their continuous track wheel design.  Their bodies are made out of plastic so their long term durability is in question.  Other than a wheel getting stuck and fixed, we haven't had any issues through the many hours (and volunteers!) of play testing.  
The tanks are intelligently designed and really do come to life with the Bluetooth integration.  The phone app is easy to download and use and is available through the website or through Google Play/App Store.  Having paired many Bluetooth devices in my lifetime, the Galaxy ZEGA is by far the easiest.  All you have to do is bring the phone near the tank or X-base and they automatically pair without the need for exchanging pins.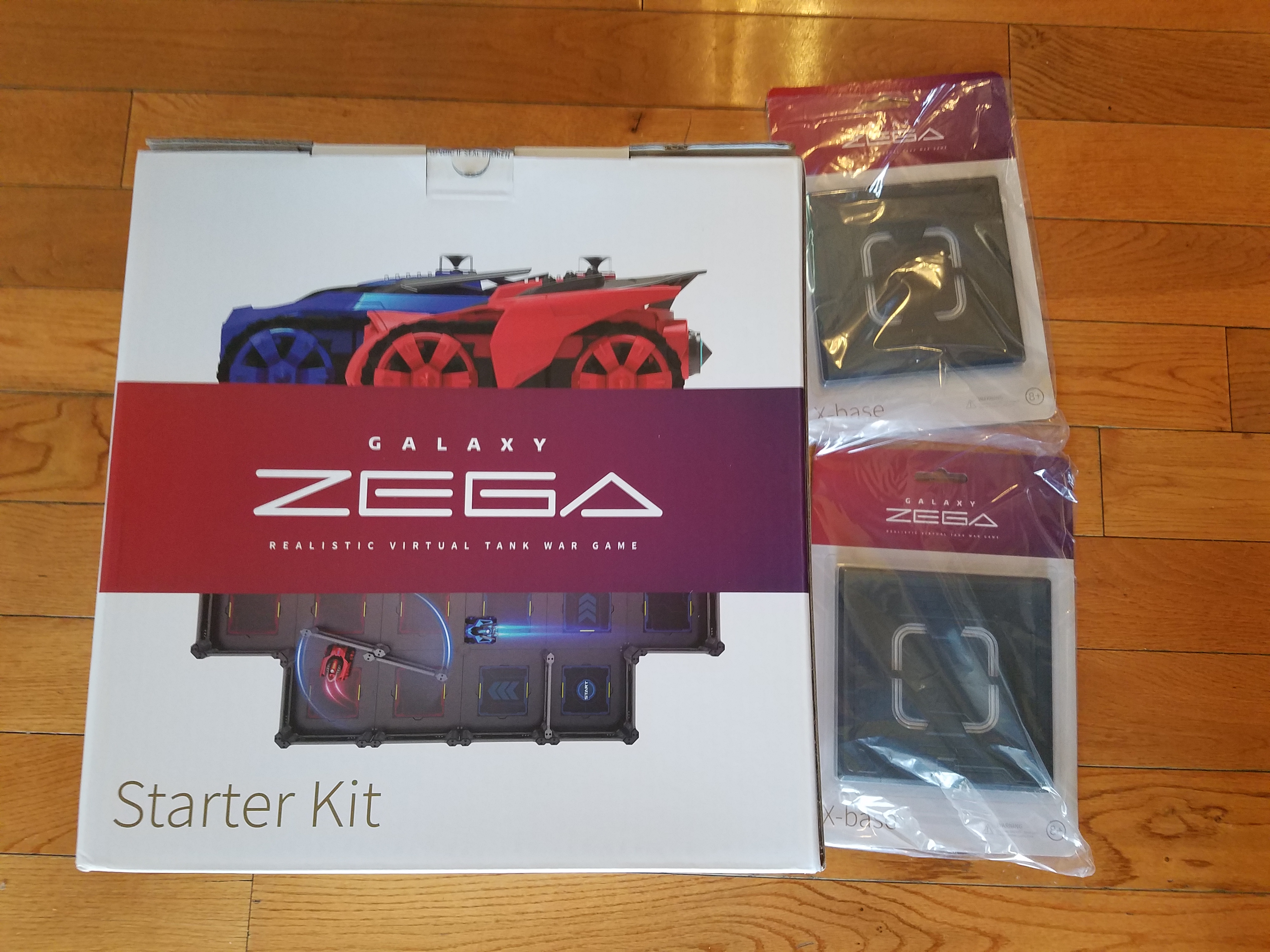 Highlights:
Strong Points: Lots of fun to be had with intelligent and upgradable remote controlled cars; easy to set up and use
Weak Points: In-app purchases; expensive
Moral Warnings: Vehicular violence
Many parents dread assembling toys for their children and again, the Galaxy ZEGA makes life easier when it comes to putting together the battlefield.  The starter battlefield consists of sixteen borders/fences and twelve squares that magnetically attach to one another and each of them have removable centers.  The removable centers are for the optional X-bases that retail for $29.99 each.    
The X-bases are required to enjoy the capture the flag game mode.  In the survival mode, the X-bases can be configured to increase the speed, damage, or health of the tanks.  My kids liked setting them to random.   
With each attack, hit, or power-up the tanks react in real life.  There are several lights that illuminate for health and connectivity.  When the tanks fire their weapon they will recoil and require a cool down before being able to fire again.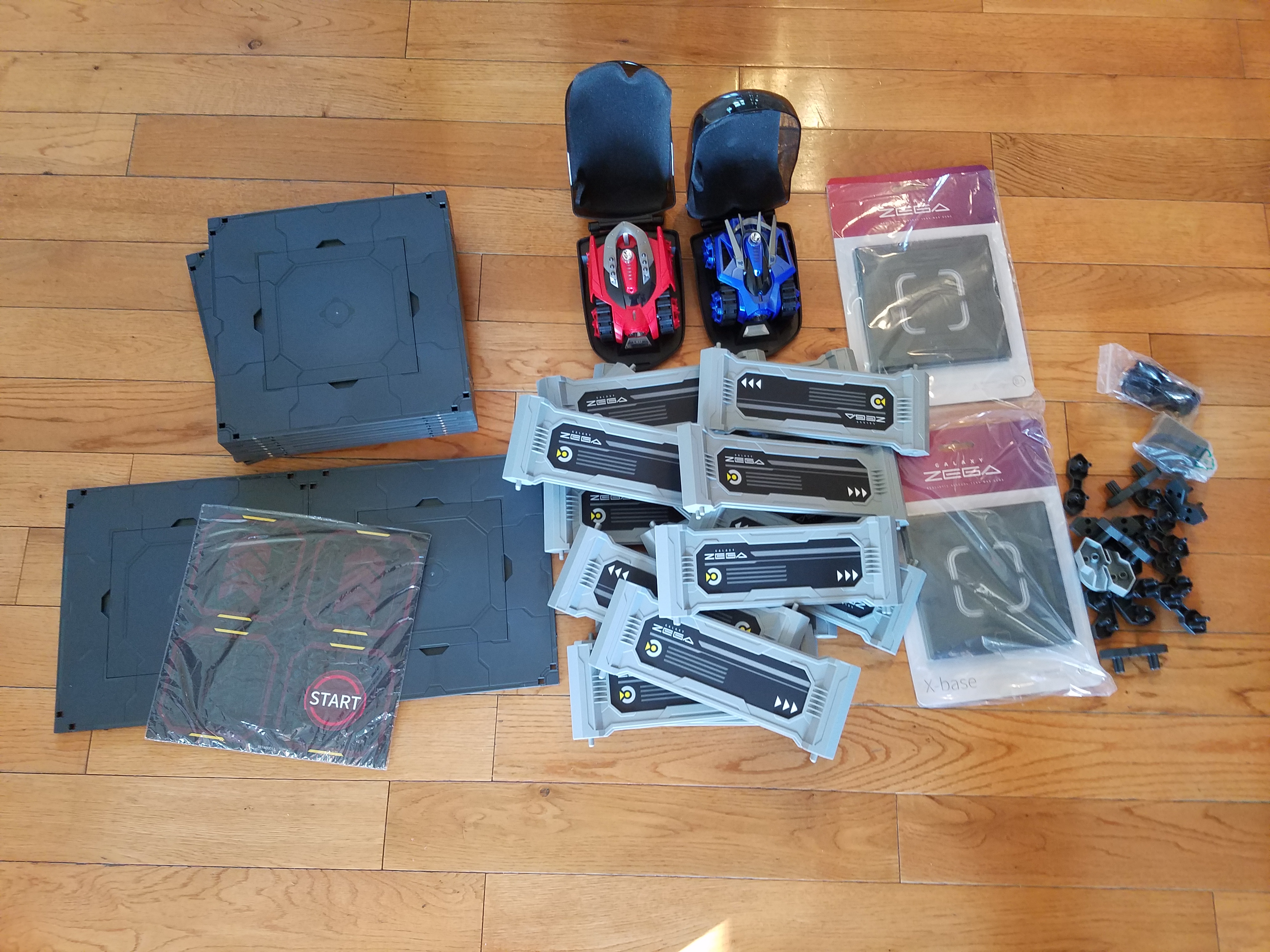 Score Breakdown:
Higher is better
(10/10 is perfect)
Game Score - 80%
Gameplay - 16/20
Graphics - 7/10
Sound - 7/10
Stability - 5/5
Controls - 5/5

Morality Score - 94%
Violence - 7/10
Language - 10/10
Sexual Content - 10/10
Occult/Supernatural - 10/10
Cultural/Moral/Ethical - 10/10
While the multiplayer modes are fun, playing solo is an option as well.  With each daily login, the players are awarded coins which can be used to upgrade their tanks.  There is an option to buy in-game diamonds which in turn can be converted to gold.   The price for diamonds range from $0.99 for 60 to $18.99 for 1250 diamonds. Competing in battles earns experience and unlocks new abilities for the tanks as well.
The battles can be customized to be either time or point based.  The matches can be up to five minutes in length or up to eight points. Both phones must be on the same Wi-Fi network and separate Galaxy ZEGA accounts are required.  Like everything else, the account process is simple with only needing a unique username and a password.   
With the easy setup and positive experiences my kids and their friends experienced playing Galaxy ZEGA, it's hard not to recommend this realistic virtual tank war game.  The biggest drawbacks are the initial price and the in-app purchases.  Be sure to lock down any phone given to children to play this game so they don't rack up any unexpected charges.  I look forward to many more battles with my kids and their friends.