Game Info:
Bibliquiz
Developed by: Funnybiz inc
Release Date: June 27, 2012
Available On: iOS, Android (reviewed)
Version Reviewed: 1.2
ESRB Rating: Not Rated
Genre: Puzzle
Modes: Single player
MSRP: $1.99
Thank you Funnybiz Inc for sending us this game to review!
There are many Bible trivia games out there, but what makes Bibliquiz stand out from the rest is its customization and affordability.  Having read the Bible several times over, and in various translations, it's nice to see what I know and what I can still improve upon.  By default, the game quizzes you on the meaning of Greek and Hebrew characters, but the only translations I have read have been in English, so I found it nice that I was able to disable that particular segment.   
There's a wide variety of questions, and the answers for them are all multiple choice.  Sometimes the answer is obvious, but that's not always the case.  If you don't mind a little pressure, you can enable the timed game mode.  The number of questions is customizable; the options are 10, 25, 50, or an unending mode.  There's a wide assortment, and only once was I asked the same question twice in a play through.  
The questions vary from fill in the missing time-line entry, find the book that is out of order, picture quizzes, which people and quotes are found in the Bible, and so on.  There's even more to be included in the future 1.3 update of Bibliquiz.  A map game is in the works which sounds pretty educational.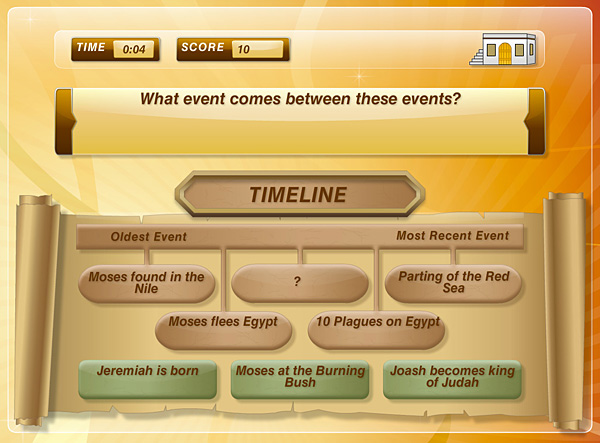 Highlights:
Strong Points: A fun learning tool
Weak Points: Does not scale well for phones
Moral Warnings: none!
If you score well enough on a quiz, you'll unlock a Bible Fact card that displays various tidbits.  Did you know that there are about 5700 copies and fragments of the New Testament in Greek?  If you include ancient manuscripts in other languages, there are almost 25,000 manuscripts.  No ancient document has more copies than the Bible.  Iliad has 643 copies, and there are only 7 copies of the works of Plato.  That's pretty impressive if you ask me.  Isaiah 40:8 says "The grass withers and the flowers fade, but the word of our God stands forever."
This game is very God honoring as it gives you suggested Bible verses to read after you complete a quiz.  It also does more than let you know if you are correct or not; it explains the answer in either case and gives you the verse and explanation.  Bibliquiz can be an excellent learning and study tool.  
There's an easy, normal, and hard difficulty level.  I honestly couldn't tell the difference when I tried the three modes.  My only guess is the unlock-ability of the Bible Facts cards may be more lenient on the easier modes.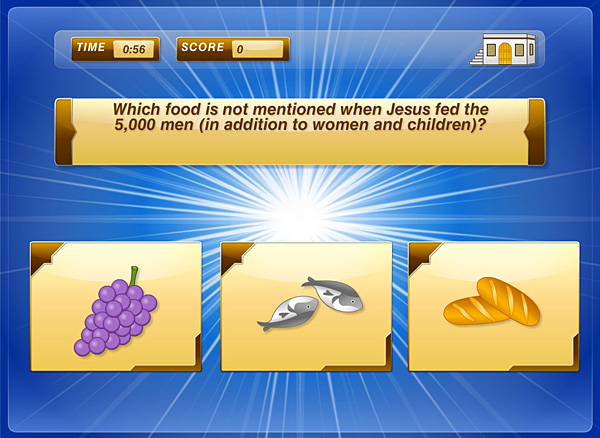 Score Breakdown:
Higher is better
(10/10 is perfect)
Game Score - 80%
Gameplay - 16/20
Graphics - 8/10
Sound - 7/10
Stability - 4/5
Controls - 4/5

Morality Score - 100%
Violence - 10/10
Language - 10/10
Sexual Content - 10/10
Occult/Supernatural - 10/10
Cultural/Moral/Ethical - 10/10
Other than that, my only other complaint is the scalability of this game.  It's clearly designed for iPad or tablet use.  It can play on a phone, but you will need good eyes and a precise stylus.  The font and buttons to choose the correct answer are way too small on phones.  When I viewed a Bible fact card on my phone, I couldn't figure out how to escape out of it without force closing the app.  I later did the same on my tablet and saw that there's a home icon on the upper right hand side, but it's hard to see on the phone's small screen.  
The graphics are cartoonish and very colorful.  You'll see a bearded fellow with a shepherd's cane (I'm assuming Moses) in various poses revealing the correct or incorrect answers for you.  Other than the home button issue, I have no complaints on the game's appearance.
The sound effects are simple and get the job done.  There are clicks and chimes, but I often played the game in public and muted so I wouldn't bother those nearby.  I find that being polite is better for evangelizing than being asked to turn the volume down.  
In all seriousness, this can be a great tool to evangelize or sharpen your own Bible knowledge.  It's single player only so you'll have to take turns and compare scores.  The price is affordable at a price of $1.99.  I look forward to future updates and games from Funnybiz Inc.