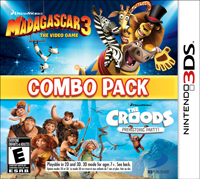 Game Info:
Madagascar 3 & Croods Prehistoric Party Combo Pack 
Developed by: Torus Games
Published by: D3 Publisher
Release Date: March 13, 2014
Available on: 3DS eShop
Genre: Platformer, Party Game
Number of Players: Single-Player
ESRB Rating: E for Everyone
Price: $29.95
(Amazon affiliate link)
Thank you D3 Publisher for sending us this game to review!
Let me start off first by admitting that I have not seen either of the movies that these games are based off of.  That being said, a good game should stand well enough on its own regardless of being familiar with the characters or not.  Of the two game games in this bundle, I found Madagascar 3 to be better since it has a story, decent characters, and good graphics.  The Croods Prehistroric Party looks horrible, does not support multiplayer (despite having the word party in its title), and is merely a compilation of bland button mashing mini-games.
Madagascar 3 starts off with Alex the lion, Marty the zebra, Gloria the hippo, and Melman the giraffe in a car chase fleeing from the Animal Control officers.  Once they escape (my 6yr old son couldn't get this far), they arrive at a traveling circus where they can take cover until the circus comes back to the United States.  The game begins in Italy and the crew must gather food, items, and hang up posters to make the circus a success.  I like how Madagascar 3 utilizes all of the characters to complete the many fetch quests.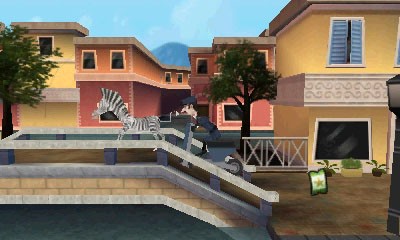 Highlights:
Strong Points: Two bad games for the price of one!

Weak Points:
Madagascar 3 – Repetitive fetch quests make this game dull
Croods- Bad graphics; single-player only; boring button mashing mini-games

Moral Warnings:  Cartoon violence
For example, Gloria is the only character that can swim in water, Melman can walk across tight ropes, and Marty can fly in canons, destroy patrol motor cycles, and eliminate Animal Control officers.  Each animal also plays a role in the circus as well.  In order to progress in the game they must make the audience happy by not messing up their routines.  Fortunately, you can practice as much as you like to get the hang of it.  
I got so bored with the repetitive quests that I didn't bother moving on past Italy.  Two of my kids tried this game and they haven't played it more than once.  That should say something, and sadly this is the better of the two games in the combo pack.
The first thing I noticed right away in the Croods Prehistoric party was the overly complex menu system.  It's 3D rendered and allows you to walk to the credits, into a cave to view unlocked artwork, play the mini games all the while showing fireworks in the background as if there was more to do.  Sadly there isn't.  You can play the mini games individually or randomly in a tournament.  The terminology is a little deceiving in this title, as the tournament is single player and lets you compete against computer controlled members of the Crood family.  There is no multiplayer support whatsoever and the Ai isn't that great.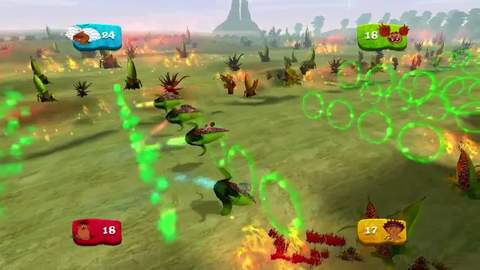 Score Breakdown:
Higher is better
(10/10 is perfect)
Game Score - 56%
Gameplay - 8/20
Graphics - 5/10
Sound - 7/10
Stability - 5/5
Controls - 3/5

Morality Score - 96%
Violence - 8/10
Language - 10/10
Sexual Content - 10/10
Occult/Supernatural - 10/10
Cultural/Moral/Ethical - 10/10
From the start there are twenty mini games available; an additional ten are unlockable for 5 Prehistoric Points apiece.  You earn one point for every mini game you play.  Besides more minigames you can also unlock character cards and pictures.    Of the unlockable minigames, a Bejeweled clone called Shell Sweeper is one of the better mini games.  It's challenging when the AI takes your moves away from you!  From the original twenty I liked the Tron clone, Fire Tail Trail the best.  There's some memory, racing, and bowling mini-games, but the rest are mere button mashers and nothing special.      
To top off the bland mini-games the graphics are flat out ugly.  The character models are blurry and emotionless.  The 3D effects are minimal if present at all.  The background music on the other hand, is pleasant to listen to.
Both Croods Prehistoric Party and Madagascar 3 are family friend with silly cartoon violence.  My kids did not enjoy this game and I don't recommend it unless you find it for a really good price.  Right now it's available on Nintendo's eShop, but will be arriving in physical form in December 2014.