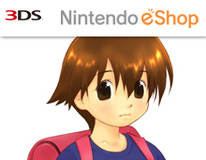 Game Info:
Yumi's Odd Odyssey
Developed by: Agatsuma Entertainment
Published by: Natsume
Release Date: March 20, 2014
Genre: Platformer/Puzzle
Number of Players: Single-Player
ESRB Rating: Everyone
Price: $29.99
Thank you Natsume for sending us this game to review!
Yumi's Odd Odyssey is the third game in the Umihara Kawase series which is popular in Japan.  This is the first and only game to come to North America.  The series began in 1994 on the Super Famicom system.  The sequels were released on the Japanese PlayStation, PSP, and DS systems.  What sets this series apart from other platformers (other than the bizarre dream world and creatures) is that the main characters are equipped with a bungee-like fishing line that they can attach to surfaces and sling themselves around the level.  Yumi's Odd Odyssey offers plenty of jumping and climbing to fall under the platformer genre. However, there are many situations that require problem solving skills and a lot of patience to overcome.
There are fifty stages to complete and many of them can be finished in a couple of minutes or less.  Some levels are more complex, especially when it comes to boss battles.    Most of the levels have backpacks that can be collected.  In the original game, these represented extra lives, but that is not an issue in this release.  You have unlimited retries, and this game counts how many times you have failed a level.   (This feature was not good for my self esteem.)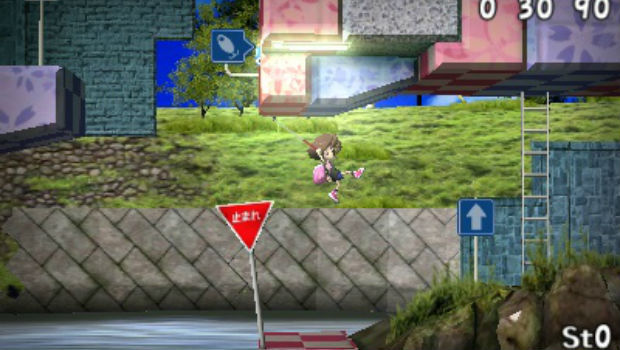 Highlights:
Strong Points: The first of this series to come to North America; unique visuals and challenging gameplay 
Weak Points: If you're good at this game it can be beaten within a few hours; $30 asking price
Moral Warnings: Cartoon violence
To finish a level you must make your way to the exit door and some levels have multiple doors which interconnect to other stages in the game.  There are many obstacles from the beginning to the end of a stage.  You'll encounter walking fish that make you wonder if the heroines are really small or if the fish are big.  Besides the monsters you can usually hook and reel in, there are slippery ice surfaces and deadly spikes to avoid.  You'll have to use the environment to your advantage, especially since the bosses are immune to hook attacks.  To make matters worse, all it takes is one hit to send you back to the beginning of the level.
Fortunately, there are multiple characters to choose from and each provides a helpful and unique ability.  Emiko unlocks check points in levels that can be used once apiece.  (I used her the most!)  Noko provides a slow motion hookshot which can come in handy if you need the extra accuracy.   I was aware of music and feature unlocking as I progressed the story, but these other characters are not mentioned.  Changing characters can be done in the profile menu.  
There are five endings and I imagine they depend on how many backpacks are collected or by how long it took the user to complete the levels.  The original game gave the best ending for completing the entire game in roughly a half hour. Needless to say, there is plenty of replayability if you have the perseverance.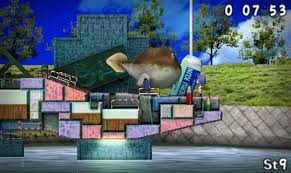 Score Breakdown:
Higher is better
(10/10 is perfect)
Game Score - 76%
Gameplay - 14/20
Graphics - 8/10
Sound - 8/10
Stability - 5/5
Controls - 3/5

Morality Score - 96%
Violence - 8/10
Language - 10/10
Sexual Content - 10/10
Occult/Supernatural - 10/10
Cultural/Moral/Ethical - 10/10
Yumi's Odd Odyssey is a niche game that will appeal to those who longed to play the Japanese releases.  The $30 price tag seems a bit steep in my opinion.  There isn't much of a story to hook you in, but the physics are fun to play around with until you fail the same level forty times or more.   
The graphics are unique and utilize the 3D effects nicely.  The background is realistic looking while the foreground has various platforms to maneuver through.  I like how there are day and night levels to add some variety and additional challenge.  The disturbing enemies deserve a mention and these including walking fish and pollywogs.     
The background music is pleasant to listen to but didn't blow me away.  It was actually a bit soothing while I was getting angry at myself for dying yet again.  While this game is family friendly, I'd be surprised if children would enjoy it given the game's brutal difficulty.
Old school gamers should look into Yumi's Odd Odyssey if they enjoyed previous entries in the Umihara Kawase series.  Anyone else looking for a challenge may be pleasantly surprised with this game as well.  I wish there was a demo available, but sadly there is not.  Thirty dollars is a lot to part with for a game that's short if you're good at it and even shorter if you're fed up with its intense difficulty.