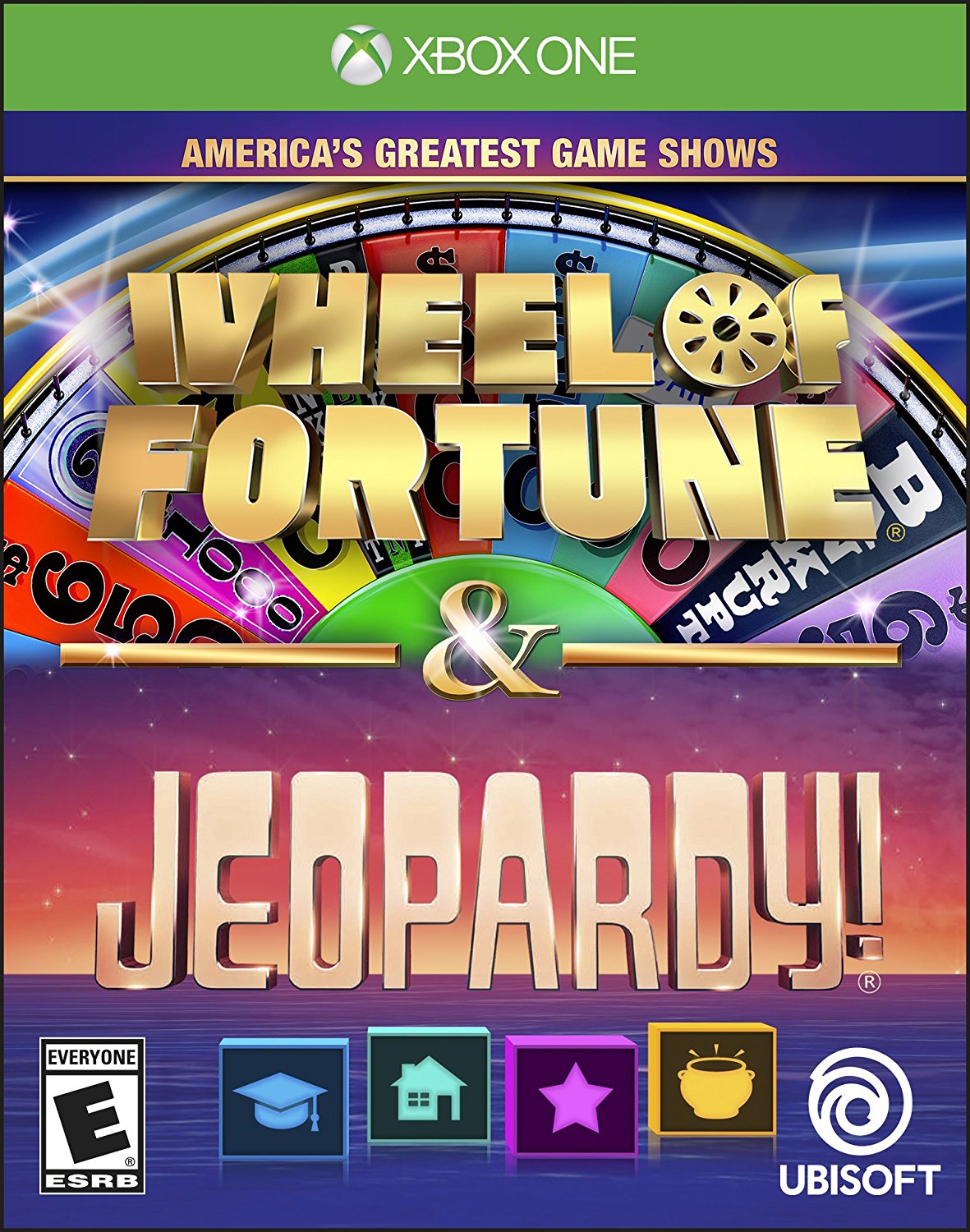 Game Info:
America's Greatest Game Shows: Wheel of Fortune and Jeopardy
Developed by: Ubisoft
Published by: Ubisoft
Release date: November 6, 2017
Available on: PS4, Xbox One
Genre: Puzzle
Number of players: Up to three
ESRB Rating: Everyone
Price: $39.99
(Amazon Affiliate Link)
Thank you Ubisoft for sending us this game to review!
Wheel of Fortune and Jeopardy are iconic game shows that have been around longer than I have. Jeopardy first aired in the 1960s with Art Fleming as the host. I'm more familiar with Alex Trebek though. Pat Sajak and Vanna White are still going strong since Wheel of Fortune's launch in the mid-1970s. Sadly, none of these hosts are represented in this game collection.
I've often wondered how I'd do on Jeopardy but I can't help but think of Weird Al's song – I Lost on Jeopardy. I wouldn't want to embarrass myself or dishonor my family's name. Now that an HD version of the game is available to play in the comfort of my own home, I can test my wits against my family and friends. I successfully beat my brother and dominated the Old Testament category and solved every clue for it. By doing so, I unlocked the Xbox achievement "scholar." I also discovered that I'm pathetic when it comes to anything sports. I don't know winning years, scores, or stadium names outside of my state.
If you're not familiar with Jeopardy, your goal is to win virtual cash and prizes by solving the themed answer with the clue provided. The home version is much easier since you get multiple choice answers when the actual game show does not offer them. Between my brother and AI player guessing the wrong answers I was able to win a couple of questions through the process of elimination. Multiple AI difficulty levels are available and I stuck with the default setting of medium.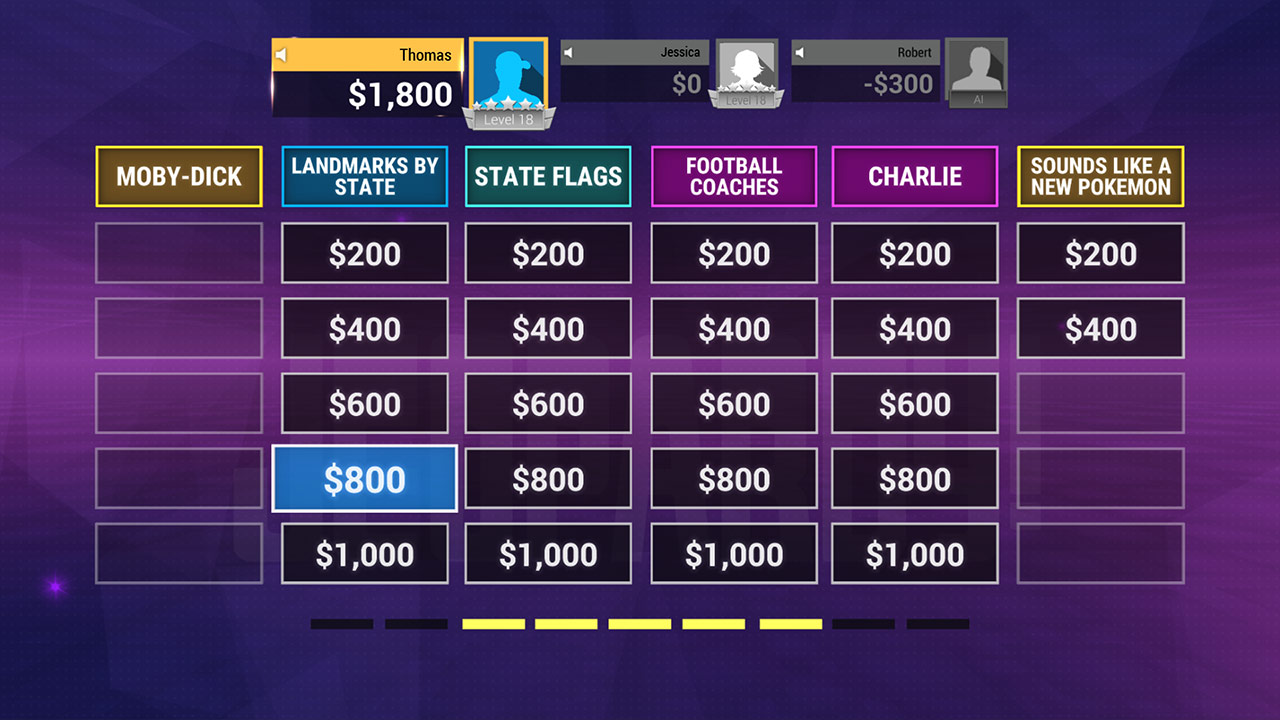 Highlights:
Strong Points: Faithful to the original source material; moves along quickly though if you're too fast with the buzzer you'll be penalized
Weak Points: Nobody to play against online; average visuals and audio; controller lag
Moral Warnings: Skimpy shorts are worn by female contestants in Wheel of Fortune
There are various modes including Quick, Classic, and Family. The family mode is kid friendly and allows special categories and answers to be used in game. The quick mode uses four categories with three clues per category while the classic mode uses six categories and five clues. The categories are broken down into Academia, Lifestyle, Pop Culture, and Potpourri. More categories and ranks are unlocked as you play the game.
Like the TV show, there are three rounds: Jeopardy, Double Jeopardy, and Final Jeopardy. The higher the dollar value of the clue, the harder the question will be. If a Daily Double is triggered, the contestant who picked the clue gets to set a wager and be the first to answer it. If they answer incorrectly, the other contestants get a crack at it.
Wheel of Fortune begins with a toss up round that reveals one letter at a time until a contestant can solve the puzzle. The winner of that round will start the game with $1000 cash. Towards the end of the game, the generic host will do a final spin of the wheel and every letter and vowel used will be awarded that amount. Vowels are free in the final spin round, but they cost money to use in the main ones. In the bonus round, you have to try and solve the word puzzle with the letters RSTLNE and three consonants and one vowel of your choosing.
As you play the game, you'll unlock clothing and hairstyle options for your avatar. Unfortunately, the female is forced to start off with a pair of very short shorts. Virtual prizes are also unlocked and can appear on the wheel for later playthroughs. There are over four thousand word puzzles to solve so you won't see repeats very often.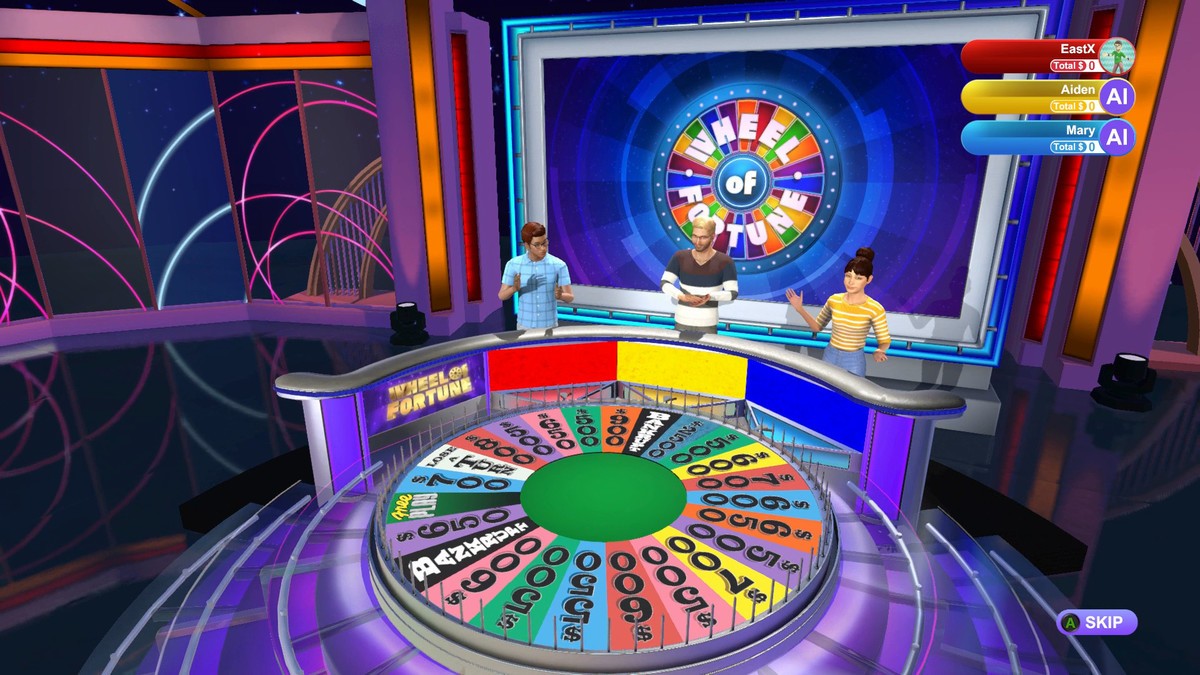 Score Breakdown:
Higher is better
(10/10 is perfect)
Game Score - 72%
Gameplay - 14/20
Graphics - 7/10
Sound - 6/10
Stability - 5/5
Controls - 4/5

Morality Score - 97%
Violence - 10/10
Language - 10/10
Sexual Content - 8.5/10
Occult/Supernatural - 10/10
Cultural/Moral/Ethical - 10/10
I like the video clips for the prizes in Wheel of Fortune. It feels very much like the game show and explains the 3GB size difference between the two game installs. The voice acting is a bit repetitive with the game show host constantly stating how shocked he was about me solving that puzzle so quickly.
I did notice some controller lag in Wheel of Fortune and often had to push on the joystick multiple times to get it to move over to the desired letter. Other than that issue, these games ran great.
My biggest complaint about this collection is that nobody is playing it online. Reviews on Amazon mention this as well. As that's one of the main selling points, it is rather disappointing. If you do have family members to play against it's still a worthy purchase if you're a fan of the game shows. You may want to crank up the AI's difficulty level in Wheel of Fortune as the default mode has them guessing quirky letters like Y,Z,X, and Q. If you're stuck playing against the AI, you may want to wait for a sale before picking this collection up.