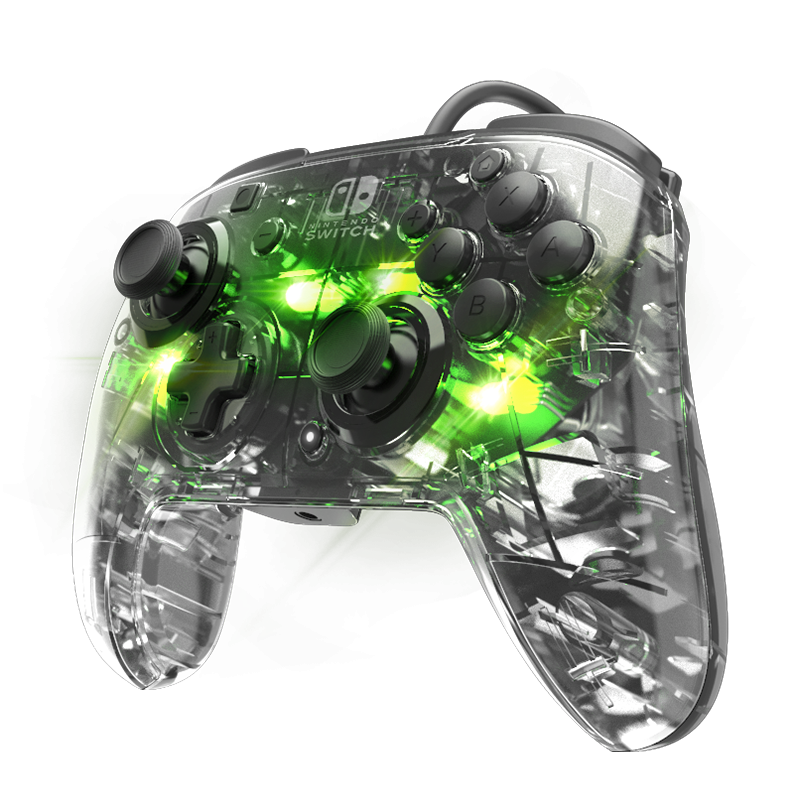 Game Info:
PDP Afterglow Deluxe+ Audio Wired Controller for Nintendo Switch
Clear controller with colored LED lighting
Approximately 10 feet long Micro-USB cable included
No rumble motors
No gyro motion supported
Two extra bumper buttons (programmable to duplicate any button)
3.5mm stereo audio hack for headphones
Licensed by Nintendo
PC Compatible (via Steam's Nintendo Switch controller support)
MSRP: $29.99
(Amazon Affiliate Link)
Thank you PDP for sending us this controller to review!
As great as wireless controllers are, there is something to be said for ones with wires - they usually just work. There's little worse than having a controller die in the middle of an intense game. It also helps that they are usually much less expensive to make, and therefore buy. Enter PDP's Afterglow Deluxe+ Audio Wired Controller for Nintendo Switch.
Rather than just make 'a wired controller', they also decided to make it interesting. Not only does it glow pretty colors, (in exactly the same ways as the PDP Afterglow Wireless Deluxe we reviewed here) it also has a 3.5mm audio jack on the bottom, not unlike Sony's or Microsoft's first-party controllers.
Nintendo seems to have assumed that most players will either play their Switch entirely in handheld mode with headphones, or connected to the Switch dock using speakers. What about those who prefer gaming on the large screen, with real controllers, but needs to stay quiet for the rest of the family? Enter the Afterglow Deluxe+ Audio.
Highlights:
Strong Points: Audio jack has low noise, sounds decent, and is very convenient; button layout is pretty similar to the official Nintendo Switch Pro Controller; feels durable in the hand; buttons and sticks feel high quality; rear paddle buttons are programmable to any other button, and are a nice extra feature; controller lights are customizable to most common colors
Weak Points: Cable is the older Micro-USB style connector for some reason; no rumble motors or gyro; lack of turbo for the programmable paddle buttons (or any other kind of macro) is a missed opportunity; smaller triggers means that you can't easily have one finger on each trigger at the same time; audio doesn't sound quite as good as the headphone jack built into the Switch
When you connect this controller and plug headphones into them, all sound from the Switch (and incidentally, it works with PC also) will suddenly route through that controller port. The controller actually disconnects really quick when plugging in headphones, which makes sense; if you unplug them, you don't want sound to route through a non-existent sound device, but rather the console itself. So, you connect the headphones, and then press L+R on the controller to redetect it, and you're ready to play in silence. The ten-foot cable is plenty long enough for some of my setups, but not others. Thankfully, it's standard USB, so extension cords should be easy enough to come by.
The controller port's audio connection shows up as a standard device that outputs at 48kHz@16-bit, just like the Xbox One controller does on PC. And being wired, it just works - no hassle at all. The noise floor is fairly low, but you can hear some hiss if you connect really sensitive headphones. I tried this port with several of my headphones, and found that it doesn't put out a whole lot of power, and it also doesn't sound as sharp and clear as the audio port on my Switch (or PC, for that matter). But honestly, it's a controller with a bonus audio jack for $29.99. If you want higher-quality audio out of your Switch and PC, do what I did and buy a Sound Blaster. If you want to be able to hear your game and not disturb your family, this most certainly does that well enough. You can also adjust the volume right on the controller, which is a nice touch.
As for the controller itself, it's exactly like the other Afterglow I linked to earlier, except that it does not support gyro motion, which is a real shame. The biggest games on the system (Zelda, Mario) support motion controls, and they really benefit from it. That said, you can certainly play the games without them.
The other drawbacks, again like the other Afterglow, is a lack of rumble and Amiibo support. I don't think anyone will miss the Amiibo support, but again, like motion, rumble is pretty nice to have. Most third-party controllers lack this support, and given the price point, it's an understandable omission. On the other hand, the rear paddle buttons can really come in handy depending on the game. They can be mapped to any other normal button with a quick and simple programming method that's well documented in the manual.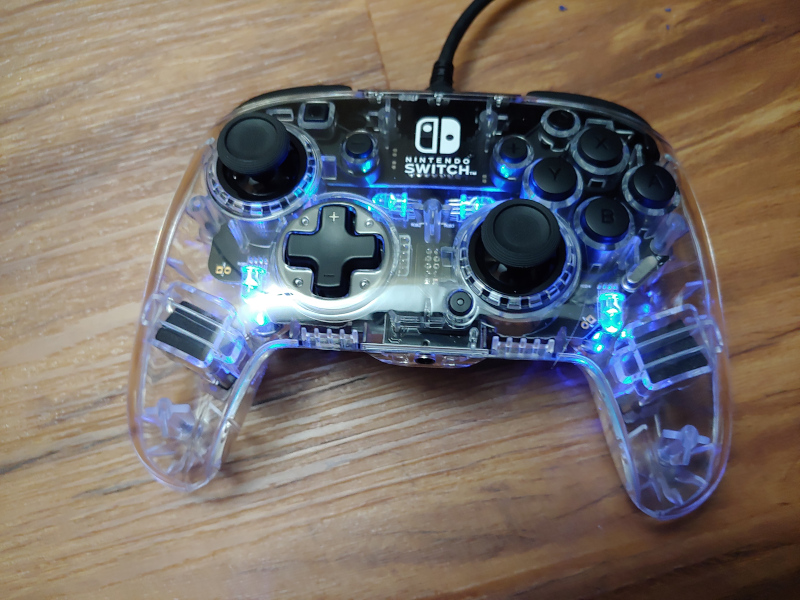 At the risk of repeating myself, just like the other Afterglow controller we reviewed recently, it looks and feels virtually identical, and the lighting also works the same way. As a matter of fact, it's so similar that you could easily be confused into thinking that this one was wireless also and unplug it - to find your controller go dead in your hands. It uses exactly the same micro-USB cable and connectors. I wish they used USB-C, like everything else on the Switch, but what can you do?
This controller has been flawless in use, which is what I would expect from a Nintendo-licensed product. It's clearly been well tested, as the switch from controller-only to controller+audio worked great every time I tested it. It also has a two-year warranty from a very reputable company.
The PDP Afterglow Deluxe+ Audio Wired Controller is a fine supplementary controller, or a great alternative Pro Controller when you need to stay quiet for those around you. It's comfortable, built well, and operated perfectly in my testing. (It also works well on Steam via Nintendo Switch Pro Controller support if you wish to use it for that.) It's a shame that motion controls and rumble are missing, but what can you do at that price point? If you are looking for a budget controller, and you want something sturdy that will last, and motion controls and HD Rumble aren't important to you, then I highly recommend you check out PDP's Afterglow Deluxe+ Audio Wired Controller for Nintendo Switch.