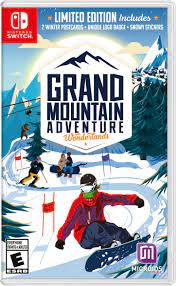 Game Info:
Grand Mountain Adventure: Wonderlands
Developed By: Microids
Published By: Microids
Released: March 10th, 2022
Available On: Switch
Genre: Sports
ESRB Rating: Everyone
Number of Players: 1 to 4
Price: $34.99
Thanks to Microids for the code for this game!

Grand Mountain Adventure: Wonderlands is a sports game that simulates skiing. There are options to play either alone or as a team. The single player mode allows the player to ski along certain courses until you reach the end of one. As it is a skiing course, this is not as easy as it sounds since the traction of the snow sends you in places you don't want to go and often to the side of the tracks. Thankfully, there is a rewind option that lets the player go backwards and start over when mistakes on the track are made. I wound up using it often. The game offers helpful tips on how to use the controls and succeed in the course and gives tips on how to obtain higher scores.

Controls in Grand Mountain Adventure: Wonderlands are easy to understand and explained well. The control stick moves your character. B has your character lift his ski sticks and patrol himself, and once I figured this out, the game became a lot easier. The control pad pauses the game and lets you also view the current course you are on. A zoom button lets you view the course from either a near perspective, a far perspective or the default perspective, which is in between the two.
s
Highlights:
Strong Points: Very clean game with a realistic simulation of skiing
Weak Points: Boring if you aren't interested in sports games
Moral Warnings: Mild language
As the game progresses, you earn points and can unlock various other aspects by reaching certain scores. There's no way to really fail; you just have to get up and try again if you hit something.

The ski course graphics are realistic. The race track is snow-covered and the traction and difficulties this presents in skiing along are simulated accurately as you try to control the skier and often wind up bumping into items such as trees or the fence posts. Other characters talk to you as you ski downhill along the course. There is no voice acting, so these statements are made in the text where you have to read them, but they pass by quickly and you are often focused just on the character skiing and trying to guide him along the course so he doesn't smash into things.
Score Breakdown:
Higher is better
(10/10 is perfect)
Game Score - 76%
Gameplay - 14/20
Graphics - 10/10
Sound - 7/10
Stability - 5/5
Controls 5/5

Morality Score - 98%
Violence – 9/10
Language - 10/10
Sexual Content – 10/10
Occult/Supernatural - 10/10
Cultural/Moral/Ethical - 10/10
There is not a lot of music in this game. Just a sort of elevator music track that plays that fits in with a winter wonderland theme of skiing. The sound effects, though, are realistic for when the character hits objects and for the swoosh sound of skiing. There's no voice acting to speak of; just text to read from various NPCs.

The morality score is very clean as well- this is, after all, rated E for everyone and is just a game about skiing and mountain sports. There is no blood or gore in this one. I subtracted a point for sports violence since the character can fall but there are no incidences of the character smacking anyone else or any other thing like that. There is mild language. There are no sexual references. There are also no references to the occult or the supernatural and I also found no issues with morality or cultural references. There is also no gross humor. However, I cannot really add any bonus points in the morality score either.

I found Grand Mountain Adventure: Wonderlands to be squeaky clean and also a realistic simulation of skiing. While sports games aren't my cup of tea, I can see how this game would be a good addition to a gamer's collection. I just personally don't find it worth the 34.99 price tag. But that is my bias for adventure games and RPGs over sports games, not a reflection on Grand Mountain Adventure.