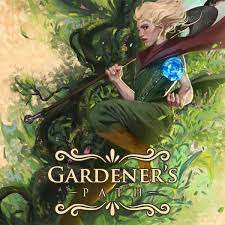 Game Info:
Gardener's Path
Developed By: Viridino Studios
Published By: Ratalaika Games
Released: Dec 22, 2021
Available On: Nintendo Switch, PlayStation 4, PlayStation 5, Xbox One, Xbox Series X, Steam
Genre: Puzzle
ESRB Rating: Everyone 10+ for Fantasy Violence, Mild Blood
Number of Players: 1 offline
Price: $4.99
Thank you Ratalaika Games for sending us a review code!

The Switch is rife with indie puzzle games, and Gardener's Path is no exception. Thankfully, the game is a cozy, lush, and tough puzzler with interesting mechanics and a lovely art style. The price tag is also a lovely surprise, clocking in at $4.99.

The story in Gardener's Path is explored in a simple cutscene. The earth doesn't produce much oxygen, but there are communities of villagers who can get by thanks to air vents that lead to oxygen-filled gardens. When these are threatened by the appearance of nasty insects, a brave gardener must traverse into the depths to save her people from danger.

The game starts out as a simple grid-based puzzle game. Each of the 60 levels is a single-screen arena where you control the Gardener as she demolishes a variety of insects. She can only dash to the edge of a screen, only stopping if there's an obstacle directly in front of her. It's because of this limitation that players need to manipulate the terrain and try to navigate away from threats of prickly cacti that can kill her in one hit.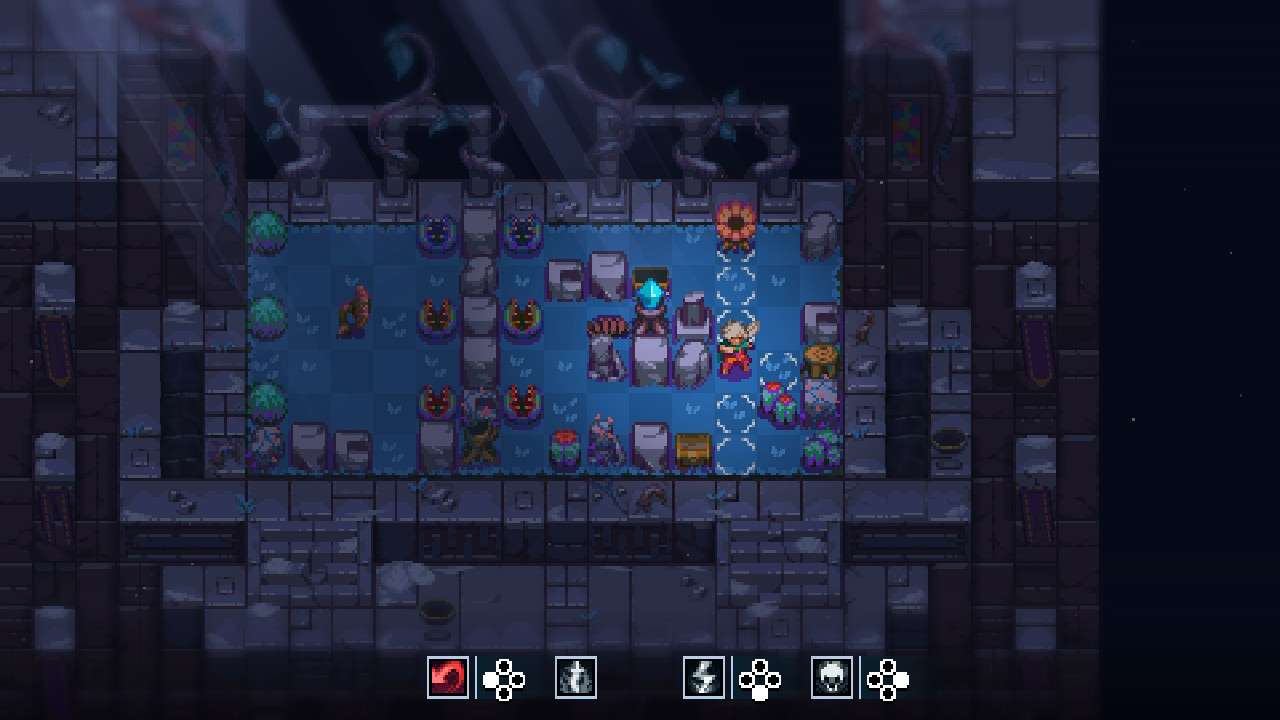 Highlights:
Strong Points: Surprisingly robust puzzle mechanics; lovely pixel art
Weak Points: Rigid puzzle-solving near the end; Framerate dips on handheld
Moral Warnings: A goddess is mentioned in the beginning and end; players will destroy bugs that sometimes leave nonhuman blood; generic magic spells and artifacts
On the flip side, most enemies vanish in one hit, and those with multiple hit points are part of the level's movement solution. I appreciated how most multi-hit enemies don't have the solution of dashing back and forth to destroy them, since doing so will more than likely get you killed unless you plan your moves ahead of time. Once all enemies are defeated, the Gardener needs to collect a crystal that is now accessible to proceed to the next level.
There are a variety of different mechanics that comes from the addition of plants and insect enemies. From sunflowers that fling you to the trajectory they face to mushrooms that will grant or block progress depending on where you hit them, there is no shortage of helpful plants here. However, the enemies are diverse as well, from snails that ricochet and bounce around to centipedes that impede your progress and must be hit on a certain part of their body. There are also some consumable magical artifacts and items that can be collected, such as a stone that will warp you back to your previous location or a skull that will destroy enemies in your direct vicinity. Each of these concepts are added in their own tutorial levels before being placed in harder levels.

For a $5 puzzle game, Gardener's Path has a very distinct level design. I love the lush pixel art that feels very distinct and pops on my Switch OLED in handheld mode. The levels have a relaxing atmosphere that matches the mechanics, and the variety of different plants and insects make the game ramp up appropriately. On the other hand, the music and sound design doesn't stand out too much, but it gets the job done. I also found the sparse worldbuilding through conversations with gnomes peppered throughout the different levels to be a fun way of reading tutorials but also give the game some personality.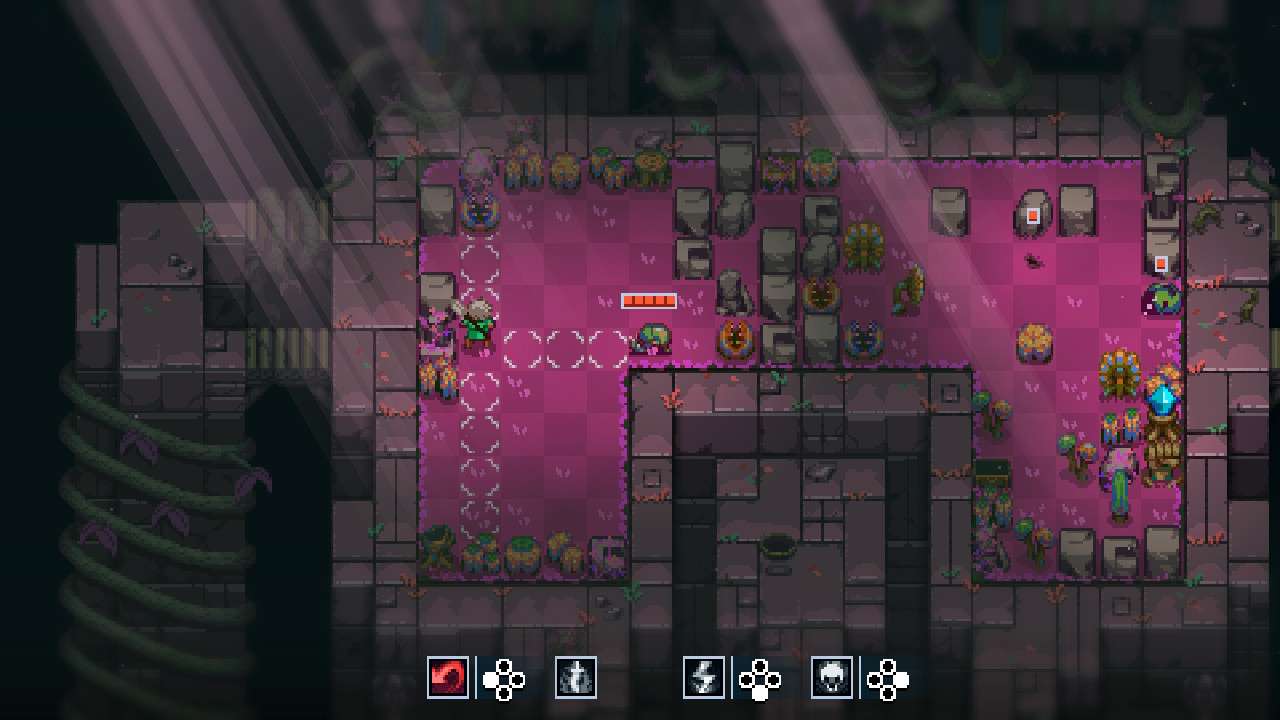 Score Breakdown:
Higher is better
(10/10 is perfect)
Game Score - 80%
Gameplay – 15/20
Graphics – 9/10
Sound – 7/10
Stability – 4/5
Controls – 5/5

Morality Score - 86%
Violence – 6/10
Language – 10/10
Sexual Content – 10/10
Occult/Supernatural – 7/10
Cultural/Moral/Ethical – 10/10
While I appreciate the level and gameplay mechanic variety, I feel like this could have been easily doubled to give a more comfortable difficulty curve. As it stands, this 2-3 hour game has moments where the solutions feel impossible without a massive amount of trial-and-error. Later levels expect you to get a full grasp of the terrain at hand when you just explored a mechanic one or two levels previously. It doesn't help that you must restart a level all the way from the beginning if you mess up your moves. This is more frustrating down the line when solutions require nearly two dozen moves to solve; messing up in the middle of a chain meant that the only thing to do is restart or hit a cactus. Thankfully, there is an option to skip a level if you die a lot of times, which is good if a certain enemy or plant is giving you trouble.

It was also sad that some enemies only pop up near the end, with the final enemy type (scorpions that force which direction you go once you defeat them) only appearing for the last few levels. It seems like a lot of the innovative concepts are tucked away in the last 15 levels, which is a shame. The game also struggles to run consistently with more advanced enemy types; it's highly noticeable when playing the game in handheld mode.

Morally, Gardener's Path is on the tame side for an Everyone 10+ game. There is a goddess mentioned in the beginning and shown at the end of the game. It's implied that the people of this world follow her, and it is the reason the gardens are full of life. However, all that's included is a final conversation with the character. The reference is easily missed, especially if you skip both cutscenes. Additionally, insects will be attacked by the player, and disappear in a smoke cloud. Some enemies will disappear in other colored clouds, which could be considered as blood. The player character can also die if she gets hit by a cactus (which is shown as her ripping into shreds and disappearing). You'll also use generic magic spells and artifacts that you collect in levels to proceed.

All in all, Gardener's Path is a surprising little indie puzzle game that's worth checking out if you have a few bucks to spare!