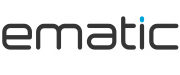 Hardware Info:
Ematic Wireless N-Switch Controller
Red and black two-tone controller
Approximately 7 feet long USB-C charging cable included
Turbo button
Dual rumble motors
Gyro motion supported
Bluetooth Connection
32 feet (9.75 meters) wireless range
20 hour battery life, with 2 hour charge time
PC Compatible (via Steam's Nintendo Switch controller support)
MSRP: $27.99
(Walmart Affiliate Link)
Thank you Ematic for sending us this controller to review!
We are a multi-Switch household, and have lots of gaming PCs everywhere, so you can really never have enough controllers. However, most of them are for other consoles - our Switch-compatible list is much smaller, though growing, thanks in part to our review of Ematic's wired controller. And with Smash supporting up to eight players, and many with larger hands having a strong dislike for Joy-Cons, the more the merrier. So there is always a need for a good backup controller for adults or those who dislike tiny buttons.
Enter Ematic. For the very reasonable price of $27.99, you can order this almost feature-complete Switch Pro Controller clone that does most of what you expect it to do. The sticks feel nice and work well, and use the PlayStation layout, with the D-pad in the upper left position, and the two analog sticks centered. The buttons and triggers are decent as well, though require just a tad more force than you might otherwise expect. It's not terrible, though. The triggers feel good, but are not analog (which is as expected for a Switch controller), even though the triggers have a significant range of motion, similar to Xbox or PlayStation controllers that do have analog triggers. The D-pad feels kind of cheap, but works well enough. On the wired controller, which looks basically identical to this (except it has a wire), the D-pad was really hard to press. Thankfully, this one is much better, though there is no way to know if it's because of luck and production tolerances, or if it's because this model is made a bit better. Either way, this one is quite nice.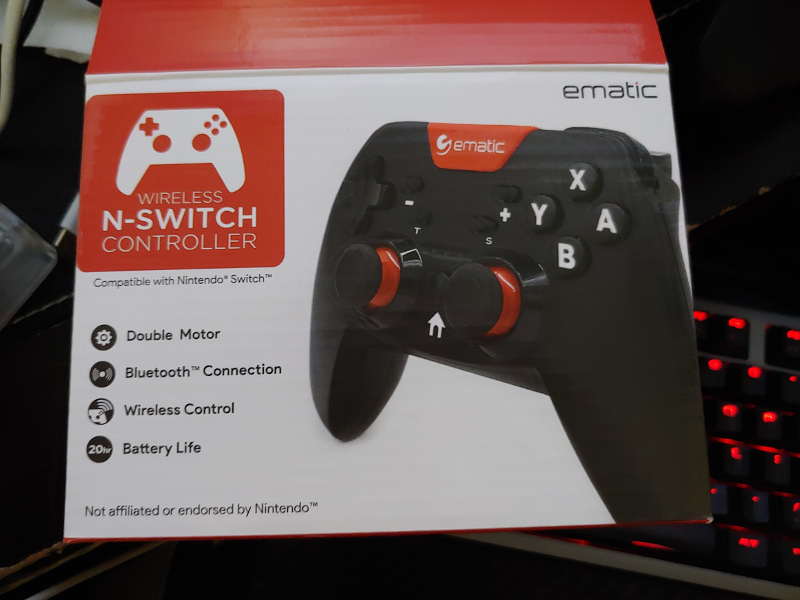 Highlights:
Strong Points: Very competitive price; seems durable; comfortable to hold; more logically-placed home button than Nintendo chose; PC compatible (if you enable Nintendo Switch controller support in Steam); if you prefer the PlayStation button layout, this is a controller for you; D-pad seems better than the wired version I reviewed (it could also be my sample)
Weak Points: No amiibo support; looks very basic; while the D-pad on my sample is better than the wired one I reviewed, it could also be production variances; buttons feel kind of cheap, but work fine; RT and LT buttons have a long throw, but only activate when fully depressed
I tested this as a PC controller, and it works well if you connect via Bluetooth, and tell Steam to configure it as a Switch Pro Controller. Steam's Pro Controller support only works for Xinput games, which is the vast majority of modern ones. But if a game only supports DirectInput, which is the much older standard, then don't expect much from this, as it doesn't report inputs to Windows' built-in USB controller tester. On Steam, both rumble and motion controls work as expected, which is really great.
The Switch Pro Controller does have one advantage over this: it has an amiibo reader. Other than that, it's mostly a difference in layout and perceived quality. The layout is more a preference issue rather than an advantage. The Pro Controller has first-party status, which is great, but is it worth the extra cost? While I haven't tested the Ematic on every game I own, it did work pretty well on Zelda, which is a game that relies on motion controls quite a bit for aiming the bow. Otherwise it seems to work well enough.
The Ematic Wireless N-Switch Controller is a quite decent Pro Controller alternative. It feels a bit cheaper than the stock controller, but nowhere near as bad as some of my older third-party controllers, like the Rock Candy PS3 controllers I picked up several years ago; those things feel like one drop away from cracking open, while this one has a fairly sturdy shell, and seems like it could take a few licks. Overall, it feels good, works great, and has motion control, which is very important for some games. The signal range was also great in my testing. It is a very good value for the price. If you are looking for an inexpensive controller alternative to the pricey official Pro Controller, and you like the PlayStation-style layout, then you can't go wrong with this Ematic Wireless N-Switch Controller.