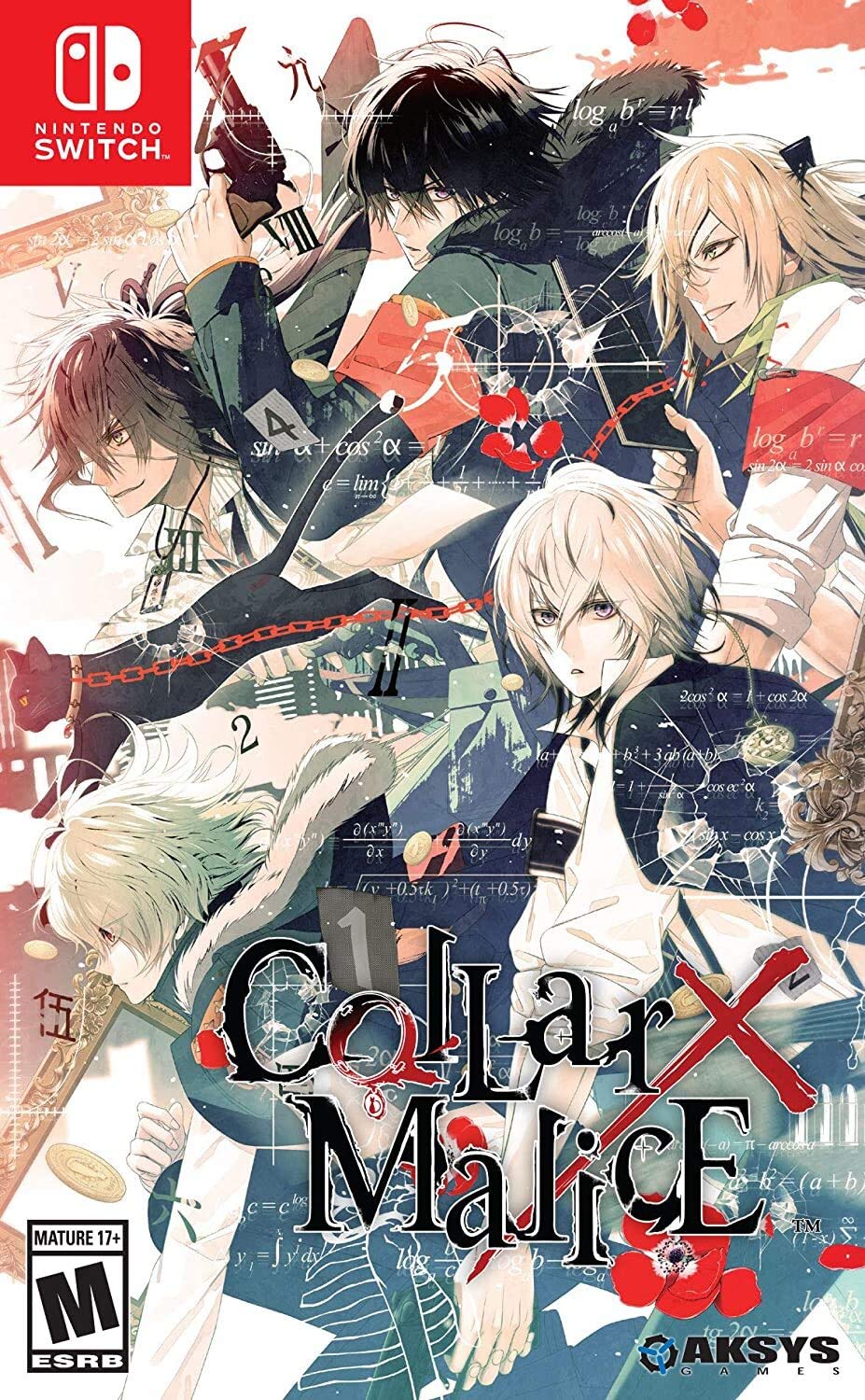 Game Info:
Collar X Malice
Developed by: Otomate, Idea Factory
Published by: Aksys Games
Available on: PS Vita, Switch
Release date: June 25, 2020
Genre: Visual Novel
Number of players: Single-player
ESRB Rating: Mature for blood, violence, drug references, mild sexual themes, strong language
Price: $39.99
Thank you Aksys Games for sending us a review code!
In 2016, Collar X Malice was released on the PlayStation Vita in Japan and came to the rest of the world in 2017. In the summer of 2020 this otome (multiple datable bachelors for the heroine to choose from) visual novel became available on the Nintendo Switch platform.
Collar X Malice takes place in Shinjuku Tokyo which is under quarantine because a terrorist group called Adonis is systematically judging and murdering "sinners" every month. Because this has been ongoing for several months, the public's opinion of the police is at an all-time low. It also doesn't help that the first judgement/murder was a corrupt cop. Until this group is disbanded, citizens are under lockdown and have been issued traceable guns to defend themselves.
Your character is a low-ranking female police officer. Her last name is Hoshino, but you get to decide her first name. Hoshino's job is to take and respond to calls from concerned citizens. Every time a new Adonis murder is publically broadcasted, the phones ring off of the hook.
On one of Hoshino's patrols, she is ambushed and wakes up in a church not able to move any of her limbs. She has a collar around her neck that injected a slow-acting poison into her system. In the nick of time, a group of men show up and enter the unlock code into the collar to release the antidote. Although her life has been temporarily spared, Hoshino is being monitored by the collar and cannot act recklessly or let her police officer co-workers know about it.
As it turns out, each of the guys who saved her are datable and by completing their individual routes you'll see different aspects and alternative endings to this mysterious story. Most of the routes have six chapters, but one of them has seven.
Highlights:
Strong Points: Excellent story telling from different perspectives, you'll have to play through all of the routes to get the whole picture; great artwork and Japanese voice acting
Weak Points: Some translation errors
Moral Warnings: Alcohol and tobacco use; drunkenness; blood, violence and murder; strong language and blaspheming; implied sex outside of marriage
Here's a breakdown of the eligible bachelors:
Kei Okazaki – A special police force officer who is stealthy and often patrols nearby the detective agency where the other bachelors work. Though he seems clueless, it's often an act. However, he's not good with technology and has been nicknamed "Analog Man" by Takeru Sasazuka.
Takeru Sasazuka – He's a computer hacker with very little social skills. He hurls insults at Mineo Enomoto and often refers to Hoshino as a stupid cat. He's bribable with sweets and especially loves donuts.
Mineo Enomoto – A history buff who wears an eyepatch in honor of a feudal Japanese samurai. He's a fun spur-of-the-moment guy who expresses his thoughts openly even if they're not intelligent.
Kageyuki Shiraishi – He's a profiler at the police station and can often read Hoshino before she says anything. He loves cats and wears cat ears to work. Because Shiraishi talks down to everyone, he has his own hate club at work.
Aiji Yanagi – The leader of the detective agency who is the most mature and responsible bachelor of the bunch. He's a good cook and keeps the place clean. Yanagi has a mysterious past that haunts him though.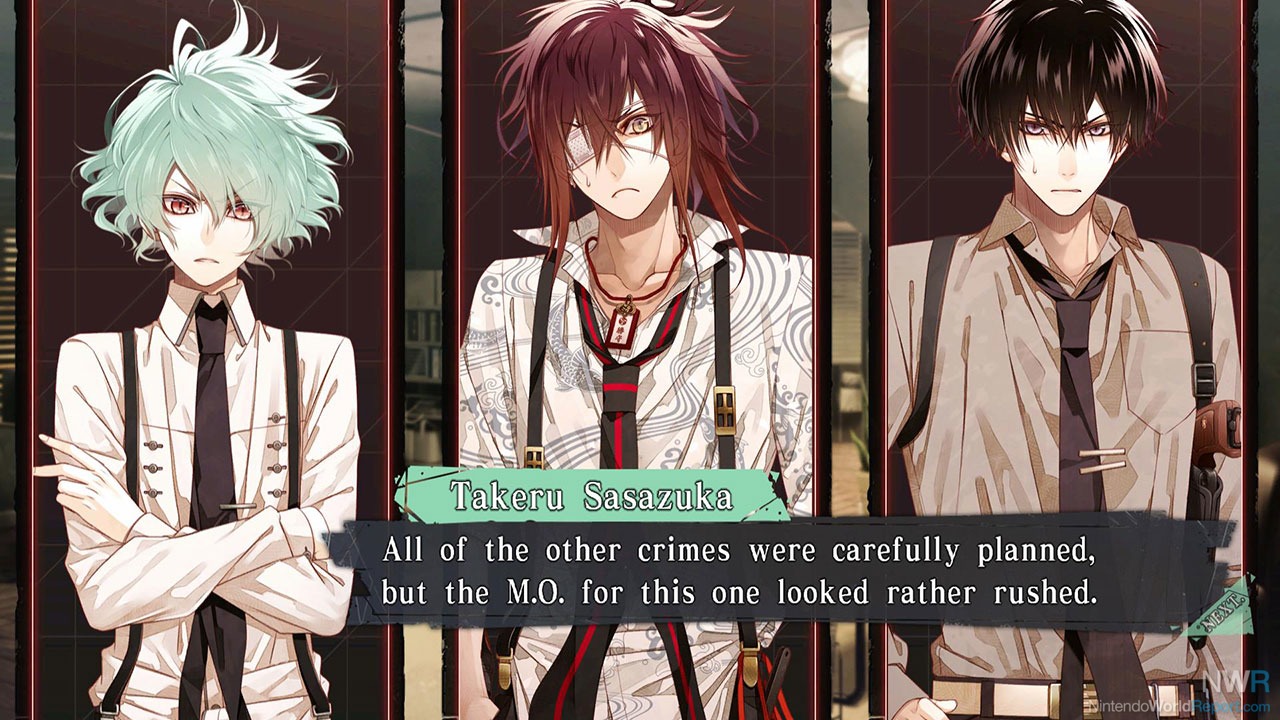 Score Breakdown:
Higher is better
(10/10 is perfect)
Game Score - 86%
Gameplay: 18/20
Graphics: 8/10
Sound: 8/10
Stability: 4/5
Controls: 5/5

Morality Score - 55%
Violence: 2.5/10
Language: 1/10
Sexual Content: 6/10
Occult/Supernatural: 10/10
Cultural/Moral/Ethical: 8:10
As you play through the game, you have the option to skip through any dialogue that you have previously read. This makes replaying the game not as tedious. The dialogue is all voice acted in Japanese and sounds good. Thankfully, there are subtitles for everyone else. I did notice a couple of minor typos though.
The artwork is unique in this game and the characters are very expressive and change their facial expressions depending on the dialogue. Since this game revolves around murders, there is blood shown at some of the crime scenes. The other backdrops are nicely detailed and look good.
Other than blood and violence, you can expect to see characters drinking and smoking. Some of them get too drunk and need to be escorted back home. Many of the characters curse and use all sorts of language shy of the F-bomb. Blaspheming occurs as well. For a romance-themed visual novel, Collar X Malice is pretty tame with most routes not going past kissing. Some of the routes imply that premarital sex takes place though.
If you enjoy a good murder mystery and otome visual novels, Collar X Malice is worth looking into if you don't mind the mature themes. The price tag is $39.99 and offers an engaging story with multiple routes that share different perspectives. It's highly recommended to play through them all and there are walkthroughs available online to help you get the best endings for each route. According to my Switch profile information, I have spent over thirty hours in this game.