Hardware Info:
JYSW Wireless Pro Switch Controller
Developed by: JYSW
Release date: April 2, 2020
Price: $28.00
(Amazon Affiliate Link)
Thank you JYSW for sending us this controller to review!
We have reviewed various Nintendo licensed Switch controllers and many of the ones we've reviewed do not have rumble support. The JYSW Wireless Pro Switch Controller is not licensed by Nintendo so you won't see the word Switch on the packaging whatsoever. Instead, it's referred to as an SWH console. Don't let that fool you though, this controller works great wirelessly on the Switch as well as on PC with a USB C cable.
Nintendo's Pro Controller is great, but it's got a hefty price tag of $70. The wireless PDP controller we reviewed sells for $50. There are other brands out there like Ematic for $30 or less. The JYSW can be yours for less than $25 if you apply the $5 coupon provided by Amazon. This is a nice controller for the price!
Highlights:
Strong Points: Comfortable; rumble support; 10-12 hours of battery life
Weak Points: Pairing is different compared to other controllers
So what makes this controller so special? Unlike the PDP controllers we've reviewed, this controller has motion and rumble support. The only thing it's lacking from the official Nintendo Pro controller is Amibo support. One feature that the JYSW controller offers that Nintendo's Pro Controller doesn't is a turbo button. There are three different turbo speeds you can configure to save yourself from repeatedly pressing a button.
The JYSW's layout is similar to the Nintendo Pro Controller. It's very comfortable to hold and the buttons are super responsive. I've played a few rhythm games with it and didn't experience any lag. The triggers on the JYSW feel hollow compared to the official controller and the A,B,X,Y buttons feel cheaper. They still work great, but the Nintendo Pro Controller feels higher quality. Is it worth the $50 premium? Probably not.
I prefer the joysticks on the JYSW since they have rubberized ridges on the tops of them. The +, -, screenshot and home buttons are easier to press and not sunken in like the official controller. The D-pad is not as pronounced and has a mushier feel to it, which I like.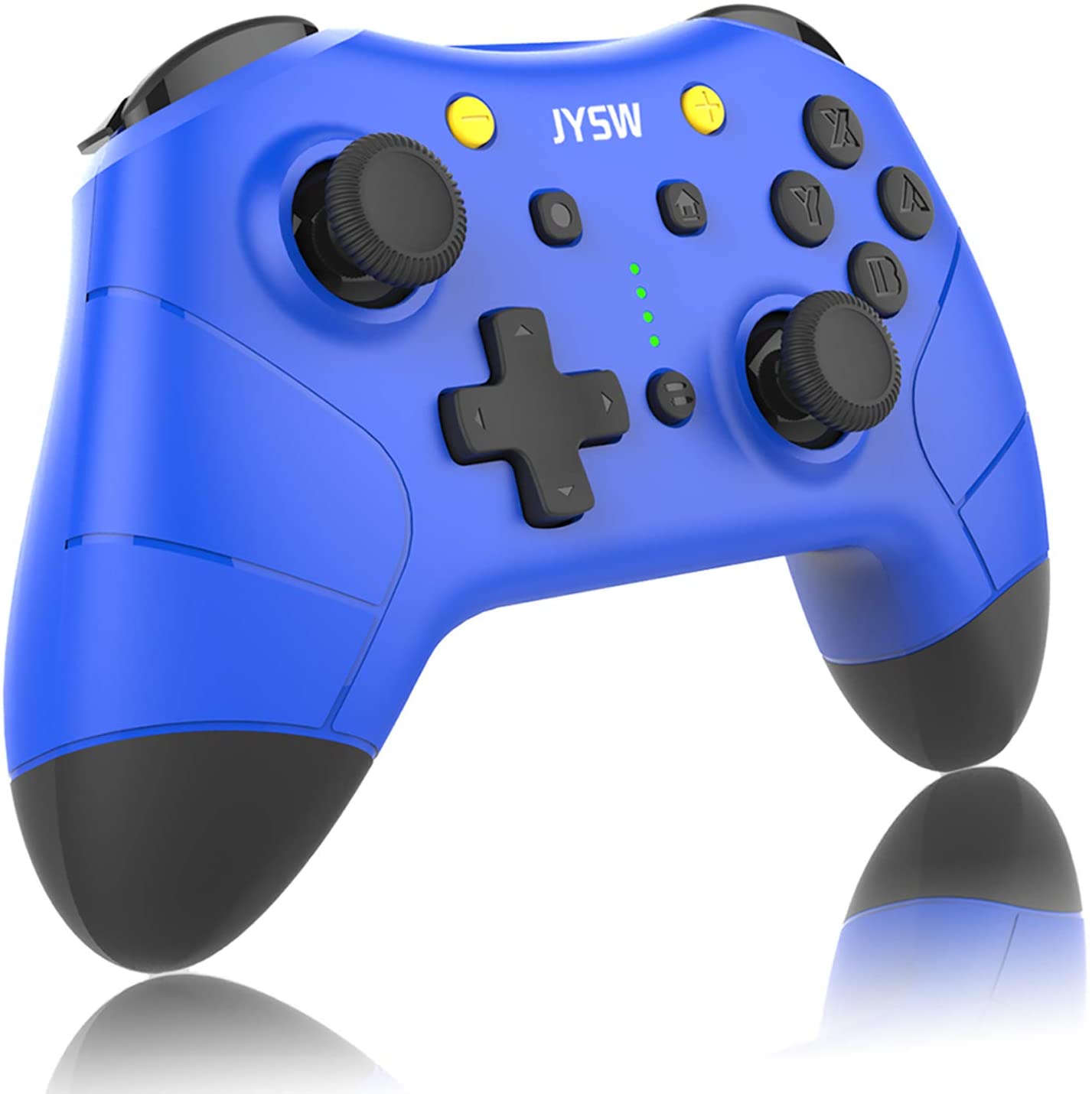 The 600mAh battery life on the JYSW is between 10-12 hours and takes 2-3 to charge fully. If 10+ hours is not enough time on a single charge, there are other controllers out there with 1000-1200mAh batteries.
Pairing is done a little differently with the JYSW controller. To enter into pairing mode you have to press the Y and the Home button at the same time. Once paired, the Switch will remember it. The Bluetooth mode did not work on my laptop, but plugging it in with a USB C cable worked fine. It was charging while being used too!
If you're looking for an inexpensive and comfortable controller with good battery life, check out the JYSW Wireless Pro Switch Controller. As long as you don't need to scan Amiibos, this controller should exceed your expectations.