Thank you Whalek for sending us this product to review!
My family loves to go camping though we don't "rough it" entirely. We make sure that our phones stay charged and we pack our own food to cook on an open fire. Showering facilities are welcome as well. Though we have always brought sleeping pads in the past, having an extra layer between our tent and the sleeping bags is always appreciated. Not too long ago, we reviewed the Whalek Self-Inflating Camp Pad and it's great for a single person. The double-pillowed sleeping pad is ideal for married couples.
Setting up the sleeping pad is fairly simple. Removing it from the carrying bag and unfolding it does not take too much time or effort. Loosing up the valves on each end of the mat will allow for air to automatically inflate the bottom mat a little bit. This process takes some time and it won't ever look or feel like an air mattress. Still, it's far better than sleeping on bare ground! The pillows require inflating the old fashioned way and they each have their own valve.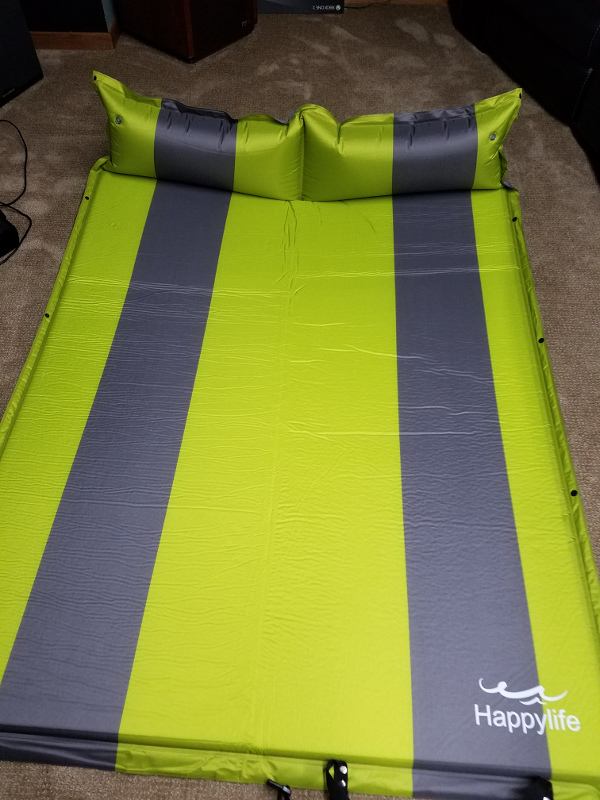 When you're ready to roll up and put away the sleeping pad, be sure to thoroughly deflate the pillow and mat portion. Despite my best efforts of deflating and rolling up the sleeping pad, it took several attempts and some force to (mostly) get it back into it's original carrying sack. The straps and buckles are nice but one of the buckles came off when I was trying to fasten it. I was able to put it back on though. The straps and buckles will probably last longer than the carrying case as I lost a few stitches at the opening when attempting to put away the mat.
In the event of an accident, there is a repair kit included. The manual is helpful as well despite finding a typo in it. The company seems to stand behind their products and are willing to help if you are not satisfied with it. The Amazon reviews are positive and this sleeping pad sells for $56 there.

(Amazon Affiliate Link)