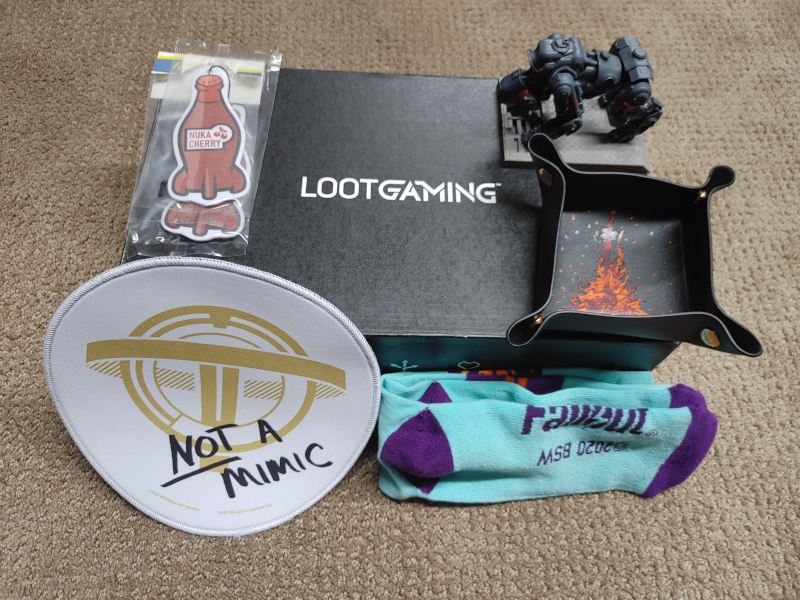 Thank you Loot Crate (affiliate link) for sending us a review sample!
Loot Crate is an interesting service that surprises you with random stuff delivered to your door for a monthly fee. There are many different themes available including gaming, anime, film/TV, and Pop Culture. Each of those themes are further broken down into sub categories for die-hard fans of particular games, movies, anime etc. They also have apparel only crates available. Those are broken down into subcategories including hats, tees, socks, underwear, wearables, etc.
We recently received and unboxed the October Boo! Crate and here's what we found inside:
2 Nuka Cherry Cola Air Fresheners
Wolfenstein Panzerhund Figure
Prey Mousepad
Nuka Quantum Socks
Boo! Pin
Dark Souls Valet Tray
All in all, it's an interesting collection of items. I'm definitely going to wear the socks and they seem pretty high quality. They probably won't match with much since I don't have many clothes in teal or purple. I love the cherry cola smelling air fresheners, but they'll probably annoy my husband so I'll have to wait until we get into an argument before I deploy one of those. The Wolfenstein Panzerhund looks pretty nifty and I've added it to our shelf to collect dust with our other gaming knickknacks. The Prey Mousepad is pretty nice and great to go in a laptop bag while traveling. Since I haven't played the game, I'm not familiar with the "Not a mimic" slogan on it. The Boo! Pin looks cool, but I doubt I'll be wearing it anytime soon. The Dark Souls valet tray is pretty high quality leather. Until now I've never heard of a valet tray and found out that it's just a "catch all" container.
Each crate is said to have at least $50 or more worth of items inside. I wouldn't pay that much for the stuff I got, but the monthly cost of $28.95 is reasonable and I can definitely see the contents being worth that much. If you subscribe for three or six months, the cost is reduced by 9% and 11% respectively.