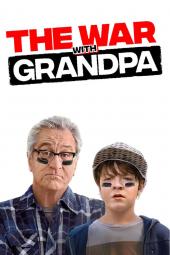 Thank you Universal Pictures for sending us this Blu-ray to review!
The War With Grandpa is a star studded comedy featuring Robert De Niro, Uma Therman, Rob Riggle, Cheech Marin, and Christopher Walken. The grandpa (Robert De Niro) is a widower who is struggling to get by since his wife passed away. Most technology eludes him like self-checkout registers at stores and smart phones. After a legal scuffle, he agrees to live with his daughter's (Uma Therman) family though the transition won't be easy for either of them. The grandson, Peter, is forced to give up his room and relocate to the attic where he shares living space with mice and bats. It goes without saying that Peter is not happy with his new accommodations.
After sharing his struggles with his friends, he follows their advice and declares war on his grandpa to get his room back. At first, his grandfather brushes off the declaration of war and first couple of pranks. Upon realizing that Peter won't be giving up, he decides to fight back as long as they agree to no collateral damage and no tattling on each other. Let the games begin!
Prepare for some funny pranks though a couple of them involve obscured nudity. Grandpa has a tendency of dropping his pants unintentionally. Thankfully, any naughty bits are obscured by conveniently located plants. There is also some language including hell and *ss.
Though the themes of bullying and revenge carry through the movie, the ending is heartwarming and shows the value of familial love. The lesson of war being brutal and having many casualties is also true. Another takeaway is the importance of keeping your word.
Overall, my family enjoyed watching this ninety-five minute movie together. If you have a house full of pranksters, they'll be sure to enjoy this film. The asking price of $23 on Amazon is reasonable for the Blue-ray edition.

(Amazon Affiliate Link)