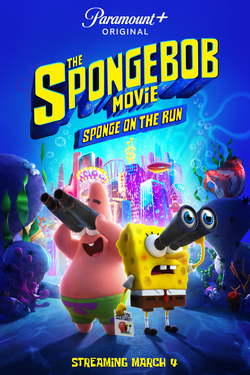 Thank you Paramount for sending us a screener to review!
SpongeBob Squarepants has been around since 1999 and is still going strong. Now that my kids are getting older, I haven't watched it on TV in a while. The main characters are still there and the 3D rendered versions of them look great.
There are some impressive cameos in this film including Keanu Reeves and Snoop Dogg. Another new character is King Poseidon who is super paranoid about his appearance and is desperately seeking out a snail to use its slime to remove facial wrinkles. Poseidon posts a bounty for someone who can give him a snail amidst the shortage of them.
SpongeBob's pet snail is exactly what Poseidon is looking for and Sheldon J. Plankton seizes this opportunity to get SpongeBob out of the way so he can finally get the secret recipe for Krabby Patties. Plankton's wife, Karen, humorously reminds him that SpongeBob has thwarted all of his previous attempts.
With SpongeBob and Patrick on a road trip, The Krusty Krab is unable to operate. Mr. Krabs is losing money that he covets more than anything. Even Squidward comes to realize how much of a valued employee and friend that SpongeBob is.
Although there are some good lessons about selflessness and friendship, there are some moral concerns in this film. On their road trip, SpongeBob and Patrick will encounter cowboy zombies and learn how addicting gambling can be. There is some minor name calling (boob).
Many of the characters have known each other since childhood. They met at a summer camp called Camp Coral and it sets up the upcoming series Kamp Koral: SpongeBob's Under Years nicely. I'm not sure why the spelling is inconsistent between the movie and television series.
If you're a fan of SpongeBob Squarepants you'll definitely want to check out this 91-minute film. It'll be available to view on demand in March of 2021.