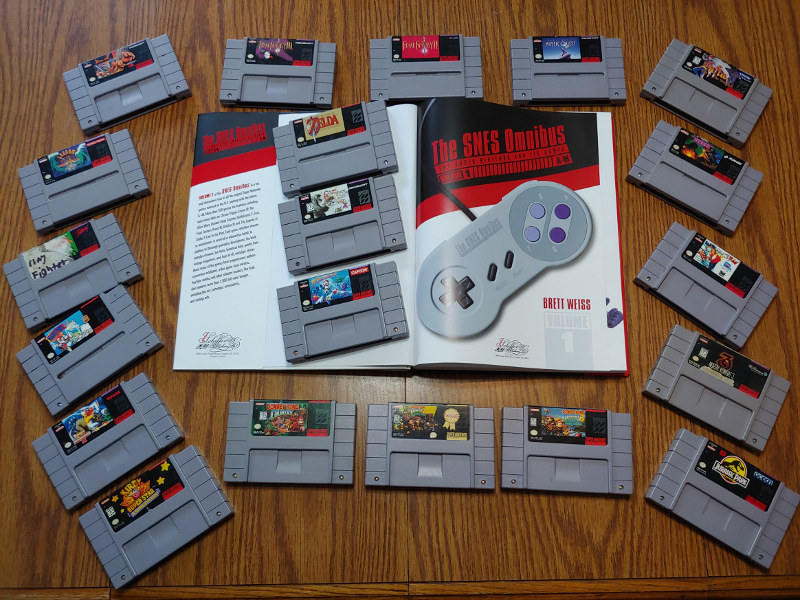 Author: Brett Weiss
Publisher: Schiffer Publishing
Hardcover book
416 full-color pages
Over 350 games covered
MSRP: $42.99
Thank you Schiffer Publishing for sending us this book to review!
I was fortunate enough to grow up with video games and technology as it did. Being born in 1978 (and recently turning forty), I was fortunate enough to play the Atari 2600 long before I went to kindergarten, played tons of the Nintendo Entertainment System (NES) through elementary school, and got my Super Nintendo Entertainment System (SNES) in late jr. high or early high school (I don't remember exactly when; it was early in the system's launch, but I doubt it was year one).
I had gotten a PlayStation maybe a year after that released, and enjoyed it, but I always felt like the SNES was a perfect storm of available technology and maximum creativity that led to some of the best games of all time, and many remain timeless and revered to this day. (It also helped that I had more time to play games in high school rather than the busier early adulthood that occupied my time shortly after I got my PlayStation.) This book celebrates that generation of gaming by devoting one or two pages to each and every game in the SNES library. This volume covers every game in alphabetical order, starting with '3 Ninjas Kick Back' and ending with 'Musya: The Classic Japanese Tale of Horror'. Volume 2, when it is released in 2019, will cover game titles starting with N-Z.
The first few pages include a foreword, where the technical specifications of the SNES are discussed, as well as a brief summary of historical context about the system's release. There is also a preface, where the author talks a bit about his history with gaming, and what led to him writing this book. All of the action starts on page ten.
Each page is in full color, with the title, publisher, developer, game type, and release year all notated at the top. Under that is the box art, a picture of the cartridge, and a general description and summary of the game. If it's particularly good or bad, you might find some commentary there, too. Sometimes they will compare the game with its Sega Genesis counterpart, if there was one. There are also screenshots, and some titles may have promotional art or a picture of an ad as well.
Other than the general overview, each page also includes a 'Notable Quotable', which is typically an excerpt from a review, sometimes modern and sometimes classic, or a comment from a famous YouTuber, game developer, or industry veteran. Some games also feature one or more 'Insider Insight', which is a story of how that game impacted one of the many contributors. There are ninety people listed as contributors on pages 404-410. There are also brief articles about the console wars from the era, the historical and preservation value of emulation, and a bibliography.
Reading through this lovingly crafted archive, I was reminded both of the many great games that shaped my adolescence, but also the many that I remember looking at fondly but never having the chance to purchase for myself. I had a job in high school, so I worked for my games – but no kid can afford everything, so something always had to give. Thankfully, I often had great success scouring the used games at my old Blockbuster Video, which no doubt saved me a pretty penny in these early days before GameStop (and FuncoLand was the only used game store around).
A few notable games that I either owned or borrowed from friends which are covered here include:
ActRaiser
Breath of Fire
Chrono Trigger
Clay Fighter: Tournament Edition
Contra III: The Alien Wars (my cartridge is gone, but the SNES Classic delivers)
Desert Strike: Return to the Gulf (borrowed from a friend)
Donkey Kong Country
Donkey Kong Country 2: Diddy Kong's Quest (spelled wrong in the book: it's supposed to be Diddy's Kong Quest!)
Donkey Kong Country 3: Dixie Kong's Double Trouble!
Earthworm Jim (I have this and Earthworm Jim 2 on PC also!)
Final Fantasy II
Final Fantasy III
Final Fantasy: Mystic Quest
F-Zero (SNES Classic only)
Gradius III
Inindo: The Way of the Ninja (my cartridge is gone, and makes me very sad!)
Jurassic Park (actually haven't played it, but apparently it's quite excellent! Garage sale find)
King of the Monsters 2 (another garage sale find, haven't played it yet)
Kirby Super Star
Kirby's Dream Course (SNES Classic only)
Lagoon
The Legend of Zelda: A Link to the Past
Lufia II: Rise of the Sinistrals (I thought I had a copy of Lufia 1, but my memory must be hazy)
Mario Paint
Mega Man 7 (I played it on the GameCube collection)
Mega Man X (I played it on the SNES version, but ended up beating it on the rare PC version!)
Mortal Kombat (I think I played a friend's copy)
Mortal Kombat III (I played the arcade version much more)
This book is an excellent retrospective, and reminded me of several games that I wanted to pick up when I was younger, but never had the chance, as well as some new ones I hadn't heard of. Who knew that one of the better RPGs on the SNES had a name as wacky as Brain Lord? I had no idea the Michael Jordan video game was actually decent. Apparently the Disney games were all fantastic. Did you know that Blizzard Entertainment met the team that eventually became Blizzard North who created Diablo though their early work on SNES games? All of this, and much more, is lovingly detailed in The SNES Omnibus: The Super Nintendo and Its Games, Volume 1. If you are a collector, or simply love the SNES, then I highly recommend that you pick up this book ASAP. It may be pricey, but it's worth every penny.

(Amazon Affiliate Link)