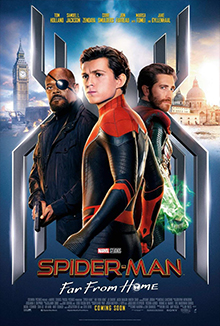 Thank you Sony Pictures for sending us this 4K Blu-Ray to review!
If you haven't seen Avengers: Endgame you'll want to hold off on seeing this film. Spider-Man: Far From Home opens up with a touching tribute to the Avengers that gave their lives in the showdown with Thanos. The world is still reeling from the aftereffects of those who have re-appeared at the same age they were after "the blip" happened. Those who have survived Thanos' judgement have aged five years. As you can imagine, this really messes with high schoolers who are not too keen on re-taking a year of school and suddenly being surrounded by kids that used to be way younger than them.
Although Peter Parker likes being a neighborhood hero, he does enjoy his teenage life and has plans to express his feelings for MJ during their European school trip. Unfortunately, the world needs saving and the bad guys just so happen to be where the high schoolers are touring.
Though Peter Parker is young and naive, he really made an impression on Tony Stark who gave him some powerful eyewear and put in a good word with Nick Fury. Given that Nick Fury is one of those who has blipped back, he's not as familiar with his surroundings as he needs to be. He needs intel from Peter, wants him to commit to either being a student or an Avenger, and most importantly, he wants Peter to answer his phone when calling.
With the attacks from huge elemental monsters happening in Europe, Spider-Man needs to assist. Can Peter keep his alter-ego a secret with all of his classmates nearby? Will he win over MJ? To answer those questions, you'll have to see the film for yourself.
Spider-Man: Far From Home does earn its PG-13 rating for blood, violence, language (b*tch), and sexual references. There are some "caught with your pants down" scenes that are innocent but taken in the wrong way. Blackmail and revenge are also referenced.
Overall, I enjoyed this entry and am warming up to Tom Holland's rendition of Spider-Man. I'm still partial to the Tobey Maguire movies though.

(Amazon Affiliate Link)