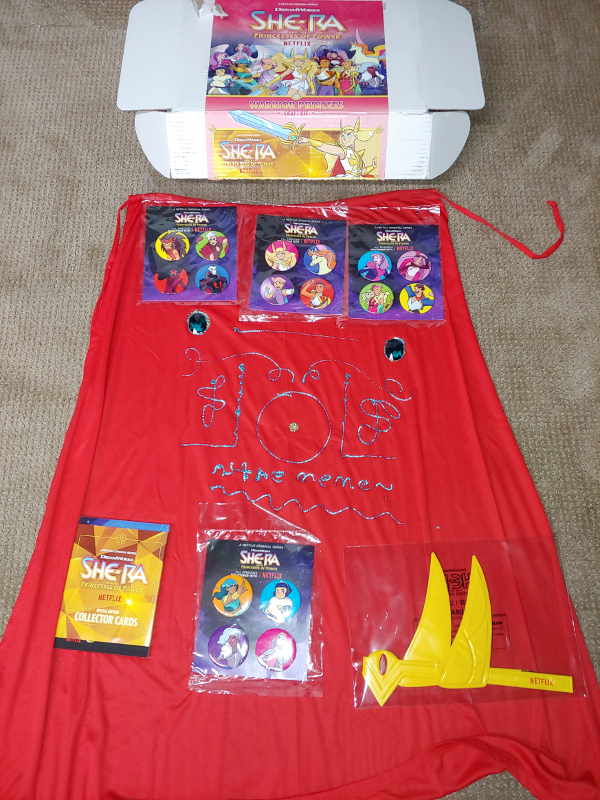 Thank you DreamWorks for sending us a cape, tiara, pins, and glitter to decorate it all with!
She-Ra has been around since the mid-eighties. He-Man was geared for boys and got a motion picture. Over thirty years later She-Ra and the Princesses of Power gets its own animated Netflix series courtesy of DreamWorks.
The series begins with Adora, a hard-working Senior Cadet who quickly advances in rank because of her efforts. She's an orphan and has some close friends including the troublemaking Catra. In order to cheer up Catra who is jealous over Adora's new rank, they take a "borrowed" ship for a spin and crash it into a forest. In the forest, Adora sees a sword that's calling for her to fulfill her destiny and fight for the honor of Grayskull.
Adora doesn't hold a high regard for princesses; little does she know that she is one herself! When Adora uses the sword that has been calling for her, she transforms into She-Ra, a very powerful princess and a force to be reckoned with. It's nice to see a princess that can hold her own in battle without needing the help of some wandering prince or plumber brothers.
The episodes are twenty-four minutes in length and are action packed. The characters are likeable and often have funny lines. Their voice acting is well done too. The animation is simple but nice.

My kids, including my son, enjoyed watching this show. If you have Netflix and younger kids, you should definitely look into this series. I didn't pay much attention to She-Ra growing up so I can't say how true to her story this series is. My brother grew up playing with He-Man so I'm familiar with some of the characters and I look forward to getting reacquainted with them.