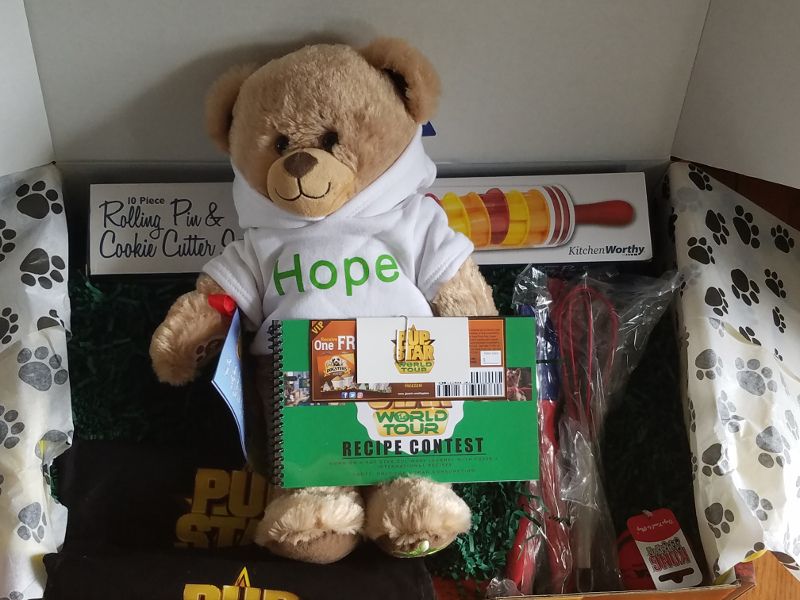 Thank you Airbud Entertainment for sending us a digital screener along with a box of aprons, cooking utensils, a stuffed bear, dog treats and a squeaky ball toy.  
Pup Star, the ultimate dog singing contest, is about to go international. This time, Tiny won't be singing but judging in the competition. Her equally talented lookalike, Scrappy, will be defending her title against many hopefuls from around the world. The four-month Pup Star tour will be voting on talent from India, Africa, China, and Mexico. Each of the judges, who carry over form the previous films, will pick a hopeful to mentor and compete with them in the final episode. The problem is that one of the hopefuls is a fake who is being manipulated by Bark who wants to reclaim Pup Star by whatever means necessary.
Although Bark is imprisoned at a Canine Correctional Facility, he still runs the show. Roland, the bumbling human correctional officer does Bark's bidding. Tiny's family is being manipulated as well by a dog named Julio. Their housekeeper, Ida, is smitten by Tiny's pupil and literally caters to his every need. Julio has made himself home there and doesn't hesitate to tug on the heartstrings of people by retelling the sob story of how he lost his family and that they are all he has left now.
Much of the same slapstick humor is to be expected in this film. Silly violence takes place and is all in good fun. There is one use of the acronym OMG. Tiny's flamboyant manager is still around though his job is put in jeopardy as the story of deception unfolds. There is some blackmailing and a stolen kiss takes place where Tiny is the victim. Her significant other P.U.P. is hurt by all of the tabloid articles surrounding this event. To find out what happens to P.U.P. and Tiny's relationship and the future of Pup Star you'll have to watch this film!
If you enjoyed previous Pup Star entries then you'll find the same quality of characters, stories, and jokes in this hour and twenty-seven minute movie. It's available now on Netflix and will be arriving in physical format soon.

(Amazon Affiliate link)