For being a loyal My Nintendo member, I was offered two tickets to attend the Chicago Nintendo Switch demo event. My husband and I planned on going without our kids since tickets were limited. Thankfully, 360 PR was able to let us bring our three kids along and they had a blast testing out the upcoming console and launch titles with us. The turnout was good, and I'd guess that there were three hundred or so people there. The staff members were easy to identify with their red Switch shirts and warm smiles. They were also very knowledgeable about the game demos and were happy to teach and assist if you got stuck in a game.
Out of all of the launch games, The Legend of Zelda: Breath of the Wild was the most in demand and you had to grab game session tickets to schedule your twenty-minute play session. Headphones were provided to help drown out the loud electronic dance music that the DJ was playing, as well as the substantial crowd noise throughout the event. I really enjoyed my time with the game, though like many open world games, twenty minutes was barely enough time to get a good feel for it. I was very impressed with the art style, the beauty of the world, and how much there is to do. The clearly less than 1080p pixels on TV was rather annoying, but you do get used to it. It looks gorgeous on the small Switch screen. Combat was also fun, and there is a lot of variety as well. You constantly pick up new weapons either found outside, or as dropped loot. Items, including weapons, wear down and break, which is a bit of an adjustment from previous games. Arrows also seemed hard to come by, but I can understand that given how powerful they are. I definitely look forward to playing this game more once we get it, since we pre-ordered it along with our Switch.
Some classic games like Ultra Street Fighter II: The Final Challengers and Sonic Mania added retro feels, but didn't show off what the new console system was capable of doing visually. ARMS was fun and looked good on the flat screen TV/monitors we played it on. I thought it was one of the highlights of the show, but it's hard to say if it is worth full price, since it's somewhat of a one trick pony. Some games like Splatoon 2 were playable on TV/monitors as well as the Switch itself. In all honestly I was disappointed with the pixelated visuals of this title on the TVs there and while there are new weapons, I don't think it's different enough to warrant buying it at full price. On a positive note, this did spark some interest in our kids playing the Wii U version we already own.
Super Bomberman R is a challenging co-op game that allows up to eight players. The CPU players are pretty formidable and they won more matches than the humans did. I wouldn't mind owning this game, but I'll be waiting for a sale on it.
Another game I enjoyed was Fast RMX which is a fun racing game that adds a color matching element to change the color of your car's exhaust to take advantage of speed boosts. If your car is the wrong color, it will slow you down instead! The graphics were decent in it but didn't blow me away. The local four player multiplayer is fun, and if you're online, you can race against eight players.
Mario Kart 8 Deluxe looked well polished, though I only got to play it on a hand-held screen. I do look forward to checking it out on a big screen. This game is still a blast to play and the included DLC and added levels and characters make this title worth picking up, especially if you missed it on Wii U.
My son enjoyed playing Skylanders Imaginators and like the Wii U, the controller base has an IR reader for importing your favorite Skylander characters into the game. One of the games that did not resonate with me was Has Been Heroes. I enjoyed the row-based combat from Grand Kingdom, but the way this game implemented it didn't seem to click with me.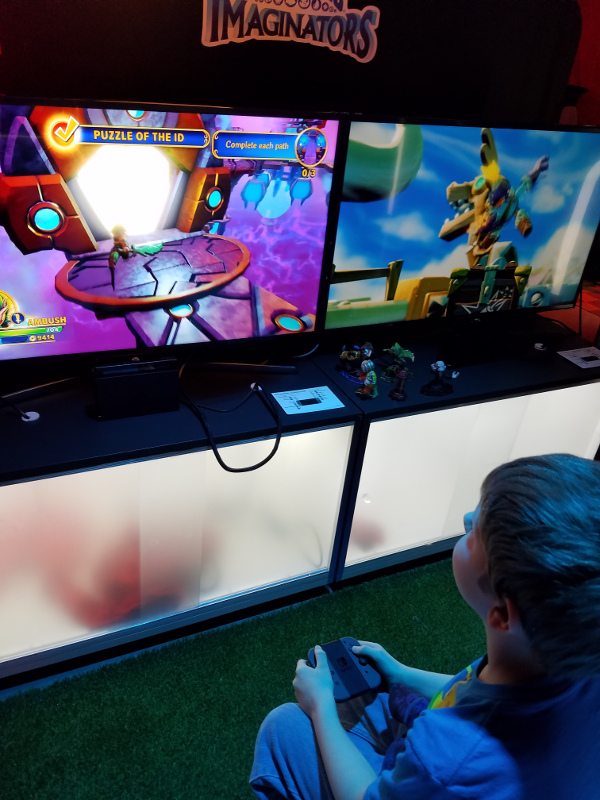 One of my favorite games I played with my oldest daughter was Snipperclips – Cut it out, together! It's been a while since I got a good laugh from playing a game with someone. In this puzzle game you must cut the paper based characters to rotate and fit into specified shapes. This game requires good team work, communication, and accuracy when cutting. Just when I was getting close to getting my daughter into the proper shape she'd snip me and I would have to start over to do my part. This title will be available for $19.99 and I'll be picking that up as soon as our Switch arrives.
The whole family got to play 1-2 Switch and thought that it was okay. It had a guessing game where you and your partner had to guess how many balls were inside of a box. Whoever was closer to the correct amount would win or in our case resulted in a draw since both parties were off by one. The cow milking simulator was fun to watch as a bystander and the winner is determined by who can get the most cups of milk from the udders. My husband and I faced off in a Western style shooting match and I shot my hubby down first. No blood is shown, just the shadow of the loser kneeling before the winner. I like how the speed in milliseconds is shown at the end. While this game is alright, I'll wait for it to hit the bargain bin before purchasing it. (I still think this would have been a perfect pack-in title.)
We got to check out some games that we anticipate getting review codes for since we're on good terms with Ubisoft, NIS America, and SEGA/Atlus. I'm happy to report that I earned a score of 5 stars in Just Dance 2017 to Joan Jett's 'I Love Rock N Roll'. Puyo Puyo Tetris is a fast paced and fun mashup of those two games and it switches between them every ten seconds. Sadly, the CPU whooped me. I had fun though, and that's what counts. Disgaea 5 Complete looks sharp with modern visuals, along with fairly revealing outfits when it comes to female attire or lack thereof. While the gameplay is fun, I really am spoiled by the accuracy of a mouse from playing PC ports of the first two games.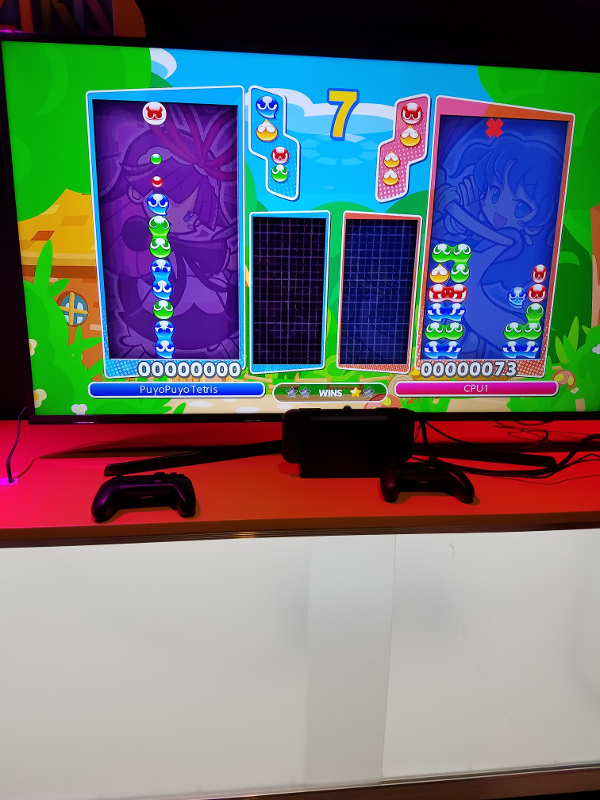 Stay tuned for more in-depth reviews from us as we get to spend more time with these games after they are released. I'm looking forward to the arrival of our Switch!