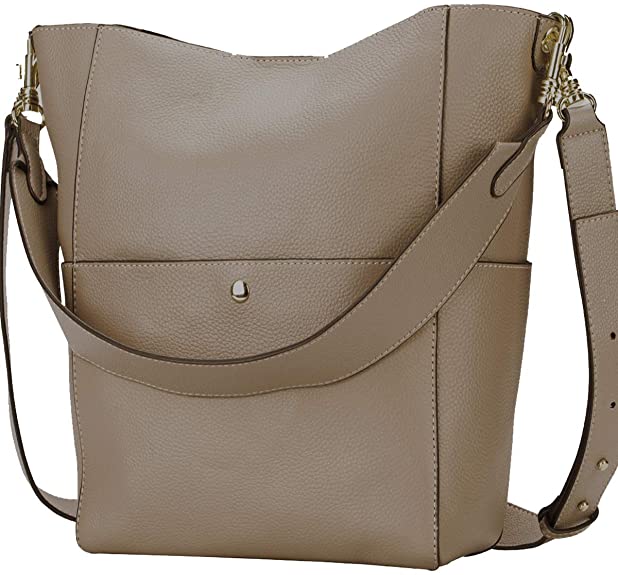 Thank you Lucksgy for sending us this purse to review!
I've been through many purses and most of them have been thirty dollars or less. Over time, the straps typically wear out or break. The material often tatters on the bottom too. My current purse is denim and has lasted a good while and it fits my essentials (wallet, checkbook, pens, medicine, floss, car keys, etc.). However, with a conceal and carry license in my near future, I need a purse that's slightly bigger.
The Lucksgy Genuine Leather Bucket Tote Bag for Women comes in five colors. I chose the kaqi color, but there's also black, brown, red, and gray. There are two straps available, one for over the shoulder and the other is adjustable and goes across the body. The tote bag has two open side pockets that would be ideal for holding a phone or small umbrella. The front and back pouches have magnetic snaps on them to keep them closed. There's also a magnetic snap to close the main opening.
The inside of the tote bag is spacious, but there are no pockets. However, there is a removable zippered pouch that has two pockets on the sides with one of them being zippered. The main area of the pouch is spacious enough for the item I wish to conceal. The floor of the pouch is removable and you'll want to have it in place if you wish for it to retain its shape.
The pouch could also work for holding your valuables that you can grab in a hurry without toting around a big purse. If you don't plan on packing heat, you can use the pouch for your wallet, checkbook, car keys, and more.
Overall, this is a nice looking and sturdy purse that's sixty dollars delivered.